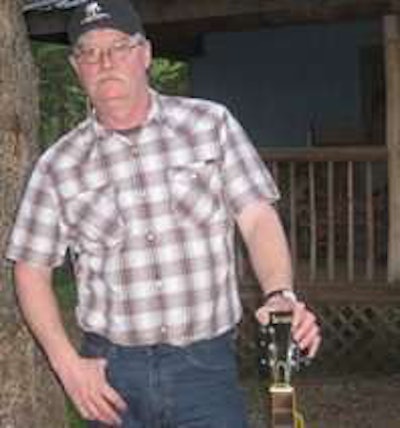 Paul Hutchins' recent post to the blog round over at Freightliner's Team Run Smart site tells the story of the driver's late foray into recorded music, following a nephew who took an interest in Hutchins' formerly wholly private songwriting efforts on an old guitar he bought battered and bruised but still sounding sweet from a rack at a Fayetteville, N.C., pawn shop for $48. This followed years of picking and singing — "I got my first guitar when I was 14," he writes in the story, long before he started his trucking career hauling logs and pulpwood in an owned and operated GMC straight truck.
Nephew, Jon, with Jon's wife, Linda, recorded five of Hutchins' tracks in their living room, one of which, "Let them big wheels roll…", you can download via his piece at Team Run Smart here.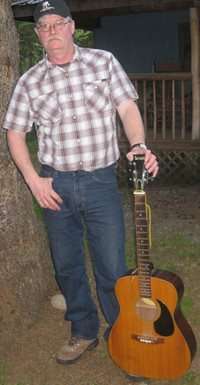 Here's what Hutchins himself says about the song:
I have long thought truckers don't receive the respect and appreciation they should. The vital services we perform are often a difficult and thankless job. I wanted to write a song that would help people to see us in a more positive light. When you hear "Big wheels" you'll know it was written by one of your own. More via this link.
Pregame pretrip
What is it about sporting events that so attracts the public relations/advocacy efforts of the Women in Trucking organization?
They get a trucking blogger's attention for novelty's sake, at least.  You can find past posts relative to WIT's sport-arena efforts here and here and here, stretching in the way-back machine to year 2010 and, among other things, a sponsorship of the uDrove Humanitarian Bowl game that year, likewise a well-produced celebratory commercial that ran during the renamed "Famous Idaho Potato Bowl" game the following year.
The latest effort involves the third of the big-three U.S. sports, WIT head Ellen Voie and company have covered basketball with efforts around high-profile WNBA games. Voie will be throwing out the first pitch at the July 28 early-afternoon game between the Cleveland Indians and Texas Rangers at Cleveland's Progressive Stadium, and attendant to the game will be an event that "honors all women in transportation careers," runs a WIT press release. Bendix and TA are also involved, both headquartered in Northeast Ohio with the Indians team. FMCSA Administrator Anne Ferro will speak at a networking reception at the Terrace Club at the field prior to the game, WIT says, as will Thomas O'Brien, TA's CEO. A tractor-trailer equipped with Bendix's leading-edge safety technologies will be parked on the Gateway Plaza from 9 a.m.-5 p.m. on game day, with company reps on hand to answer questions about its technologies and the industry in general.
It's a learning thing, ultimately, the crafting of teachable moments out among the general public, folks at the edges of and outside the transport industry who need it. Know somebody in the Cleveland area who could use it? Interested parties can purchase discounted tickets to the game by using the promo code "baseball" via this ticket link.