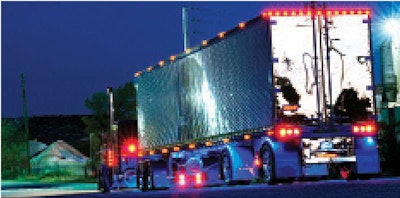 There's nothing more beautiful than a well-lit truck going down the road on a dark night, is there?
Even at a truck lights show, the creativity and sweat so many owner-operators bring to the lighting game is a big treat for the rest of us. The downside of all those lights is you've got to keep them working if you want to keep the truck looking just right.
TOP 20 STATES ISSUING THE "Inoperative required lamp" 393.9(a) violation; total violation counts are figured as a share of the state's total issued violations over the first two years of the CSA program – December 2010 – December 2012.
National Average: 3.6%
Ohio – 12.3%
Maryland – 8.1%
Virginia – 6.9%
Florida – 6.4%
New Jersey – 5.9%
Kansas – 5.2%
Pennsylvania – 5.1%
New York – 5%
South Carolina – 5%
Connecticut – 4.9%
Illinois – 4.7%
West Virginia – 4.7%
Mississippi – 4.6%
Vermont – 4.6%
New Mexico – 4.2%
Iowa –4.2%
Minnesota – 4.1%
North Carolina – 4.1%
Wisconsin – 4.1%
Alabama – 4%
Find more state rankings for inspections, violations and crashes via the CSA's Data Trail series main hub.
The other downside is one remarked upon by no shortage of owner-operators during my various conversations about the Compliance Safety Accountability (CSA) program and the point at which the data-based scoring begins for motor carriers — operator interactions with the officers at the scales and on the roadside.
Talking early this year to Mike Falesch, a Chicago-area-based owner-operator, he presented this scenario: "You take a guy, all right, who's got 250-some-odd lights on his truck. Well, let's say the fog rolls in real good, who's the four-wheeler follow? He follows the guy he can see." Under CSA, however, "you've got all this dense fog and he's taking his extra lights off because inspectors are writing him stupid tickets for one of his lights being out." An unintended unsafe consequence of the program's inclusion of roadside violations in the scoring system, you could say.
"My [2010 Kentucky spread-axle moving van] has two diodes per light," Falesch went on. "The way the law reads, if one of my diodes goes bad, they can write me a ticket for it."
In some states, that may be the case, but in terms of the CSA program, that violation more likely than not shouldn't be contibuting to Falesch's violation profile or his carrier's score in the Vehicle Maintenance BASIC, especially if it's coded under the catchall "Inoperative required lamp" 393.9(a) violation, if not the most, then certain one of the most, commonly written violation around the nation. In the state at the top of the list of those most commonly issuing such violations — Ohio (see top 20 states above)– this single violation accounted for more than 12 percent of all violations written.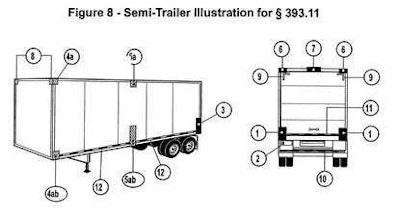 Speaking at the Expedite Expo last month in Wilmington, Ohio, Panther Expedited's Irwin Shires stressed to the owner-operators in attendance at his CSA-focused talk that if the inoperative lamp in question when such violation was written was not in fact required then the DataQs system was an effective deterrent to it showing up in your CSA scores.
Document the offending lamp with a camera, and utilize these pointers for filing a DataQs request for data review to remove the violation from your profile.
Other DataQs possibilities to watch out for
Shires also made note of two CSA violation-weighting and -inclusion changes that went into effect late last year that some states are continuing to code in previous manners when uploading information into the CSA System.
Vehicle violations noted during a driver-only inspection, and vice versa: In an attempt to boost uniformity in inspection procedures and data, FMCSA has made it a policy to not include vehicle violations marked during a driver-only inspection, or driver-related violations noted during a vehicle-only inspection. For instance, if you officially get a Level 3 driver-only inspection but the officer also includes marks for a light out, the light violation "gives you basis for a DataQ challenge," said Shires, given the inspection officially coded had nothing to do with the vehicle.
Generic speeding violations: FMCSA has urged states to record speeding violations by the number of mph over the speed limit, and 1-5 mph violations will not contribute to CSA scores. The old way of doing it, a generic mark for speeding with no consideration of mph over the limit, is still being practiced by some states, however, and coding irregularities are seeing some of those violations come in with a points value of more than just 1, according to Shires. If you receive a speeding violation where no mph is listed and it's recorded higher than a 1-point basic point value for violation severity, "you can challenge it and get it reduced," Shires said. "It should be reclassified as generic speeding only and it then drops to a 1-point violation."

For more on the December 2012 changes, see this story.