With everything that's happened since (and before) the June 3 publication of Anne Ferro's "Fast Lane" blog post, driver Allen Smith, of the Truth About Trucking Live online radio program and AsktheTrucker.com blog, more or less answered the question in the title here with a well-thought-out recap of events and commentary published earlier this week. I'd been thinking of pursuing something similar, so I'm glad he did it and I can just refer you to it.
Because I do think that he's right, particularly on this score: "I believe this entire trail of events [from Ferro's blog to OOIDA's call for her resignation to the Walmart truck's high-profile crash and public outrage to one group of operators' own disagreement with the resignation call] has stirred up a passion and an increased thirst for individual understanding of what is going on in our industry. It is putting together many of the puzzle pieces: low driver wages, the need to be paid for all on duty time, detention pay, driver fatigue – the real causes, [hours of service] and the real issues for the need for driver rest flexibility, ELDs and how they relate to driver wages while enforcing a flawed HOS rule."
There's evidence that individual understanding is in some cases even peeking through the typically terrible industry coverage in the mainstream media, even during the height of the hysteria over the Walmart crash.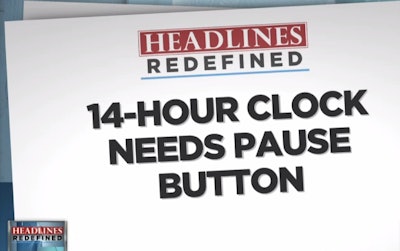 Michael Smerconish, in the June 9 "Headlines Redefined" segment on his CNN show, offered a counterpoint to the then-prevailing media churn that the driver in the Walmart crash had been "awake for 24 hours." What would Smerconish have written? The "14-hour clock needs a pause button." Check out the segment via this link.
Regardless whether you agree with debating parties over certain issues, as Smith notes, "with all that has just happened in just the last 3 weeks, we have the momentum and leverage needed to encourage the FMCSA to listen intently, while everything is out on the table from all sides."
There's a slide show that Richard Wilson put together on effective commentary to the agency in Smith's post. You can check it all out via this link.