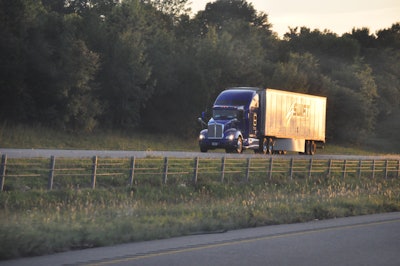 Interesting times we live in. After more than six months' worth of contentious discussion and no shortage of misinformation — beginning around the time of the tragic accident in New Jersey that killed comedian James McNair and injured several others, just following now-former FMCSA Administrator Anne Ferro's infamous bout of bloodsport over on the DOT Fast Lane blog, including "special reports" from several major TV networks out there on the tired trucking industry (not to mention ads that equated big trucks with serial killers) — could simple reason have won the day?
Congress is on the verge of pulling back the reins on the 2013-introduced restart restrictions (as I wrote this, the big spending bill it's included in appeared to be on the verge of a vote in the House — now it appears votes are likely to proceed through the houses of Congress after a brief funding extension). Many of you have weighed in on hours over the past day or two — it seems abundantly clear that a majority of drivers support the move, for a variety of reasons you'll hear in the podcast below and elsewhere, not least among them a view that the prior version of the restart was safety positive versus the current restricted restart.
It's no time for a victory lap, necessarily. Keep in mind that, if ultimately passed as the last version I've seen was written, the changes will only be a sure reality through September of next year, after which we'll have another budget fight on our hands in Congress and, depending on results of the study the bill directs FMCSA to do to better justify the 2013 restart restrictions (if they want to keep them), Congress may well choose to let the restrictions go back into place. I suppose there's a chance FMCSA just may not get around to the study and, if not, we might get the old restart for a good deal longer. We'll see.
In any case, keep tuned to OverdriveOnline.com for what happens with the spending bill. And if you feel strongly about the hours rules, by all means drop a comment this way, but also take well-reasoned thoughts to your representatives and to the FMCSA, too.
The hours of service will prove to remain contentious for the forseeable future. One bright spot: Recall FMCSA's October detail on their plans to study the split-sleeper issue to look at some more flexible possible options going forward. In any case, stay tuned …
Scott LeVan says a prayer for Ben
It's a story LeVan, whom regular readers may remember from my story about the sleep apnea situation in the September issue, still "can't even tell anyone" without choking up, he says. Even typing it out to me he "had to take a moment and gather myself," he adds. "I wish everyone could feel how happy, but sad, I was and still am, because I know today Ben is in a better place."
Ben is the name of a German Shepherd who had been wounded in service to the military — LeVan met the dog and its owner Monday afternoon at an I-395 travel plaza in Connecticut. Here's his story:
I was sitting in my truck at a service plaza on I-395, and I was doing my logs and getting things around for the start of my workday when this older gentlemen came over to my door. He asked if I could help him out for a minute. He needed to get his dog out of the backseat of his four-door pickup… And he started to tear up, and spoke with a broken voice, and told me his dog has hip dysplasia. I said, Of course I would be happy to help. As I got closer to the pickup I could hear the poor dog whimpering, and it just broke my heart, so we got him out of the truck and he was in pain, but he stood the best he could. I let him lean against my legs so he could use the bathroom, but the poor dog was not able to go… His name was Ben, and he was a wounded warrior. He served his country proud, and Ben now has a special place in my heart. As the older gentlemen and I talked, he told me he took him up to the cabin one last time, and "now I'm on my way back to put Ben down."
Its hard finding the right words to say to a person standing next to you crying. As he told me that, I put my hand on his shoulder and said, "Ben will be grateful." As I walked back to my truck I lost it. This just broke my heart. But I'm glad I could spend a couple minutes and get to know Ben. What a gentle dog he was. I will never forget him.