It hasn't been too long since you heard from Pennsylvania-based trucker Steve Bixler. Regular readers will recall the scale model of his long-running "Lady in Red" cabover I wrote about last year: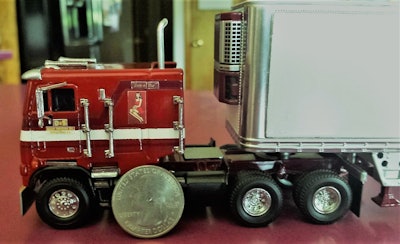 Following my look at family matters in trucking for Overdrive's 60th anniversary celebration series last week, Bixler reminded me of the occasion on which I first met the owner-operator -- back in the days of my work with Truckers News as a print magazine when the Bixlers won the annual Great American Trucking Family title. The award, meant to celebrate the very generational aspects of so much of trucking in America that I was highlighting last week, was a central part of Truckers News' events around the Great American Trucking Show for years before the magazine closed up shop for a time in 2012, though it's since returned under the staff at TruckersNews.com.
The Bixlers and Updegraves (the latter the family from which Steve's wife, Doris, descends) in 2011 had accumulated a combined 1,200 years' worth of experience trucking among more than 60 family members past and then-present. "While I can't tell you how many years of experience the families have accumulated since 2011," Bixler said, "I can tell you that my brother and I together have 96 years and counting," most of that behind the wheel.
"While I don't know if that fits the profile of what you were looking for in this story," he joked, "it is quite an achievement, if I do say so myself!"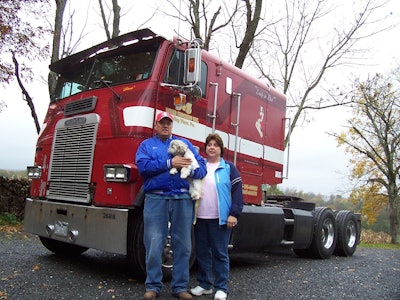 Bixler has trucked in all manner of operations. At the time of the Great American Trucking Family honor he'd struck ... sand in a gold mine of sorts. That was dry-bulk hauling for fracking operations in the region where he lives, part of the first wave of an oil and gas services boom.
How the economics of that business has changed since that time is evident in then-Truckers News Editor Randy Grider's story about the Bixlers and Updegraves. Revenues in frack sand hauling are up substantially in recent times for owner-operators over what was then considered quite good indeed.
There's a lot more to the story of the Bixlers and Updegraves, too, not the least of which is the tale of Doris's father, Robert Updegrave Sr., known by most as "Check." He passed on at 76, just a couple years prior to Grider's story:
Check's trucking career started at 16 hauling coal for an uncle before Check entered the Army, where he was assigned to the motor pool. Aside from a brief period when he was on disability after falling, he worked more than a half century as a truck driver with almost half that time as an owner-operator.
"My dad was what you might have called a wildcat trucker back in the day," says Robert Updegrave Jr., 57, better known by his family as Bobby or Checky. "He would haul anything, anywhere for a price." ... Bobby was the first to follow in his father's footsteps by driving a truck while in high school. He has 43 years on the road and currently hauls oversize loads moving mining rigs.
"Trucking is all I've ever known," he says. "We can't have a function where trucking doesn't come up. We've all got a lot of great memories."
Perhaps no one has quite the perspective as 74-year-old Marlene, who raised many kids who are now in the industry and was a dutiful partner, companion and wife to her late husband.
"I'm proud of my family that went into truck, but I still worry about them when they are out there on the road," she says.
But it's Check, whose ashes were placed into a customized urn made from a chrome smoke stack and transported in the last truck he owned amid a funeral procession of six semis to his gravesite, whose memory is still center stage.
Asked about being named the Great American Trucking Family, Marlene, almost lost in thought, quietly says, "Trucking was [Check's] life. He drove a truck in the Army and then when he got out he was always around trucks. He went to his resting place in a truck," she says. "This award is a great memorial to Check. He would have been as proud as a peacock."
Since that story's airing, Steve Bixler said, "quite a few of the people mentioned in the article have passed on, and several others have since retired, or moved to other occupations. But without actually investigating it, I would imagine we have probably, as a family, closed in on 1,500 years of cumulative time in transportation." Hats off to the family.
You can read back through the full 2011 story via this link, and hear my early 2019 talk over trucking history and more with Bixler below.