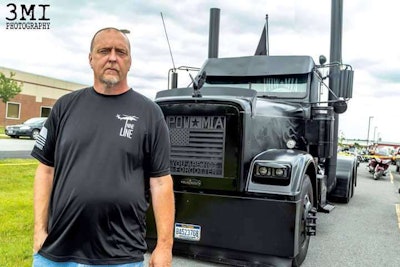 Trucking and patriotism oftentimes go hand in hand, and with Independence Day being this month, Overdrive is taking a look back at some patriotic- and military-themed rigs from both owner-operators and carriers.
For starters, here's West Virginia-based owner-operator Charles Timbrook's "Black Out" 1999 Freightliner Classic custom project.
Timbrook says the truck is intended as a tribute to military veterans, with particular reference to the 167th Airlift Wing of the National Guard in his Martinsburg home town.
Operator Tim Baumgartner's patriotically decorated custom Volvo VNL has been a winner at a variety of beauty shows on the tow/wrecker circuit. In the video below, the latest in Volvo's "Welcome to my cab" series of operator profile, Baumgartner gives a window into the truck and his Eugene, Ore.-based Crockett's Interstate Towing.
[youtube 7W14Lcp_ABI nolink]
Vietnam veteran John Cudd wanted a workhorse that would remind others of the sacrifices soldiers make every day, and the 1986 Peterbilt 359 he drives daily does just that.
Cudd bought the truck in 2011 and took it to Outlaw Customs, in Henderson, Colo., to make it the rolling commemoration of Vietnam veterans that it is today.
The truck is a rolling memorial to the Delta Raiders. See below for photos and a video of the truck.
Several carriers, including Werner, Crete and Schneider, have introduced their own patriotic- and military-themed trucks in the last decade. Here's a look at some of them: