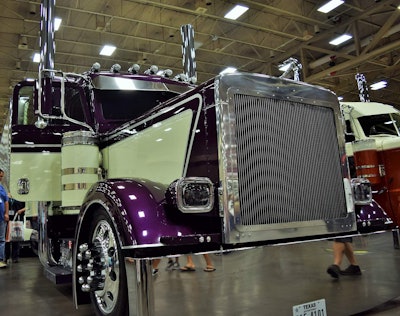 With voting in the Pride & Polish "best of the best" round for our Truckers Choice 25th-anniversary champ getting going today, here's worthy P&P contender who didn't make the cut for the national championship but whom you might see there down the line, I'd wager.
The 2003 Peterbilt 379 above was recently given a custom overhaul by Freddy Velasco with other members of his and Alex Velasco's Como, Texas-based Velasco Transport team. I caught up with Freddy on the final day of the Great American Trucking Show, where the unit took home second in its 2003 and older combo class as well as second for combo paint.
The purple and "Creme Brulee" scheme carries through the Great Dane reefer trailer and the Thermo King reefer unit itself, likewise the interior — Velasco finished that part of it all out himself.
The rig's "California Dreamin'" moniker was suggested to Velasco by, what else, the model year. It won't be picking up produce out in the Golden State anytime soon, he says.
The Pete is powered by a 550-hp Caterpillar turned up to 600, and the small fleet hauls typically hauls produce, among other commodities.
Interestingly, Velasco maintains his wet kit on the tractor for occasional returns to the niceh where he got his start in trucking, hauling sand and gravel in dumps. Catch numerous other views as well as more detail from Velasco himself in the video below.