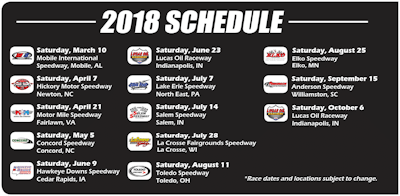 The Minimizer Bandit Big Rig Series finalized its 2018 schedule recently, adding races in Wisconsin and Minnesota to round out the 13-race slate.
Organizers of the truck racing series announced the majority of the 2018 schedule earlier this month, but left several dates open on the schedule for some pending races.
The recently announced tracks include La Crosse Fairgrounds Speedway in La Cross, Wis., on July 28, and Elko Speedway in Elko, Minn., on Aug. 25.
Series organizers originally planned on a 14-race schedule for 2018, but settled for 13 races – the same as it ran during its inaugural season in 2017.