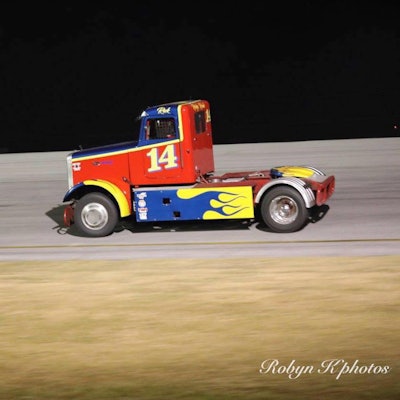 After battling Mother Nature throughout the season, especially over the last month, the Minimizer Bandit Big Rig Series will finally return to the track this weekend for the season finale at Elko Speedway in Elko, Minnesota, this Saturday, Oct. 13.
The series had two races canceled in September due to Hurricane Florence and its aftermath. The Bandits were scheduled to race Sept. 15 at Anderson Speedway in Williamston, South Carolina, and on Sept. 29 at Myrtle Beach Speedway in Myrtle Beach, South Carolina.
The Myrtle Beach race was supposed to be the finale, but series organizers were able to work with track officials at Elko Speedway to get a last-minute race set. Defending series champion Ricky "Rude" Proffitt is in a good position to repeat as champion as he carries a 658-point lead over second-place Mark Noble into the finale.
Saturday's events will begin with the Minimizer Fan Series Truck Show, which will be held throughout the day at the track. Gates at the track will open at 11 a.m., and a Bandit meet-and-greet will be held from 1-2:15 p.m. Racing action will begin at 3 p.m.
Tickets are available online before the race for $25 or can be purchased at the gate for $30. Military veterans and seniors can get in for $20, and children 8 and under get in free.