When Sevierville, Tennessee-based independent Casey Wendling went to upgrade his equipment and build this project 2020 Peterbilt 389 glider, he dedicated it to the memory of a man he calls something of a "second dad to me" -- South Jersey-based fellow owner-operator and sometime "Farmer," as he was known, John Visconti III.
Visconti, Wendling said, was killed in a wreck on the Jersey Turnpike in 2014, an eventful moment in Wendling's life given how close the friends had become through the years after Wendling lived for a time near Visconti in Jersey. Today, as owner-operator Wendling hauls grocery loads with his authority principally for the Ingles regional supermarket chain, Visconti is "always with me," his memory enshrined on the back window of the 389's sleeper.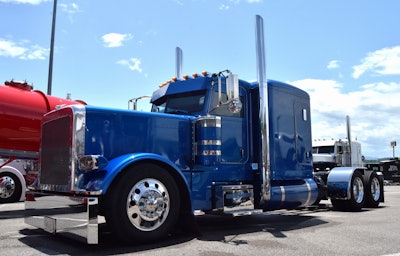 With Fitzgerald Glider Kits limited in terms of glider options by the time Wendling began spec'ing the truck, he went with Nebraska-based Elkhorn Valley Trucks for the build in order to get what he wanted, including a variety of options meant to enhance not only the look but the functionality of the rig, as you'll hear in the video.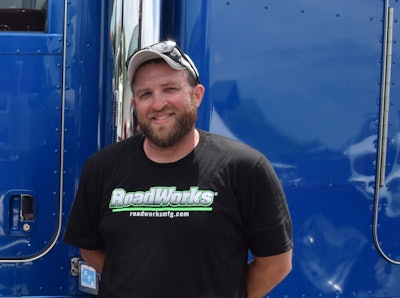 The unit is powered by a Caterpillar 3406E tuned to 650 hp, and Wendling has changed out seats and steering wheel on the interior in addition to many exterior mods (bumper, underglow lights, breather lights, metallic gunmetal gray frame paint and other painted parts -- fuel tanks, air tanks, back of the visor...).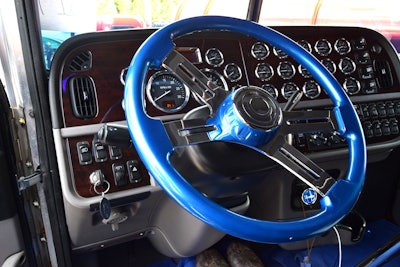 "You'll just have to stay tuned and check me out at the other truck shows," he said.
I met Wendling at the inaugural Large Cars and Guitars truck show in Kodak, Tennessee, last month. In spite of dramatically rising fuel prices this year, business has been strong for the owner-operator's reefer runs, with quickly adjusting fuel surcharges compensating his business well. (The truck gets anywhere between 5.5-6.5 mpg depending on load weight and Wendling's driving habits, which he's been quite conscientious about of late.)
"It's been fine for me," he said. He won't work "for free," that's sure, he added. "They have to either pay the fuel difference or there's got to be a really good rate on top of it, enough to cover the fuel" and leave plenty profit. "It costs a lot of money to move these trucks up and down the highway."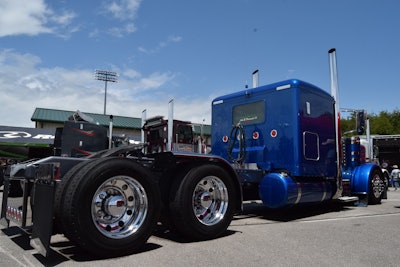 Looking ahead, when it comes the current fuel situation, compounding throughout the economy to supercharge inflation in all aspects of life, "hopefully things will change for the better here soon," he said. "I'm hoping. But if not, we just have to work harder, and we all have to stick together."
Profit has fared well for him through it all, at least, with evidence in his recent closing on a piece of property in Jefferson City, Tennessee, where he's set to move before the end of the year.
---
For more video and other custom-equipment features delivered to your email inbox, subscribe to Overdrive's weekly Custom Rigs newsletter via this link.