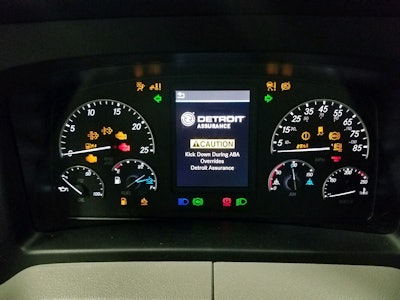 This story has been updated as of June 25, 2021, with information regarding potential warranty issues regarding driving with engine warning lamps on.
Advancements in engine and emissions technology over the last decade have complicated the challenge of staying on top of dashboard warning lights.
Owners of trucks newer than the 2007 model year have been subject to potential diesel particulate filter problems. Other issues came with the selective catalytic reduction system introduced in 2010 model trucks.
Truck and engine makers have made progress in stabilizing these emissions-related systems, said Jeff Rogers, a Ryder maintenance director. Still, their malfunctions are among the most common triggers of dashboard warning lamps.
"It's extremely important to know what these different lights mean because of how many there are and what the combinations of certain lights can mean," said David Perry, corporate technical trainer for Transervice.
If you don't know, the simplest way to find out is to check the owner's manual. It also should help you decide how quickly the warning needs to be addressed.
"Trucks a number of years ago maybe had a couple hundred fault codes," said Mike Hasinec, vice president of maintenance for Penske Truck Leasing. "There are probably a thousand or more on a typical Class 8 truck today. Of those thousands of codes, there are probably about 50 that say this is where you need to take a quick course of action. Most lights don't mean you have to pull over immediately."
[Related: Deleting emissions problems without deleting the system]
Some common warning lights are Check Engine, Stop Engine, Malfunction Indicator Lamp (MIL) and Diesel Particulate Filter (DPF).
The icons used for most warning lights are similar. The MIL and Check Engine lights look the same for a Cummins engine – an amber figure of an engine – except that the Check Engine light adds a wrench. A Detroit engine's Check Engine light might say "Check Engine" or show an engine figure with the word "Check" across it, while the MIL light is just an engine.
"By far, the most common light is the MIL indicator," Perry said. "It deals with all emissions related problems. When regeneration systems first came into play, it was a lot more prevalent, but now we're at the point where those problems have largely gone away, but they're still there."
[Related: Dealing with diesel aftertreatment demons]
A rule of thumb is that if a light is amber (similar to yellow, as in a caution light), the truck usually can be driven until the end of a shift. If it's an amber MIL, the truck needs to be checked soon because it may derate if left unchecked. A red light indicates the driver should pull off for immediate service.
The common Check Engine light usually means the engine has gone through its self-diagnostics and needs to be checked soon. The truck usually can be driven until the end of a shift, but not much more.
Sometimes lights come on in a combination to help the driver determine the root problem.
"Lamps that refer to specific conditions, such as oil pressure or fuel pressure, mean that the measured characteristic is not within acceptable limits," said Patrick Dean, Kenworth chief engineer. "The driver should seek service soon. If the characteristics reach a maximum or minimum threshold, a red Stop Engine light will illuminate."
Hasinec said many drivers have become familiar with the DPF light over the last decade. "It's still a common call we get in our 24/7 call center," he said. If a DPF light is ignored while driving, "the engine will derate and shut down."
The DPF light means the system needs to regenerate. When it's flashing, the regen must be done while parked. A solid DPF light means you can do a parked regen or a passive one.
Rogers said to accomplish a passive regen, the exhaust needs to be at a specific temperature, which usually can be attained at highway speed. If the temperature is maintained for about 20 to 40 minutes, the regen will complete, and the light will go off.
For the parked regen, ensure nothing is near the stacks where the heated exhaust will emerge. Follow your truck's instructions to begin the process. The engine speed will increase enough to boost exhaust temperatures and complete the regen. As with a passive regen, it takes about 20 to 40 minutes.
For either type of regen, a High Exhaust System Temperature lamp lets you know the exhaust temperature is high enough for the regen. It will go off when the regen is completed.
"The red Stop Engine lamp is the most urgent lamp," Dean said. "In Kenworth trucks, an audible tone will also sound. It means the truck has a serious engine system problem and that the vehicle should be brought to a safe stop and turned off immediately."
[Related: 3 ways to extend DPF life and keep filters running cleaner]
If the Stop Engine light is flashing, it means the driver has 30 to 60 seconds to park before the engine shuts down. Ignoring a Stop Engine lamp could result in a blown engine and damage to the turbos. "A new heavy-duty diesel engine today costs between $35,000 and $40,000," Hasinec said.
The Stop Engine light often is accompanied by other indicators, such as the DPF or DEF lights. A DEF light by itself indicates that the diesel exhaust fluid level is low. If the light is accompanied by the Stop Engine light, it means the DEF level is critically low, often because the fuel tank was refilled but the DEF tank wasn't. When this happens, the engine will be limited to 5 mph.
Perry said a driver usually can go about 250 miles before the truck derates from a DEF warning and must stop. "More than likely, the tech can't fix the problem on the side of the road, which results in a hefty tow bill," he adds. "We see that quite a bit."
A faulty sensor can cause a lamp to illuminate when it shouldn't, though Perry said that problem isn't so common anymore. When it does happen, it should be fixed so it's clear if a warning is merited or not.
A broken or chafed wire is often the culprit behind improper fault codes, Hasinec said. It's common today to see a multiplex wiring harness where a single wire is used for multiple things, which makes locating the problematic wire like finding "a needle in a haystack," he said.
Clues about a malfunctioning light can help a technician — conditions such as speed or steering that trigger it, frequency of it turning off and on, etc. "Perhaps it happens when going around a turn or hitting a hard bump," Hasinec said. "That can trigger a thought process with a technician that can help lead them to what may be causing the faulty sensor."
Other common warning lights are Anti-Lock Braking System (ABS), Water In Fuel, High Coolant Temperature, Low Air Pressure, Low Engine Oil Pressure and Transmission Fluid Level. Newer trucks with advanced technologies have lights for functions such as Active Brake Assist and Lane Departure Warning.
"The ABS light could be as simple as a sensor on the brakes – typically something minute -- but also something you need to get looked at," Hasinec said. "There's no need to immediately pull over for an ABS light."
Be careful about driving extended distances with warning lights on, however, because it could affect any warranty you have. Jeff Gray, owner of Gray's Garage in Pontiac, Illinois, said drivers could run into warranty issues if they have been driving the truck very long with the engine warning light on.
"If you've been driving the truck any amount of time with the engine warning light on, if you've got an aftertreatment system, the DPF is disabled," he said. "It logs, on all newer trucks, it will log how many times it's happened, what the time span is, when the first time was, when the last time was. All of that is compiled."
Gray adds that when his shop, a Navistar dealer, hooks into a truck to diagnose the problem, the first thing they do is run what is called a "health report," which "takes every code from that truck and uploads it to Navistar," he said. "There's no lying to them. This all pops up to them, and they can see everything that has happened."