Trucking news and briefs for Wednesday, Aug. 9, 2023:
Peterbilt's new 589 available for order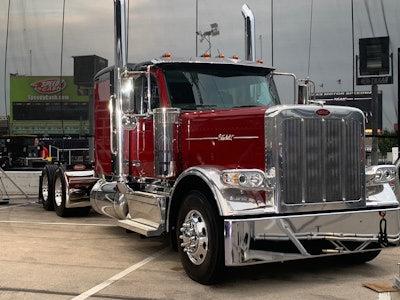 Peterbilt has announced its new Model 589 is now available for customer orders. The Model 589 was introduced in May and is the successor to the iconic Model 389.
"Anticipation for this truck is running high," said Jake Montero, Peterbilt assistant general manager for sales and marketing. "Customers are eager to experience first-hand the premium features and unmistakable presence of the Model 589. The 589 will be the top choice for customers in this segment."
The 589 features classic Peterbilt styling, including a stainless steel grille, wrap-around aluminum grille crown and an aluminum hood with 121-inch or 131-inch BBC. Dual stainless steel external air cleaners and pod-mounted headlights round out some of those classic features, and the 589 can be configured as a day cab or a sleeper with 44-inch, 58-inch, 72-inch or 80-inch options. The interior of the first 589 units produced will be enhanced with an individually numbered commemorative plate installed on the passenger side dash.
[Related: Test drive: The Model 589, Peterbilt's successor to the 389]
A distinctive Legendary package is also available, which showcases Peterbilt heritage. It includes the original script logo from 1939, along with bright spears on the side of the hood, polished fenders and bright rocker panels.
"The Model 589 represents the essence of the Peterbilt brand in terms of styling and driver appeal," said Jason Skoog, Paccar vice president and Peterbilt general manager. "The enhanced comfort, technology and performance of the Model 589 will benefit owner-operators, as well as help [fleet] customers recruit and retain drivers. I look forward to seeing the Model 589 on the roads of North America."
Customers can place orders for the Model 589 through any of Peterbilt's 425-plus dealer locations in North America. Production begins January 2024 at Peterbilt's factory in Denton, Texas.
[Related: Love it or hate it? Peterbilt fanatics respond to the 589 unveiling]
Love's donates $100K to St. Christopher Fund
Love's Travel Stops is continuing to support professional truck drivers with a $100,000 donation to the St. Christopher Truckers Development and Relief Fund.
It's the fourth straight year the company has made a donation to the fund, which helps truck drivers and their families during difficult times brought on by health emergencies.
"Professional drivers are a vital part of the nation's economy and industry, and they mean so much to us at Love's," said Jenny Love Meyer, executive vice president and chief culture officer. "It's essential to support them during hardships, and we're proud to support St. Christopher in its efforts to be there for drivers at their most challenging times."
The St. Christopher Fund helps cover expenses -- including rent, mortgage, utilities, insurance and vehicle payments -- when drivers are unable to work due to injury or illness. It also provides free health and wellness programs for professional truck drivers. Love's first donated to St. Christopher in April 2020, when it gave $100,000 to aid drivers during the COVID-19 pandemic.
"Thank you, Love's Travel Stops, for fueling help and hope through your generous and continued support of St. Christopher Fund's mission to be a safety net for drivers when illness or injury takes them off the road," said Shannon Currier, director of philanthropy for St. Christopher. "Together we help truck drivers get back on their feet and back on the road."
[Related: How to recognize the high business risk of failing health]
Pilot accepting Road Warrior nominations
Pilot Flying J is celebrating truck drivers who go the extra mile with the opening of the nomination period for its Road Warrior contest.
Road Warrior awards three drivers who go above and beyond to keep America moving. Three winners will be selected with cash prizes -- with $15K going to 1st place, $10K to 2nd place and $5K to 3rd place.
Nominations are open through August 21. Submissions should highlight the driver's contribution to the trucking industry, safe driving history, community involvement, miles driven and other meaningful stories about the hardworking nominee. Nomination rules, forms and details can be found here.
Winners of the 2023 contest will be announced near the end of September as part of Driver Appreciation Month. Last year's grand prize winner was David Sweetman, a U.S. Army veteran with more than 50 years and five million accident-free miles behind the wheel.