Drivers on California's treacherous Donner Pass recently have seen the battery-electric Tesla Semi just about blowing the doors off of diesels as the tri-motor tractor quietly, smoothly glides up the 7%-16% grades.
Does it amount to a first look at a coming electric-truck revolution, or just some sideshow to be ignored by trucking's owner-operators?
In partnership with sister fleet publication CCJ, Overdrive recently surveyed nearly 300 owner-operators and small fleets (and a slightly smaller number of fleet personnel at carriers with 10 or more trucks) on their attitudes and plans toward new "zero emissions" trucks. Frankly, results echo some of the more annoyed and frustrated responses from earlier surveys and comments on the Tesla Semi video from Donner Pass.
One comment encapsulated owner-ops' attitude succinctly: "I'd be willing to bet $10,000 that coast-to-coast a diesel truck arrives at least 10 hours earlier than any Tesla or battery-EV semi. Anyone want to take that bet?"
[Related: Surprising ways owner-ops and small fleets might make EVs work: A realistic outlook]
The commenter ignores egos the Semi might have bruised with its left-lane tactics and goes straight for the jugular: The Semi accelerates fast, but so what? How long does it spend charging to make that hill? How far can it roll loaded? Operationally, how will this truck make any owner-op any more money than, say, a 2011 Freightliner Cascadia?
Tesla hasn't satisfactorily explained any of that yet. Despite high-profile press from PepsiCo and comedian/car enthusiast Jay Leno, and participation in the North American Council for Freight Efficiency's Run on Less program, the actual details of the Semi, including its weight and potential payloads, remain hidden.
"It's not going to work, the power grid can't handle it, and the trucks don't go far enough on a charge." --One owner commenting on Overdrive's electric-truck tech survey
Show an owner-operator a truck that's bound to make them tons of money, and they'll buy. In Overdrive's recent survey, despite 52% of owner-ops saying they're "very concerned" with the Environmental Protection Agency's recent proposal of a 100% zero-emissions mandate for new truck sales by 2045, exactly 0% said they'd already ordered a battery electric rig. Just five percent expressed any degree of interest in battery electric, while 18% said they were waiting for more information.
Fully 72% said they had no interest at all.
Fuel-cell-electric trucks, powered by hydrogen, get a little more curiosity among owner-operators for greater range, yet it's still early days for placing orders among small fleets. As with battery electric, no survey respondent had placed a fuel-cell-electric order, citing many of the same reasons.
Owners surveyed shared other concerns with the new powertrains and didn't hold back. "The technology is not there yet," one wrote. Visit any truck stop in America, smell the diesel in the air, and it's hard to argue against that.
Another turn-off for some: The entire debate over emissions has fallen into the realm of petty politics. Those pushing stringent regs too often equate truck exhaust with the murder of children, and some truck drivers dismiss the real dangers of emissions altogether.
But skeptical owners generally express concern with kitchen table operational issues/feasibility. One put battery electric's over-the-road potential bluntly: "It's not going to work, the power grid can't handle it, and the trucks don't go far enough on a charge."
[Related: Can California's grid handle the EV revolution?]
Even truck owners who want to go electric can't yet justify the cost or hassle. "I am seriously interested and would upgrade, but the range/reliability is not there yet," wrote another.

Other owner-operators, for simpler reasons, just don't think a future ZEV mandate is their problem.
"Honestly that is 22 years away," one wrote. "I am 55 years old, when I am 77 years old I will not be buying a brand-new truck in the year 2045, so this is not something I will have to deal with, thank God."
That's not to say that owner-operators have no interest in reducing emissions. In fact, where emissions align with fuel spending, a majority say they take steps to keep emissions down.
Most owner-operators do plenty in the way of what might be called environmentally sustainable, or at least conscious, trucking. Frankly, all the fuel-saving pieces of the puzzle in the arsenal contribute, from idle reduction with auxiliary power units (many of which can run fully electric) to installing aero devices like side skirts on trailers, simply closing the gap between tractor and trailer as tight as possible, choosing low-rolling-resistance tires, even greener brake pads. And so much more, of course.
But the operational demands for carbon-heavy over-the-road trucking are no joke. With government investing in electric vehicle infrastructure and pushing alternative powertrains as an escape from high fuel prices, is it feasible for an owner-operator to run on anything besides diesel today? According to the North American Council for Freight Efficiency and a dealer of Volvo and Mack electric trucks, there's a resoundingly clear answer to that question: No.
[Related: A look at 'Topsy,' Edison Motors' new diesel-electric vocational prototype]
Hope for small business trucking to beat big fleets to electrification
Despite the mountain of uncertainty around electric trucking, some small to mid-size fleets have found ways to move the ball forward. Portland, Oregon-based Titan Freight Systems, with 45 tractors and 125 trailers, found a way through the VW Mitigation Grant through Oregon to get 75% of capital expenditures for the trucks and infrastructure covered. That took some mastery of the grant process on Titan's part, but others have found a way to outsource that.
Hight Logistics, which runs in and out of the ports in California in drayage operations with 50 or so owner-operators, today operates five battery-electric trucks with company drivers in them, and has Forum Mobility, a power-services startup, handling the charging infrastructure.
Smaller yet, Bill Aboudi's AB Trucking in Long Beach, California, owns two battery-electric yard hustlers from the Orange EV company, and he said he'd never buy another diesel truck for yard moves.
California heavily incentivizes small fleets like Aboudi's to go electric with their Innovative Small e-Fleet Incentive Program, which can cut down on the price of a new e-truck. On top of that, Inflation Reduction Act-enabled incentives provide up to $40,000 worth in tax credits for a heavy-duty electric-vehicle purchase, plus a 30% credit on charging infrastructure cash outlays.
Aboudi has tried to get his hands on a battery electric or full cell truck, but to no avail. His first battery-electric choice of Nikola's Tre models was hit with a recall, and he's recently gone back to adding diesel trucks to the fleet before the California Air Resources Board (CARB) 2024 deadline for all newly added port-drayage trucks to be ZEV.
[Related: California's aggressive ZEV mandate backfiring at the ports?]
"It's amazing how much money we're wasting on this," said Aboudi of the incentives. "For example, the quote I got from Nikola for hydrogen trucks was $450,000 a piece."
After various vouchers from the federal and state governments, he said the price about evens out to what you'd pay for a new diesel truck.
"But where they get you is the sales tax, which is based on the $450,000," he said. That, plus the Federal Excise Tax also based on the topline number, means he's not actually looking at saving any money up front.
"They've really weaponized private industry." --IMC/Pacific Drayage Services President Jim Gillis, on CARB's requirements of large warehouse operators/manufacturers to use a percentage of ZEVs, driving some opportunity for fleets who invest in them
Hight Logistics noted much the same with respect to huge physical-damage insurance costs relative to diesels. Hight does expect to save money versus traditional diesel trucks over a five-year term, mostly based on fuel savings with each electric truck during that time. (Hight is also factoring in a big rebate from the state, reducing the cost of the lease it has for each unit it runs with Forum Mobility.)
"The smaller a company you are, the more risk you are taking" in pursuing alt-fuels, said NACFE's Mike Roeth. "If you've got five port trucks in Houston or New Jersey, and you try to buy a new e-truck, you can put yourself out of business fast."
Jim Gillis, President of the Pacific Drayage Services division of IMC, operating hundreds of tractors hauling out of California and other ports, echoed Roeth's thoughts. Given the capital-intensive nature of heavy-duty electric technology today, "I think the larger fleets are the proving grounds for these trucks," he said.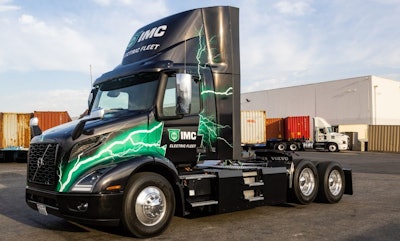 "If I was an owner-operator with a truck I could get grandfathered" in CARB's drayage registry before the end of the year, Gillis added, "I'm not going to go buy these trucks off the shelves," before cost/profit expectations line up better.
[Related: CTA files lawsuit to block CARB's diesel truck ban]
Gillis' fleet is also investing in hydrogen fuel cell-electric Nikola cabovers after testing one Nikola hydrogen prototype and finding it a "driver's truck" with great visibility and interior roominess compared to cabovers of the past. Other electric models have made appearances at ride-and-drive events hosted by the port authorities in California and elsewhere. That hasn't been the case for the battery electric Telsa Semi.
Gillis notes IMC has 20 hydrogen fuel cell-electric Nikolas on order, and believes public-facing hydrogen stations for fueling will come online more quickly than battery-electric charging stations. (The fleet's invested in its own chargers at a facility in Compton, California, for its SoCal-based Volvo VNR Electric units.) Greater range with hydrogen could be just the ticket for runs from the Port of Oakland to the Central Valley and back, which maxes out the range of a battery electric, he added.
Gillis is hopeful to begin receiving some of the Nikola hydrogen cabovers this quarter.
Is the ZEV risk worth the reward?
As evidenced by the port drayage operations, some shorter-range applications have already become viable for EVs, as NACFE's Run On Less program also shows. "There will be pockets where some small businesses can get in if it makes sense," said Roeth.
OTR operations may be a longer time coming, generally speaking, yet Roeth mentioned Uber Freight as "wanting to move freight with zero emissions." The broker recently announced a new set of AI tools intended to "democratize," in their words, the bidding process with big shippers, basically allowing smaller fleets and owner-ops to get in on big RFPs.
"If you've got the trucks and can find a way to charge them, you've got a seat at the table," said Roeth.
Chinmay Jaju, head of sustainability at Uber Freight, said on a recent Run On Less video that he was "thrilled" to see EVs popping up in its network, and that there would be considerable business opportunity for e-trucking companies.
"Pretty much every single RFP that I've seen for the last three or five years has some component of 'show me a paragraph describing your sustainability efforts,'" he said. "Nowadays I see bids coming across that say 'flag this lane if you have an EV bid.'"
Jaju called sustainability a "top issue" for shippers, with 75% of his top shippers looking to get emissions down.
Gillis, with IMC, noted CARB's requirements for large warehouses sourcing transportation to move a percentage of freight by zero-tailpipe-emissions vehicles. If those requirements aren't met, manufacturers are then required to pay a mitigation fee for excess emissions on their properties to their air-quality district.
"They've really weaponized private industry," said Gillis. Warehouse operators covered by the rule "have to monitor every truck coming in and out," and "have to record the model year, engine, and manufacturer" and self-report it to CARB.
Elsewhere around the nation, though, sustainability goals have simply seeped into corporate culture -- though the heavy-duty electric truck transition remains a risky path for small-business truckers, top shippers increasingly promise a reward for that risk. These days, with rates, revenue and income down, as technology develops and prices fall, the EV gambit could become the next frontier for nimble, business savvy owner-operators to parlay into profitable lanes.
Read next: Hight Logistics: Among small fleets, 'definitely one of the first' proving out battery electric in drayage