Trucking news and briefs for Tuesday, April 5, 2022:
CVSA petitions FMCSA for 'personal conveyance' clarification
The Commercial Vehicle Safety Alliance, in a letter penned to the Federal Motor Carrier Safety Administration on March 29, petitioned the agency to amend the "personal conveyance" regulations by adding a definition for the term.
Specifically, CVSA asked the agency to define "personal conveyance" with the maximum distance and/or time a driver can operate under personal conveyance status.
"To be eligible to log personal conveyance time as off-duty, commercial motor vehicle drivers must meet several conditions as outlined in the regulatory guidance on the agency's website," CVSA said, including "being relieved of all on-duty activities and responsibilities and ensuring that the off-duty trip is personal in nature."
The group said, however, that the guidance falls short by not providing distance or time limitations. Instead, the guidance gives motor carriers discretion on how to police personal conveyance.
"Motor carriers can establish personal conveyance limitations either within the scope of, or more restrictive than, this guidance, such as banning use of a CMV for personal conveyance purposes, imposing a distance limitation on personal conveyance, or prohibiting personal conveyance while the CMV is laden," FMSCA's guidance currently reads.
CVSA said this adversely affects safety "by allowing drivers to utilize personal conveyance to legally drive many hours beyond the hours-of-service limits and by making it difficult for inspectors to identify the misuse of the provision."
The group adds that under current guidance without maximum daily distance or time limits, it "presents a legal way for drivers to significantly extend their driving time and the furtherance of their load while recording personal conveyance."
Yet this is not the first go-around for CVSA on this issue. A previous petition to FMCSA for time/distance limits to personal conveyance was outright denied by the agency in September of 2020.
For inspectors at roadside, CVSA said current guidance around personal conveyance makes it difficult for them to determine if a driver's use of personal conveyance is legitimately for personal use rather than to skirt hours of service regulations.
[Related: Trucking Law: What works as 'personal conveyance']
The group noted that some inspectors have been able to identify misuse of the provision, which has been reflected in an uptick in false log violations. CVSA said false record of duty status violations were the third most documented driver violation in 2021, up from the sixth most frequent in 2019. (False logs was the second-most-common critical violation found in motor carrier safety audits, as previously reported.) A new violation code was also added in June 2021, CVSA said, that allows inspectors to specifically note when false log violations were a result of misuse of personal conveyance.
"As of Jan. 28, there were already 3,041 violations cited under 395.8E1PC, indicating the misuse of personal conveyance," CVSA said in its letter to FMCSA, citing what it called "preliminary" data. "Of those violations, 61% resulted in the driver being placed out of service because their misuse of personal conveyance was an attempt to conceal extra driving time." CVSA alleged this data demonstrated "drivers are in fact using the vague guidance for personal conveyance in an attempt to avoid hours of service violations." CVSA added that other drivers are misusing the provision unintentionally because the definition and guidance are unclear.
[Related: Advanced ELD auditing: How small fleets, independents can work to prevent adverse ratings]
Diesel prices remain at near-record highs
During the week ending April 4, truck owners across most of the country saw diesel prices come down, at least slightly, from the previous week.
According to the Department of Energy's Energy Information Administration, the U.S.' average diesel price fell by 4.1 cents last week to a national average of $5.144 per gallon. That's exactly $2 higher than the same week a year ago.
Across the country, prices fell in all regions except the Rocky Mountain region, which saw a 1.1-cent increase, and California, which was flat week-over-week. The largest decrease was seen in the West Coast less California region, where prices fell by 9 cents.
The nation's cheapest diesel is in the Gulf Coast region at $4.929 per gallon, followed by the Midwest region at $4.947 per gallon.
The most expensive fuel is in California at $6.289 per gallon, followed by the Central Atlantic region at $5.363 per gallon.
Prices in other regions, according to EIA, were:
New England — $5.283
Lower Atlantic — $5.095
Rocky Mountain — $5.055
West Coast less California — $5.312
ProMiles' numbers during the same week saw fuel prices increase by 3.6 cents, bringing its national average to $5.054 per gallon.
According to ProMiles' Fuel Surcharge Index, the most expensive diesel can be found in California at $6.282 per gallon, and the cheapest can be found in the Midwest region at $4.888 per gallon.
[Related: Biden's attempt to bring fuel prices down -- 1 million daily barrels released from petroleum reserve]
Closer look at Rand McNally's new 10-inch TND tablet
Rand McNally Product Vice President Ivan Sheldon noted the new TND 1050 10-inch tablet was "built with professional drivers" in mind and in consultation with them, too — the screen on the unit is a high-quality, durable glass that is reinforced with a heavy-duty tablet guard that comes prepackaged with the unit.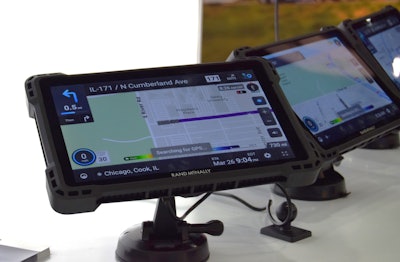 Rand McNally's CEO, Sheldon added at a Thursday, March 24, press conference at the Mid-America Trucking Show, sold the first tablet at MATS by dropping the unit from a five-foot height to demonstrate its rugged capabilities. Sheldon noted since the Teleo Capital company bought the more than 160-year-old Rand McNally company in 2020, product engineers have redoubled efforts putting user feedback into practice in their product lines, from which emerged many of the features built into the new 10-inch TND.
Truck-specific data points — not only points of interest but real "road data" such as weight-restriction information and low bridges -- now cover 28,000 more miles than in previous iterations of the company's software.
A high-resolution, built-in camera enables vehicle-inspection-report to-do documentation, receipt capture as well, Sheldon said.
There's an HDMI output, too, for streaming to a larger-screen television in-cab for downtime movie or other program viewing.
New mounting options/flexibility: The tablet comes with three viable mounting brackets, from a traditional suction-cup mount to a hard-mount screw-in version. There's likewise "ball mount if a user has a RAM mount" he/she wants to use for the purpose.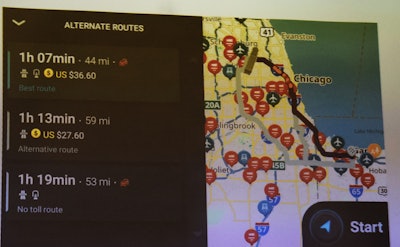 ELD connectivity options are numerous, too — built into the device are hours of service recording applications that can be paired with a couple different vehicle gateway options to the truck electronic control module, as required by the FMCSA's electronic logging device mandate. They include options to connect to a cell-enabled vehicle gateway via a small Bluetooth device. Alternately, Sheldon noted, "if you already have a vehicle gateway [without a] cellular modem ... and if we wanted to use the ELD with a cellular modem," there's a specialized mount from Rand-McNally that "has a cellular modem" and can function with the TND 1050.
Since the company's well-publicized 2020 ELD service outage, Sheldon added, "we're making a bigger investment in terms of cybersecurity," in part also enabled by the new ownership.
ATRI seeks carriers' operational cost data
The American Transportation Research Institute is once again asking motor carriers to participate in its Operational Costs of Trucking study.
Now in its 14th year, ATRI's annual Operational Costs of Trucking collects cost information derived directly from trucking fleets and owner-operators.
The annual analysis is used as a key benchmarking tool by motor carriers of all sizes. Public sector agencies also utilize the analysis to make better-informed transportation planning and infrastructure investment decisions.
This year for the first time, participating motor carriers will receive a customized report that compares their fleet's operational costs to those of peer carriers of the same sector and size.
"ATRI's Operational Costs report has been a long-standing tool for evaluating our operational efficiencies and identifying where we need to improve," said Harold A. Sumerford, Jr., J&M Tank Lines CEO. "The new customized fleet report will be a tremendous value for participating fleets, and I encourage carriers of all sizes to contribute data and take advantage of this great offer from ATRI."
Among the for-hire fleet metrics being requested by ATRI are driver pay, fuel costs, insurance premiums and lease or purchase payments. Carriers and owner-operators are also asked to provide 2021 cost per mile and/or cost per hour data using the easy-to-use online data entry form.
Carriers are encouraged to provide operational cost data to ATRI by Friday, May 13. ATRI's data collection form, which protects all confidential information, is available here. Participating motor carriers will receive an advance copy of the full report and the new customized fleet report.