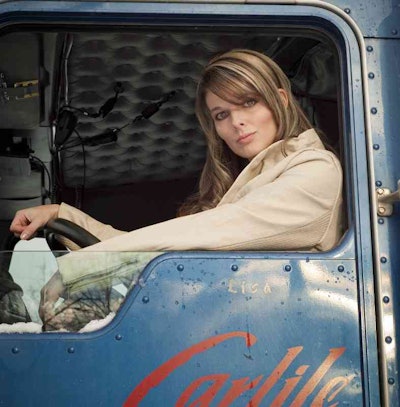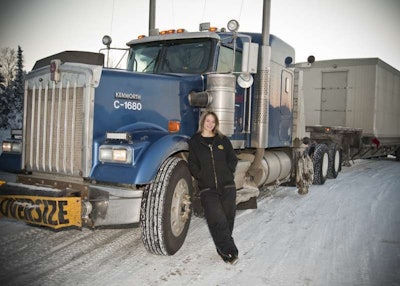 Lisa Kelly shares her home in Wasilla, Alaska, with her husband, Traves, a dog, three cats and, as of this past April, three horses – she's been a rider since she was a child. Kelly's also ridden motocross dirtbikes and driven a school bus and a commercial van.
But unless you've been living under a rock the past five years, the vehicle you associate Kelly with is a Kenworth W900 (pictured). She's arguably the trucking industry's most recognizable face for the American public, since her splash debut as one of the featured drivers in the third season of the History Channel's long-running Ice Road Truckers franchise.
Now, after taking a year off, Kelly's back. And the series is poised for a big comeback with some familiar characters competing in Canada. You can tune in to the new Ice Road Truckers series on the History Channel Sundays beginning June 9 at 10 p.m. ET/PT.
Men's magazine Esquire called Kelly, 32, the "Sexiest Trucker Alive." Drivers across the nation both male and female responded to her down-to-earth magnanimous personality and the story the series has told of a young woman growing into the nerves-of-steel work ethic required to run where she does, typically on Alaska's rugged Dalton Highway – the "Haul Road" in local parlance.
After subsequent involvement in the IRT: Deadliest Roads spinoff that put familiar faces and some series newcomers from the United States and Canada in distant locales – India, Bolivia – in rugged terrain, Kelly returned for another season stateside. Last year she took a break from the show. Ratings fell.
For the new season, she says she tried to bring the best of her curiosity, tenacity and a growing veteran's sense of what it takes to get the job done to the filming in Canada on treacherous ice roads last winter. It was the first time she'd run those roads.
History Channel representatives cast the new season as a competition between past cast member and driver Hugh Rowland, now heading his own burgeoning Canadian ice road-running fleet, and the more-established Polar Industries with a seasoned team of heavy haulers – including Kelly and Ice Road Truckers veteran Alex Debogorski. "With a no-nonsense work ethic and an against-all-odds determination," an early synopsis announced, "each trucker continues to race against the elements – and each other – keeping their eyes on the road … and the big prize" – the goal for each team being the other's failure. The outfit with the biggest profits wins.
Kelly raced motocross dirtbikes as a teenager in Soldotna, Alaska. After high school, she took an art class and a mechanics class at a local college, then made a pass at a four-year effort at Cornerstone University in her early-childhood home of Grand Rapids, Mich.
The structure didn't take. "They were pushing us to pick our major, and I didn't want to choose," she says. She was thinking seriously about attending a specialty arts college in California to study TV editing when the semester at Cornerstone ended. She went home to Alaska and a series of jobs. "It was pizza that got me into trucking," she says.
"I couldn't wait 'til my freight didn't scream anymore." –Lisa Kelly on early driving work behind the wheel of a school bus, after she set her sights on trucking
You heard right: Kelly started her driving career as a teenager delivering pizza. "Oh my gosh, I love not going to the same damn building every day," she says, summing up the basics of her attraction to the work. "Delivering pizza, I could drive around town – nobody said you had to take the road – and I feel like I'm a part of society. … That's when I'm like, 'I want to drive a truck.' "
She signed on with a school bus company that paid for training and licensing. "I did that for a year," Kelly says. "You have to babysit 40 kids and be a professional driver" at once. "I couldn't wait 'til my freight didn't scream anymore."
Kelly applied at trucking companies in her area, including Carlile Transportation, which had a lot of Dalton Highway runs to serve the Prudhoe Bay oil operations. There, Kelly "started out in a little van," she says. "I'd jump into big trucks in my downtime around the yard and back in trailers, and the guys there taught me how to drive."
That learning process has been helped by what she calls an artist's sense of shaping her world, working creatively within the constraints before her. She self-identifies on her website, thelisakelly.com, as first a trucker, second an artist. It's a reference to what she calls "artful eyes" – a way of seeing the world in front of her, shaped by her early years.
"When I was a kid, I took piano lessons, and I never stopped playing music." Today, that extends to writing songs using Apple's GarageBand software. "I used to draw, and I took a painting class once, but it's more like art has turned more mechanical for me today. I really enjoy figuring out how things work – horses, trucking, motorcycles. … That seems artful to me."
The art of trucking is partly "trying to figure out how to get from here to there with this set of tools. Say you've got a roll of duct tape and some wire, and how to get from here to there" to solve a problem. "We might only have two straps and three chains" to get some piece of freight secured. How do you do it right, most safely – and make it legal?
Such dynamics have driven the Ice Road Truckers series' popularity. Kelly's return to the show on Canadian ice roads unfamiliar to her, fans hope, will deliver a further injection of excitement. Kelly says she's never had as much fun filming the series, this time working with a Canadian ice roads hauler Polar Industries while on furlough from Carlile.
The Canadian ice roads were tough, she says, but her "very informal" relationship to the owner of Polar Industries enabled no shortage of humor to cut the drama. Also, Kelly seems to have played the seasoned veteran this time around, comfortable in joking with the established owner.
The veteran's role is deserved, says Carlile driver Carey Hall, who's also made appearances on Ice Road Truckers. Hall is the very definition of veteran — his Alaskan experience reaches back to 1986. Among other things, he taught Kelly how to push-truck, using your unit with a special push-bumper to assist heavy hauls up steep Dalton grades.
"We went to Kenai one morning, and she wanted to learn," says Hall. "My truck had the push bumper on it, so we traded trucks – she had on a set of doubles, and I let her push me up all the hills coming back." Further practice developed Kelly's skill at it, Hall says, and today she's "mellowed out a lot. It takes a lot to get used to the Haul Road itself – dealing with some of the weather situations up there and everything else. She's definitely grown into it."
On her first trip out during the new season's filming, her truck's owner told her, "It's rough in some spots," talking about her route. When she finally got out onto the ice, she told him, "This road is rough everywhere. I've never been beat to crap as much as this."
All in all, though, she enjoyed the experience immensely. "I asked the guy if I could come back and work next winter," she says, but learned that would require a special visa.
Meanwhile, her beloved Kenworth awaited her in Alaska. And home is where the heart is, of course – in this case, the work, too: "We were 250 loads behind here at home." Except for various trips to trucking festivals in the United States and abroad – most recently to the U.K.'s TruckFest in May – Kelly remains a loyal Carlile driver.
Find photography (courtesy of Lisa Kelly and/or History) as well as a Kelly-produced Haul Road vid and Overdrive's ridealong interview with her below.
[youtube mPrQkILWUd0 nolink]
[youtube hRBhW3JnYKI nolink]