Trucking news and briefs for Thursday, March 3, 2022:
Truck-involved crash fatalities dipped in 2020
The number of people killed in crashes involving large trucks fell by 1.3% in 2020 from 2019, despite an overall 6.8% increase in traffic fatalities in 2020, according to the National Highway Traffic Safety Administration's 2020 traffic crash data. NHTSA defines a "large truck" as commercial and non-commercial trucks with a gross vehicle weight rating greater than 10,000 pounds.
In 2020, there were 4,965 people killed in crashes involving large trucks, down from 5,032 the year prior. The number of large truck occupants killed in crashes fell from 893 to 831, while the number of other vehicle occupants and non-occupants (pedestrians, motorcyclists, pedalcyclists and more) fell from 4,139 to 4,134 from 2019 to 2020.
The number of people injured in large truck-involved crashes also declined in 2020, falling 7.8% from 159,359 injuries in 2019 to 146,930 injuries in 2020.
Overall, there were 38,824 lives lost in traffic crashes across America in 2020, the highest number since 2007. NHTSA noted that in 45% of fatal crashes, the drivers of passenger vehicles were engaged in at least one of the following risky behaviors: speeding, alcohol impairment or not wearing a seatbelt.
The increase in overall traffic fatalities was despite an 11% decrease in total vehicle miles traveled, a 22% decrease in police-reported crashes and a 17% decrease in injuries in crashes in 2020.
[Related: COVID hours waiver: Has 'self-regulation' equaled greater safety?]
ATA becomes DOL registered apprenticeship sponsor
The American Trucking Associations on Tuesday signed an agreement with the U.S. Department of Labor establishing ATA as an official registered apprenticeship sponsor, as it previously reported that it would.
As a DOL-recognized sponsor at the national level, ATA can now provide its member companies the ability to offer apprenticeships to job applicants while ATA and its partner Fastport — a DOL intermediary specializing in transportation and logistics — administer the program for the participating companies.
The Owner-Operator Independent Drivers Association, said a spokesperson, citing no interest from members, did not plan to make similar moves toward sponsoring registered apprenticeships for small fleet members. The National Association for Small Trucking Companies, queried about potential similar plans, did not respond in time for this report.
The move comes after the Federal Motor Carrier Safety Administration's proposal for an under-21 truck driver apprenticeship pilot program that would require carrier participants to register an apprenticeship with the Department of Labor.
ATA member carriers who want to participate in the pilot program when it is implemented, if no changes are made and the registered apprenticeship requirement stands, will not have to go through the full apprenticeship registration process and will be able to sign onto the ATA/Fastport apprenticeship. Carriers will, however, still have to meet certain obligations, such as recordkeeping, "but it's not the same as starting one of these from scratch," ATA said in a statement this week.
Under the apprenticeship program, ATA members will need to meet certain training and compensation standards as they bring in new drivers for a two-year apprenticeship program that will provide graduated wages as drivers develop and expand their skills.
[Related: Inside the debate over FMCSA's under-21 interstate drivers trial run]
I-75 closures planned this weekend in Michigan
If you're traveling I-75 near Detroit this weekend, expect some delays.
The Michigan Department of Transportation said that, weather permitting, part of I-75 in Oakland County will be closed starting Friday night for a bridge demolition.
MDOT said the highway will be closed in both directions between I-696 and the I-75 Business Loop (Square Lake Road) to complete demolition of the overpasses at Gardenia and Lincoln avenues. In addition, 13 Mile Road will close between Stephenson Highway and Agnello Drive to allow crews to safely remove the bridge that carries northbound I-75 over 13 Mile Road. A detour will be posted.
The freeway closure will begin at 11 p.m. Friday, March 4, and will reopen to traffic by 5 a.m. Monday, March 7.
Before the freeway closure, crews will begin closing ramps at 9 p.m. and start freeway lane closures at 10 p.m. All ramps to northbound I-75 will be closed from I-696 to 14 Mile Road. All ramps to southbound I-75 will be closed from M-59 to 11 Mile Road.
MDOT said that during the closure, northbound I-75 traffic will be detoured west on I-696 to northbound M-1 (Woodward Avenue), then eastbound Square Lake Road back to northbound I-75.
Entrance ramps to northbound I-75 will remain open from 14 Mile Road to Crooks Road/Corporate Drive for local traffic. Southbound I-75 traffic will use westbound Square Lake Road to southbound M-1, then eastbound I-696 back to southbound I-75.
Trucker Path community names best truck stops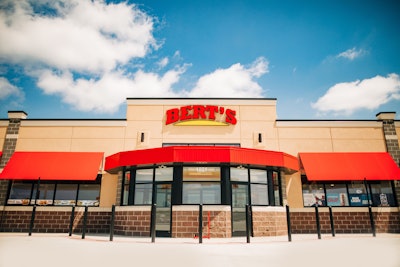 Bert's Travel Plaza in Wellsville, Kansas, and the Pilot Travel Center in Mill Hall, Pennsylvania, were named the top independent and chain truck stops, respectively, by Trucker Path members.
Trucker Path on Thursday released its annual rankings of truck stops, which are based on ratings, review, feedback and votes by users of the app.
"When I found out we'd won, I was shocked because our store just opened on May 1, 2020," said Kim Jackson, general manager of Bert's Travel Plaza. "But we've worked so hard to make it a great place. Being family-owned, especially having owners that also operate a trucking company, really helps. They put all their trucker knowledge into our facility. The owner really wanted a place for drivers, so it was built for the drivers. There's lots of concrete, bigger spots for driver comfort and a security guard at night to help drivers. We also have free parking, a wash bay, and we have a 24-hour cleaning crew for clean showers and restrooms."
Trucker Path's top five independent truck stops for 2021 are:
1st place -- Bert's Travel Plaza, Wellsville, Kansas
2nd place -- Big Apple Travel Center, Joplin, Missouri
3rd place -- Boise Stage Stop, Boise, Idaho
4th place -- Russell's Endee Truck and Travel Center, Glenrio, New Mexico
5th place -- Truck World Truck Stop, Hubbard, Ohio
The top five chain truck stops, according to Trucker Path's rankings, are:
1st place -- Pilot Travel Center, Mill Hall, Pennsylvania
2nd place -- Love's Travel Stop, Bliss, Idaho
3rd place -- Rocky Mountain Truck Centers of Little America, Green River, Wyoming
4th place -- TA Oakley, Oakley, Kansas
5th place -- Love's Travel Stop, Hamilton, Alabama