Trucking news and briefs for Monday, Oct. 10, 2022:
Weekend closure planned on PA Turnpike I-476 section
The Pennsylvania Turnpike Commission is warning drivers to change travel plans or prepare for a lengthy detour due to a continuous, 55-hour weekend closure planned between the Lehigh Valley Interchange, Exit 56, and the Mahoning Valley Interchange, Exit 74, on the PA Turnpike's Northeastern Extension (I-476) from Friday, Oct. 14, through Monday, Oct. 17, as workers replace a bridge.
The roadway will be closed in both directions starting at 9 p.m. Friday, Oct. 14, until 4 a.m. Monday, Oct. 17.
The closure is needed for crews to safely demolish the current bridge that carries the Turnpike over Huckleberry Road in South Whitehall Township at milepost A59.20 while replacing it with a new steel superstructure that will be installed.
The construction technique being used, Accelerated Bridge Construction (ABC), eliminates the need for months or years of single-lane traffic patterns and other motorist restrictions by closing that part of the roadway for a limited period over a weekend, Turnpike officials said.
The new superstructure, which has been under construction since March 2022, is being built near the existing bridge. The 90-foot-long bridge opened to traffic on April 1, 1957, and today carries roughly 30,000 vehicles per day both north and south.
For 55 hours, the PA Turnpike will implement a detour of I-476 in both directions. Motorists are urged to avoid the area, if possible, but if travelling in this region, pay close attention to the orange and black directional signs.
Southbound through-traffic should exit at Pocono (Exit 95) and take I-80 East to State Route 33 South (25.5 miles), then follow State Route 33 South to U.S. Route 22 West (23.6 miles), follow U.S. Route 22 West and reenter I-476 South at Lehigh Valley Interchange Exit 56 (15.8 miles).
Northbound through traffic can exit at Lehigh Valley (Exit 56) and take U.S. Route 22 East to State Route 33 North (16.5 miles), follow SR 33 North to I-80 West (24.5 miles), then follow I-80 West and reenter I-476 at Pocono Interchange.
Detour maps and more project details are available here.
[Related: Georgia prepping drivers for 'profound' delays with long-term I-285 lane restrictions/reductions]
Biden visits Volvo powertrain plant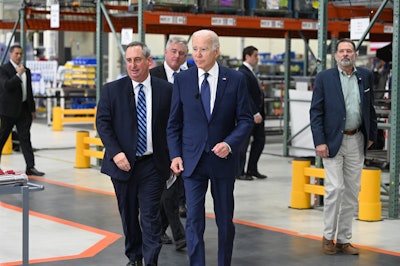 Volvo Group North America on Friday, Oct. 7, hosted President Joe Biden at the Volvo Group Powertrain Operations facility in Hagerstown, Maryland, for National Manufacturing Day. Biden met with Volvo Group executives, toured the facility, and spoke with employees during the event.
"The Volvo Group is very pleased to host President Biden at our Volvo Group Powertrain Operations today on National Manufacturing Day," said Martin Weissburg, chairman of Volvo Group North America and Mack Trucks president. "National Manufacturing Day recognizes modern manufacturing, and our Hagerstown site exemplifies that as it provides advanced transportation technologies to meet customer needs today and in the future."
During the past 10 years, the Volvo Group has invested nearly $320 million in the site. The Hagerstown campus produces engines, transmissions and axles for Mack Trucks, Volvo Trucks, Prevost motorcoaches and Volvo Buses sold in North America. It also recently began production of the Modular Power Boxes (MPB) that are at the heart of Volvo's new battery-electric trucks, the Volvo VNR Electric and Mack LR Electric models.
Biden toured the MPB subassembly, assembly and testing areas while on campus.
[Related: Battery-electric trucks demonstration earns award]
Carriers, drivers needed for Wreaths Across America
Lanes are currently open across the country to support the delivery of sponsored veterans' wreaths to participating Wreaths Across America (WAA) locations this December.
Truck drivers and carriers are needed to join the Honor Fleet and help the national nonprofit fulfill its mission to "Remember, Honor, Teach" with the delivery of live, balsam veterans' wreaths to their destination -- one of more than 3,500 participating locations across the country -- where volunteers will place the wreaths on the headstones of American heroes.
Drivers and carriers learn more about helping to move the wreaths and register to participate here.
This year, WAA transportation partners will assist in delivering more than 2.5 million veterans' wreaths to be placed on graves of our fallen heroes all over the country on National Wreaths Across America Day, Saturday, Dec. 17. Transportation partners who join as volunteers will become a part of WAA's Honor Fleet.
"With the help of our volunteer transportation partners in 2021, more than 525 truckloads of veterans' wreaths were delivered across the country by hundreds of volunteer professional truck drivers," said Don Queeney, WAA Director of Transportation. "We are immensely grateful for the support of our Honor Fleet carriers who are taking the opportunity to give back in recognition of the sacrifice our veterans make, and because of their support we are able to fulfill our mission."
[Related: Trucking's next generation engages with Wreaths Across America -- a quiet event far from the D.C. hoopla]