Trucking news and briefs for Tuesday, March 7, 2023:
Love's founder dies at 85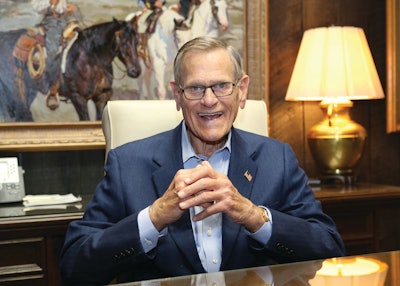 Tom Love, who, along with his wife and business partner, Judy, founded Love's Travel Stops & Country Stores, passed away at 85 in his hometown of Oklahoma City on Tuesday.
A respected community and business leader, Love was admired for his genuine humility, good-natured disposition, generosity and helpfulness toward others.
"Tom Love was a man of conviction who never wavered from the principles of honesty and integrity in the 59 years he spent developing the company he started with his wife, Judy," said Shane Wharton, president of Love's. "These tenets still guide our company and will as we move forward.
"Tom always listened and was sincerely interested in knowing the stories of employees and customers. He wanted to hear their thoughts, ideas and hopes for them, their families and the company. He credited the company's success to the people who worked for us. He could relate to all employees but had a soft spot for those on the frontline at stores. In many respects, he was an ordinary person who built an extraordinary business alongside his wife Judy and his family, who he loved deeply."
In 1964, Tom and Judy Love used $5,000 to lease an abandoned service station in Watonga, a small rural town northwest of Oklahoma City. From a modest beginning, the then-named Musket Corporation opened 40 stores in eight years in western Oklahoma.
Tom's keen and discerning sense for business and vision to grow the company resulted in Love's establishing a new concept -- the country store -- that combined existing business models for grocery and convenience stores with a self-service fuel station. In 1972, Tom's country store in Guymon, Oklahoma, became the first store in the nation to combine self-service gasoline and grocery items.
Under Tom's leadership, Love's opened its first travel stop on Interstate 40 in Amarillo, Texas, in 1981, catering to professional truck drivers and the motoring public who sought convenience and efficiency when traveling across the country. Throughout the decades, Love's has expanded its services to include hot and fresh food items, truck maintenance and warm showers.
The company has flourished under Tom and his family's leadership -- opening its 600th location in October 2022. The Love's Family of Companies has grown to include businesses focused on truck maintenance, logistics, commodity supply and alternative energies.
[Related: Longtime owner of White's Travel Center, Lee-Hi Travel Plaza passes at 71]
Owner of New York-based moving companies sentenced to fraud
Michael Nadel, one of two owners of State to State Moving NY, Inc. and Direct Van Lines Services, Inc., among other moving companies, was sentenced on Feb. 17 after pleading guilty to conspiracy to commit wire fraud in connection to a household goods moving fraud scheme.
Nadel was sentenced to 18 months in prison and two years of supervised release, and was ordered to pay a $168,156 criminal forfeiture and $119,563 in restitution to victims.
In June 2021, Nadel and co-conspirator Yarin Nadel pleaded guilty to conspiracy to commit wire fraud.
As outlined in an October 2019 indictment, the Nadels conspired to defraud customers of the affiliated moving companies by misrepresenting the estimated charges for their moving services. They then required customers to pay additional fees and refused to return or threatened to sell the customers' belongings if the fees were not paid.
As part of the scheme, they registered various corporate entities with the Federal Motor Carrier Safety Administration, often using fictitious names and business addresses.
[Related: FMCSA needs a 'cop on the block' fighting double-brokered freight fraud]
Bestpass, Comdata partnering to ease permitting process for operators
Payment platform providers Bestpass and Comdata announced Tuesday the companies are partnering to help fleets and owner-operators save money ordering permits for travel across North America.
Comdata offers more than 500 types of permits for fleets in need of permits for alcohol, oversize/overweight, superloads, manuals, IRP, and trip and fuel. As one of the largest permitting services in the United States and Canada, Comdata provides operators every credential needed to safely and legally transport a load.
"Comdata will be a great partner for us as we diversify our offering and continue our focus on becoming a one-stop shop for customers, streamlining their administrative needs and helping them stay focused on the road ahead," said Jason Walker, CRO at Bestpass. Comdata in 2022 issued more than "250,000 permits, and "we look forward to leveraging the company's expertise as we coordinate our efforts to simplify processes for fleet owners and operators traveling over state lines."
3PL acquires Illinois-based fleet
Brentwood, Tennessee-based 3PL Sage Logistics is acquiring Byland Transportation, a trucking company in Downers Grove, Illinois.
Byland has been serving the Chicagoland area for 6 years and currently operates in all 48 lower U.S. states.
Sage Logistics Holdings CFO John Hellige said acquiring Byland Transportation's 48 trucks and 70 trailers will enhance Sage Logistics' transportation and logistics services, allowing the company to better serve its existing clients while also expanding its reach in the industry. However, Hellige added, as the carrier grows "we will add dedicated opportunities. ...
"This acquisition will allow us to offer a wider range of 'asset right' transportation solutions," Hellige said. "Our mixture of brokerage, flexible drop trailer solutions, tied to an asset-based trucking operation further expands our ability to provide top-notch service to our clients. This acquisition also allows us to provide our customers with dray services in the Chicago market which we plan to rapidly grow."
Byland Transportation is a provider of over-the-road full truckload, LTL, expedited service, local and regional delivery, hazardous delivery, drayage, and warehousing services.
Byland Transportation will operate under the name Sage Truckload, and will operate 49 Trucks and 138 trailers.