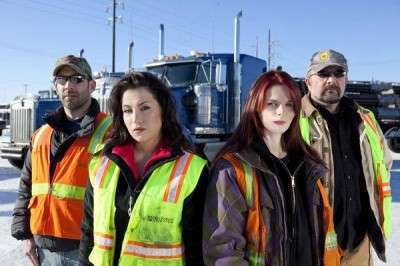 A set of DVDs with the entire season 5 of History Channel's "Ice Road Truckers" franchise is now available via History's website. The season pit the Canucks against the Americans, with a crew of haulers in Alaska as well as another group in Canada battling it out for the top spot, as you may recall. It was the season that ultimately produced James Jaillet's reporting last year on Alabama hauler Dave Redmond's difficulties (Redmond is pictured, right) with the show, as well as introduced us to Maya "Short Stack" Sieber (pictured, left, with the rest of the Alaska crew from season 5, including Tony Molesky and Lisa Kelly, whom I interviewed back when here).
You can order the new DVD set, priced at $29.95, here.
To access the archive of a live chat with Maya Sieber hosted by our sister magazine Truckers News last fall, sign in to this page.