The last time Overdrive caught up with owner-operator Dan Heister, he'd just survived a too-close-for-comfort brush with a tornado that hit the Boyd Bros. terminal just north of Birmingham, Ala., in April 2011.
During a day-long, statewide breakout of tornado activity, Heister hunkered down in the Boyd lounge as a small tornado tossed trucks and trailers around the yard and ripped apart the building he was in. He recounted the story to me in late June, when I had the chance to ride with him from the same Birmingham-based Boyd terminal (now a pristine, rebuilt facility with a big, modern drivers lounge and dozens of maintenance bays) to downtown Louisville, Ky., to deliver a load of materials for a new storage unit facility.
But Heister was no stranger to Overdrive's pages prior to his 2011 tornado tale. His business acumen and success as a single-truck flatbedder landed him not only a Trucker of the Month nod from Overdrive in 2010, it was also enough to propel the Tennessee-based operator to Overdrive's Trucker of the Year award the next year, 2011.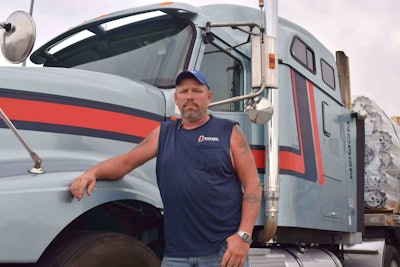 Heister runs nearly exclusively in the Southeast, working Boyd Bros. loadboards and staying in touch with dispatch to find the loads that pay him what he wants and get him where he wants to go. He's home most Fridays to spend weekends with his wife and son and to tend to his small Tennessee Ridge, Tennessee-based farm and his garage full of '70s Ford Torinos, motorcycles and the other big boy toys he's collected over the years. He resumes work Sunday evenings.
Though many owner-operators — and Overdrive, too — preach that operators know their cost-per-mile down to the penny and choose loads accordingly, Heister takes a different approach, one that he says gives him more freedom and nets him better take home pay.
"Screw the per-mile stuff. I just do simple math," he says, referring to his weekly target for revenue.
"A lot of guys are sitting around looking for those $2.50 a mile loads," he says. While others are sitting, Heister's rolling. And his strategy pays him well: He's brought home more than $100,000 in annual net income several times since the recession, and he topped $90,000 last year.
Heister runs a 2004 International 9400i, which he bought used in 2012. He poured money into it early into his ownership of the tractor, righting a few issues left by the previous owner.
But his savings strategies helped buoy him through the thousands of dollars in repair bills and the touch-and-go years of the 2008-2009 recession.
Heister sends a nickel per every mile to a maintenance and repair account. When his truck needs work, it never comes out of his take-home pay, even when he's needed expensive repairs. He's also a stickler for preventive maintenance. "If you don't stay on top of it, you'll get behind and you'll always be broken down," he says. Heister's maintenance account generally has more than $10,000 in it, unless he's fresh off needing work on his truck.
Heister pays himself a weekly paycheck out of his business's account, rather than melding his personal and business finances. His strategy paid off when trucking went south in the Great Recession. His business account had built up money in the years prior, so despite a few slow months in 2008 and 2009, his padded account allowed him to scrape by to see better times.
"I was in survival mode in 2008," he says. "But I had a lot of money in the bank. I had about $25,000 saved when the recession started. At the end of it, there wasn't much left. That's one of the mistakes owner-operators make — spending all their money. Then when you have a bad month, you start losing stuff."
Trucking itself isn't a hard job necessarily, Heister says. "But it's a tough life," he notes. His time in the Army in the 1980s gave him the patience needed to deal with trucking's frustrations.
"You need a high tolerance for bullshit to make it any amount of time in trucking. A lot of it is hurry up and wait. I think that's why the military experience works in trucking," he says. "It's a learning experience every day."