Updated Wednesday, March 29, to reflect availability of the download of the new, 2023 edition of the Partners in Business owner-operator manual. Download it via this link.
At the Mid-America Trucking Show next week March 30-April 1 in Louisville, Kentucky, Overdrive and Mike Hosted of owner-operator business service firm ATBS will present the annual Partners in Business seminar Friday the 31st at 1:45 p.m. local time in room B104 in the South Wing at the convention center, MATS' "Pro Talks" theater. It's part of a bevy of business-related programming the show's marshaled for the even this year. (You can catch the full schedule at this link.)
Hosted is joined onstage by longtime Overdrive contributor Gary Buchs. Buchs is retired from the road as of late 2019, but his long experience as an owner-operator informs his ongoing work as a mentor/business coach to a big group of owner-operators he works with routinely at efforts to sharpen the saw, as it were, of their business processes.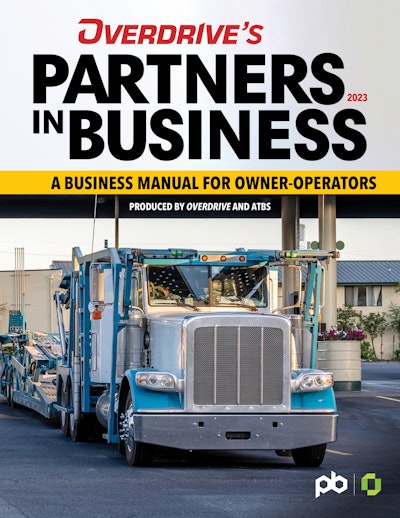 "A lot of owner-operators today are making too many assumptions" about market conditions in particular, Buchs said, responding emotionally to the gloom-and-doom headlines of the day and possibly missing areas in which, and operational adjustments with which, their peers are having success. ATBS Vice President Mike Hosted will come armed with trend data to help illustrate some of those areas. On the bottom line among ATBS clients, owner-operator income on average was down in 2022, as previously reported, yet averages are what they are.
[Related: Trucking's 'bloodbath,' a year later: How some owner-ops hold the line]
Not everyone took the 10% haircut with exploding costs and falling rates the average did, of course, and look no farther than Overdrive's ongoing 2023 Trucker of the Year program for monthly examples of owner-operators who've set themselves up for success even through exceedingly difficult business conditions. (If that describes you or another owner you know, by all means get over to our nomination page and get in the running. Stay tuned for this month's semifinalist next week.)
Buchs relayed a conversation he had with an owner-operator relatively new to the business, too, just yesterday. "Nobody teaches us how to do this," that owner said, referencing the value he took from his work with Buchs, likewise drawing on the lessons learned from other experienced owner-operators, some learned the hard way himself. On one hand, Gary noted, that owner's right, yet on the other there's plenty in the way of self-help resources for those new to the business or looking to, again, sharpen their saws for better profits.
Overdrive's annually updated Partners in Business manual (the 2023 edition is out now), coproduced with the input of ATBS, is one such resource, certainly. The Friday seminar also serves intro to the 2023 edition of the owner-operator business manual, now a whopping 120-plus pages' worth of information running all the way from the basics of business planning before start-up to going independent, growing a small fleet and prepping adequately for a comfortable retirement.
The new manual is available to everyone as today, Wednesday, March 29, as a download. New this year:
And of course much more. So stay tuned.
Hope to see you in Louisville.
[Related: Holding the line: Owner-op's playbook to push back on cheap freight]