It's been quite a time since I heard from longtime owner-operator Joey Slaughter, who reached out today about a particular stretch of road he calls "by far the worst I've ever seen in my 30-year career" driving trucks.
Namely, that's I-40 in Arizona, particularly I-40 eastbound between Kingman and Flagstaff. How bad is it? Here's just one example of what it looked like from a dash-eye view, as it were, on a rainy day this past March: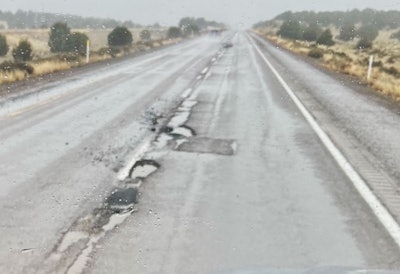 That's not so dissimilar to somewhat recently-remedied conditions on I-24 Westbound coming out of Nashville here I saw late last fall, victim of multiple freeze-thaw cycles of the prior winter that plagued the season. Northern Arizona's certainly experienced that this past winter, too, as DOT officials told ABC 15 in Phoenix this past March. Viewer Debra Sherfey put the situation with the road to reporters quite bluntly: "It's just, it's disintegrating. I mean it's ... it's falling apart."
While that report noted a repaving project was planned "along a several-mile stretch of I-40 eastbound, east of Kingman," for 2025, Slaughter felt it was high time California produce haulers and others who use the road plenty regularly make their thoughts known.
More recently than the March report, too, a new project from Arizona DOT has gotten under way in Flagstaff between I-17 and Walnut Canyon Road, and Mohave Valley News in April reported newly planned paving projects ID'd as huge needs in Western Arizona, so perhaps some relief is coming:
Needle Mountain Road to State Route 95 (MM 2-9), both east-/westbound lanes.
US 93 to Silver Springs Road (MM 72-79), eastbound lanes
Willow Ranch Road to Fort Rock Road (MM 88-92), eastbound lanes
Fort Rock Road to Seligman (MM 92-123), eastbound lanes
Willow Ranch Road to Cross Mountain (MM 89-95), westbound lanes
[Related: Arizona I-40 pavement work under way]
Slaughter said he contacted ADOT and was told they were aware of the problems, yet here we are in June, and "as far as I can tell, no work has been done" in the impacted areas.
Slaughter found himself $900 lighter after running through the area recently. He had "one of my trailer brake shoes" quite literally "come off," he said. Another operator running behind him, fortunately, told him about it over the CB. "When I got to a shop, there was $900 worth of damage to be repaired."
Have you experienced similar in recent times, particularly given the extreme temps of this past winter in the Southern states?
What have you seen coming in from California in Arizona? What other roads need calling out this early summer season -- it's certainly the time of the year the pavers come out in force. Drop a comment or email tdills@randallreilly.com.