While I have been a proponent, to an extent, of the efficacy of the lease-purchase model for new owners and others lacking the capital to secure favorable financing, I've always accompanied that with a warning of the potential pitfalls. Having tried several different company programs over the years to lease a truck toward ultimate ownership, I've learned several hard lessons about programs structured to set the operator up for failure. Those lessons I've shared with Overdrive readers.
The most-efficient way to protect lease-purchase operators from predatory companies? Kill off the programs. Recent news from the newly formed Truck Leasing Task Force shows they're at least considering a recommendation that FMCSA do just that. In the words of Task Force member Paul Cullen, as reported here …
"Why get into the nitty gritty of fixing these lease-purchase agreements? I would like to keep it on the table that instead of creating regulations, no debt related to a lease-purchase program should be held by the carrier or affiliated company. This would address the majority of the problems we are discussing."
Cullen's talking specifically about carrier-administered lease-purchase programs, and to an extent I agree with him. Neither carriers nor their affiliates should hold the keys to the truck while at the same time controlling the amount of miles the driver is offered -- that's like owing your soul to the company store.
Yet I'm not certain outright prohibiting carrier lease-purchases is the right answer. To kill the model entirely would exterminate an opportunity for drivers to become business owners and improve their financial situation.
In my early years, my lack of business knowledge set me back -- like others, I failed to recognize unfavorable lease terms. Because I didn't know how to run a business, I failed to know my cost numbers -- as long as money was coming in I thought I was doing fine. Yet learning my numbers and taking more control on the revenue side with solid customer relationships helped me discover when and how I was being cheated by my lease company.
I learned from my failures, ultimately, and boosted my financial standing by improving my credit and income through learned efficiencies.
Eradicating the lease-purchase entirely would also hit companies currently doing it right, equitably for the aspiring owner-operator.
By recommending killing the model entirely, I feel, the task force would be taking the easy way out.
[Related: Killing off the viruses and parasites: How to spot a bad lease-purchase deal]
What they should be asking: How do we purge the system of predatory programs while making it possible for drivers to still purse their dream of being an owner-operator? What guardrails can be erected to make fair play the norm? Lease-purchase programs should not be used to increase company fleet size through equipment that will never be owned by the operator. Drivers need to learn how to be true business owners, and never sell their soul to the company store.
Here, a few suggestions:
Prohibit carrier ownership and operation. Carriers nor their affiliates should not have their name on the title of the truck while controlling the amount of miles the lease-purchase operator gets every week. And if the driver quits or walks away from the lease, the equipment should not be retained by the carrier simply to lease to another operator. Companies who practice this simply talk a good game, use drivers up, then slowly but surely shorten their miles until the operator has no choice but to walk away from the lease for a more predictable paycheck. The company then retains the equipment to lease out to another sucker on the line, getting free truck payments and repairs for as long as any driver is willing to make it work. Companies who do this, in my view, turn lease-purchase operators into little more than glorified company drivers working under a 1099.
Prohibit the use of in-house or outside truck leasing companies by carriers. Carriers should not be allowed to enter into agreements with OEMs or leasing companies for the equipment drivers are leasing. In other words, the equipment lease should not be tied to the company or their partner. That gives them control over the driver, and one of the cornerstones of being an owner-operator is the assumption of ever-greater control over your own path.
[Related: Death throes for the leased owner-operator model?]
Prohibit restrictive maintenance covenants. Operators should hold wide latitude for choice of venue for repairs and general maintenance. If carriers offer discounts for insurance, maintenance, parts, tires, or fuel, document them clearly on settlement sheets so drivers can effectively manage cost and make their own decisions on where to get equipment worked on.
Prohibit forced escrow accounts in carrier's control. Every company I've ever lease-purchased from required me to contribute to an escrow account they controlled by some measure, and likewise dictated what the money could and could not be spent on. The practice gives the carrier huge leverage to hold that money hostage should the operator wish to move to another operation. At the same time, it's good business to set up a maintenance account to cover unexpected and expected cost, but the business owner's control of that account is crucial. A good lease-purchase will specify that the lessor is accountable for needed repairs, likewise avenues for the leasing entity to collect that money if need be. If a lease-purchase agreement requires a deposit to cover possible expenses, the terms should be between the operator and the leasing company.
Enshrine the right to operate elsewhere. Lease-purchase operators should retain latitude to move to a new contract with a different carrier if things do not work out with their current one, as long as they meet their final commitments to finish out loads and return any equipment that belongs to the company, such as company-owned trailers. As long as the operator makes the lease payment and pays for the insurance on the truck, plates, permits and fuel, they should be able to take that equipment with them if they leave a carrier and enter a contract with any carrier they choose.
Open a complaint-reporting avenue for lease-purchase operators. Let's purge the industry of predatory companies by offering drivers a way to lodge complaints and use legal avenues, with the backing of the task force. If companies are found to be operating in a manner that harms lease drivers, fine them and force compensation to operators harmed.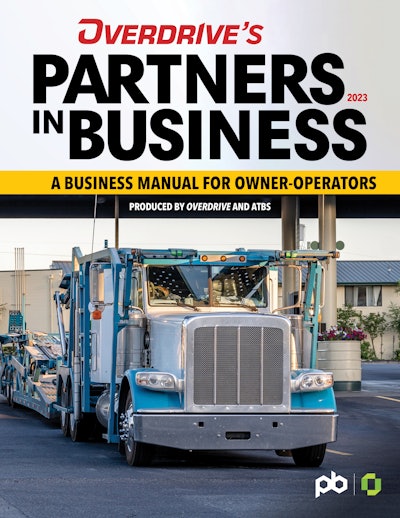 A final suggestion: Carriers should do more to help lease-purchase operators estimate the cost of business with the equipment lease. Through better knowledge of costs, lease-purchasers can negotiate contracts with potential companies not just for mileage or percentage pay but also a guarantee of miles per week, based on available dispatch. Case in point: If I wanted to pay myself a $1,000 a week, having a fixed cost of $1,100 a week and an estimated fuel/variable cost of $1,200 a week, I'd want weekly miles to be a minimum of 3,300 if the contract paid a buck a mile. Too many carriers seem to overpromise and underdeliver, coming up short on miles and forcing operators out of the lease.
Carriers could give operators the option to secure their own loads if company dispatch falls short on miles, as long as loads fit the carrier's expected rate.
These suggestions aim to protect drivers. At the same time, it's wise for any driver to build experience in trucking before jumping into a lease. Even smarter? Bring some business experience, or at least business knowledge through educational resources, to the party before taking such a risk.
[Related: Broken promises: Retention missteps over-the-road]