Regular readers will remember my post from last weekend on the mailbag approach to readers' editorial comment. Well, here we go. It's been a week of news of both dim and less-so light, particularly as it related to the issue of the need for more sleeper berth/14-hour-rule flexibility as well as the hike in liability insurance the FMCSA's been planning.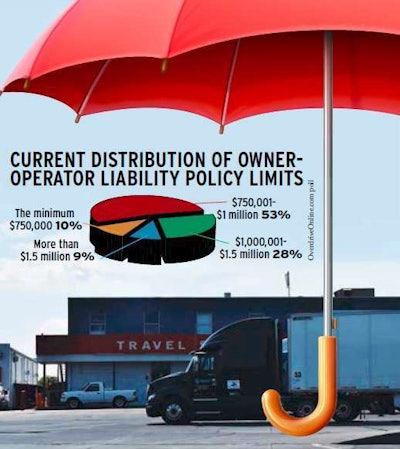 Following both reports from the meeting of the Motor Carrier Safety Advisory Committee meeting held Monday and Tuesday, October 26-27, in Alexandria, Va., readers expressed no small amount of wonder at FMCSA plans to conduct a study of the safety of splitting sleeper berth periods in a more flexible manner. Essentially, the study will allow participants to split sleeper periods beyond just the 2- and 8-hour periods allowed today and with some extension of the 14-hour workday. "Did I really see what I thought I just saw?" noted one commenter, then cracking wise on the announcement: "If I got it right," FMCSA wants "to study what used to be, because they [messed up] the Old Way with their New + Improved Way, but the New + Improved Way has the Motoring Public's tampon in a knot, so now they're going to see if the Old Way that they [messed up] is a viable option."
While the latter part of that analysis veers from FMCSA's professed reasoning for introducing the study (repeated calls from drivers to restore flexibility), it's no secret that there has been a boatload of public attention to the hours rule within the last year particularly. Newspaper editors and broadcasters around the country have dug repeatedly into their own mailbags and launched no small amount of reporting aimed at sussing out the industry's problems, hanging reporting on the high-profile accidents of late. One, at least, recognized the value of the Old Way on hours, if he didn't actually seem to know it was the Old Way, stressing that the 14-hour clock needed a "pause button."
As for liability insurance, FMCSA's got its work cut out for it if it really wants a large hike in the current minimum, as reported earlier this week, given definite and large small-business-impact potential. I got a call following that story from Mike Jasper of Jasper Trucking in Albion in North Central Indiana. It's 17-truck dump outfit, hauling mostly within a 100-mile radius but with some trips farther afield. Jasper wondered at the contention, made by more than one MCSAC member during the liability insurace discussion on Tuesday, that a hike in the current $750,000 liability minimum would do anything more than encourage more lawsuits.
"We do see a lot of lawsuits that are just stupid," said Jasper. "Somebody runs a stop sign and then runs into the side of you. And they sue you for their liability. A lot of times what happens is the insurance company pays it off, knowing if may turn out bad for them" once the lawyers get a hand in it. Which reality pokes holes in the notion, also offered during the MCSAC meeting, that the rise in the cost of actual claims settlements ought to necessarily be the data panacea to base a hike on.
Jasper also echoed thoughts of prior readers on auto-liability minimums, set by the states, which often come up short in covering truck damage in accidents where the motorist is at fault. "A new dump truck costs me abut $170,000," Jasper said. If the at-fault insured's policy can't cover damage, it "goes against your own insurance policy." Some states have property-damage liability minimums as low as $5,000.
As for Jasper, his company carries well more than the $750K minimum, given "it doesn't cost me that tremendously more when you start adding trucks," he says. For the independent owner-operator, as we've written before, that's not the case. Jasper has paid in recent years around $2,500-$7,500 per truck for liability, depending on the hard or soft nature of the insurance market at any given time. A hard market, with a poorly performing stock market, yields higher premiums, he says, as insurers' profits on investments fall.
Jasper also worried that the only clear result of a substantial hike in the minimum would be, as agreed one of the callers featured in the "audio mailbag" podcast below, to put a lot of the small trucking companies out of business. The large company, noted Jasper, "doesn't really care because he doesn't really have to. All it does, then, is drive a few small guys out of business or get a lawsuit filed against them" that otherwise wouldn't have been.
In the MAP-21 highway bill, legislators directed the FMCSA to study the issue — they have, and they're determined that a hike is in order. "I guess it's time I call my Congressman," Jasper said.
As for the caller mentioned above, if a big hike comes down it might well be "time for a change" — an exit from transportation after three decades in the business. Keep the ideas coming via the comments, or leave us a message at 530-408-6423.