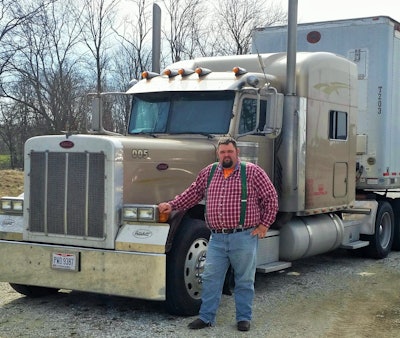 James Jaillet reported early this week on owner-operator business services firm ATBS' Todd Amen's outlook on the impact of the FMCSA's electronic logging device mandate when it comes to rates. Amen, in a conference call with owner-operators held yesterday (and which you can hear full audio of at the head of the mailbag playlist at top, via the podcast player below or via Youtube at this link), noted he felt trucking broadly speaking could well be headed for its best rates run since deregulation over the next three-four years, provided the ELD mandate goes into effect and is implemented without serious hiccups.
Why? As Amen has it, when the 50 percent or more of trucks that aren't running electronic today are doing so after the end of the year, provided nothing changes (OOIDA's official request for the Supreme Court, which we all knew was coming, to hear the ELD challenge came this week), "we're going to lose 8-12 percent of the miles that we run. The majority of small truck lines and independents have not put ELDs in. Rates are going to have to go up to compensate."
We've seen other estimated figures, of course, a decidedly smaller 3-6 percent productivity drop for larger carriers noted for instance in the February report in the ongoing series on ELD-related issues, but some owner-operators have noted even larger drops.
Be that as it may, Amen's confident in his predictions, though of the four forecasts for 2016 he made this time last year in the same call, he only got two of them correct, and asked owner-operators on the call to hold him to account for that (or, rather, he held himself to account by duly admitting it):
Miles would drop in 2016 as ELDs were slowly implemented: "We were absolutely wrong," Amen notes, as trends went the other way as rates fell and owner-operators hustled to keep revenue/income level.
Net income would be flat to down in the face of economic pressures. Amen got that one right, as income was down a bit in all segments on average.
With regulatory pressures, trucking might see some consolidation. "We did see some of that," Amen says, noting the most recent example in the merger of Swift and Knight, "and we'll see more of it."
Rates would go up 10 percent by the beginning of 2017. Amen hedges a little in his final assessment on this one, as he notes they weren't wrong, exactly, "just early," he believes, as rate indexes began to swing in a positive direction for truckers near the end of 2016 and into the beginning of this year.
Hear Amen's predictions for 2017 and on into 2018 and beyond in the podcast player below or in the playlist at top, which is the audio from the full call featuring Amen and his ATBS colleague Lee Dolan. If Amen's right, good things for rates are coming, particularly for those who already have a handle on the electronic hours environment, whether with large or the smallest of fleets. It's not all good news, of course, and he offers a word of advice to independents: Start looking for ways to maximize income by cost-cutting or other measures now — if you can hang on well into next year and beyond, there could be a payoff on the other side of the ELD mandate.
Don't tell that to Ohio-based owner-operator Scott Reed, whom regular readers will recall I wrote about when he met with Ohio rep Jim Jordan, along with OOIDA board member small fleet owner Monte Wiederhold, Rich Wilson and a host of other truckers. I talked to Reed yesterday, and his tack on the ELD mandate hasn't been in the arena of cost-cutting, operational shifts or rates enhancement. The owner-operator's "on a mission" toward reversal of the rule, he says, and following his early-March meeting with his rep, he paid a visit Tuesday to Senate offices in Washington, D.C., for a scheduled meeting with legislative aides to Nebraska Senator Deb Fischer.
"My meeting in Deb Fisher's office was a waste of my time," he says, and lasted just 10 minutes — after it was set up by that office itself, Reed says, and after Reed ran east from his Lima, Ohio-area home for it, took the train in, walked two and a half miles and…. "I was angry, but I didn't show anger, just said to myself, 'I'm not leaving here until somebody listens to me.'"
He proceeded to "go door to door to Senators' offices," he says, before getting into a substantive conversation with a legislative aide from Iowa, who "was very interested in what I had to say. They did have another meeting going on that day, but gave me 25 minutes to talk about it."
They recommended Montana, Idaho and North Dakota's Senators' offices as well. Reed sat with Tyler Hardy, a legislative aide to Sen. John Hoeven, he says, for nearly an hour and a half running through the issues relative to ELDs, the hours of service and more. "From what I'm understanding, there's about three-four Senators who might be fighting for us," Reed says, some from the perspective of agriculture/livestock, whose issues with ELDs/hours we've written about in recent months.
"I'm going back to Washington next month" if all goes well, he says. "I want to spend three-four days down there. After what happened [Tuesday], I don't want to try to play the scheduling game, I just want to go down there and start knocking on doors. I think I got more done [Tuesday] than I have so far in this whole thing." I think we'll hear more from Reed in the near future. Stay tuned.
Read more about Reed and other individual owner-operators' efforts against the ELD mandate via this link. Hear a conversation with OOIDA's Todd Spencer and owner-operator Wiederhold from MATS below, if you missed it: