This profile is part of a multi-part series in which Overdrive is publishing stories on the five Pride & Polish Best of Show winners from the 2017 Great American Trucking Show in August.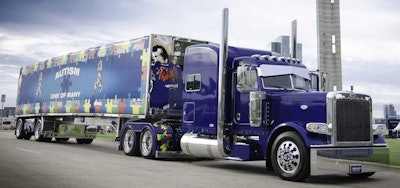 Michael Manuel of Front Royal, Virginia, built his "Autism: One of Many" 2015 Peterbilt 389 and 2016 Mac curtainside for his daughter, Kara, who has autism. He sees the truck's design as a way to help bring awareness to and destigmatize autism.
Of the nearly 2,000 puzzle pieces on the custom-built rig, some are welded into the cab floor and the deck plate, as well as on the wheels. He says more than 600 man-hours went into the welding of the floor and deck plate alone. All of the metal puzzle pieces were fabricated by Manuel or 4 States Trucks of Joplin, Missouri.
The rig is part of his 30-truck fleet that runs flatbed nationwide.
Last year, the truck picked up Pride & Polish National Championship honors at GATS.
Click here to see the full list of winners from the 2017 GATS Pride & Polish show.