This profile is part of a multi-part series in which Overdrive is publishing stories on the five Pride & Polish Best of Show winners from the 2017 Great American Trucking Show in August.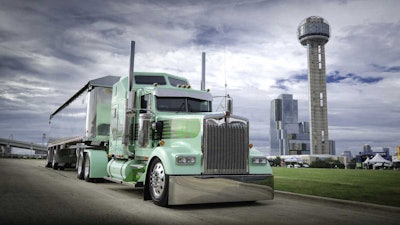 Jon Donadio painted the hood of this 1996 Kenworth W900 to match the name of his small fleet, Double Green Circle.
The rehab project on the truck, originally painted blue, included rebuilding the engine, adding a new transmission, cutting and stretching the frame, doing the paint job and more. It pulls a 2018 East trailer.
In addition to picking up Best of Show honors in the Working Combo category, Donadio also took home third place in the Combo-Open category, third place in Interior-OEM Sleeper, third place in Paint-Combo and second place in Engine.
Double Green Circle operates six trucks and nine trailers out of Guilford, Connecticut.
Click here to see the full list of winners from the 2017 GATS Pride & Polish show.