Trucking news and briefs for Thursday, Jan. 21, 2021:
Biden administration freezes regulatory action pending further review
President Joe Biden and his administration issued a "regulatory freeze" until the administration has the opportunity to review and approve the rules. A memo issued on the administration's first day in office by White House Chief of Staff Ron Klain asks federal agencies to not propose or issue any rules before approval.
Additionally, rulemakings that have been sent to the Federal Register but are not yet published must be withdrawn immediately, the memo states.
The regulatory freeze also applies to rules that have been published in the Federal Register but have not yet taken effect. The memo calls for the effective dates to be delayed 60 days "for the purpose of reviewing any questions of fact, law and policy the rules may raise." The memo also asks agencies to consider reopening a comment period for 30 days.
A regulatory freeze is common practice for an incoming presidential administration. President Trump issued a similar freeze when he was sworn into office in 2017.
The Biden administration, at the end of 2020, also announced its plans to stop certain regulations from taking effect, specifically the Department of Labor's effort to codify the definition of "independent contractor." A final rule was published Jan. 7 and was set to go into effect on March 8. It's currently unclear which regulations will be halted completely and which will proceed following the new administration's review.
Owner-operators' business income expectations for 2021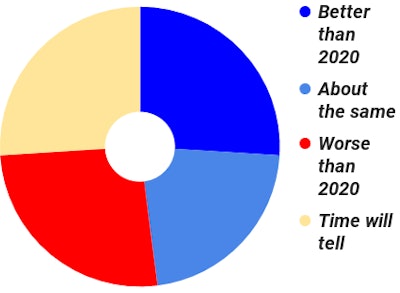 Love's opens new Illinois, North Dakota locations
Two new Love's Travel Stops locations opened this week in Channahon, Illinois, and Valley City, North Dakota.
The Illinois store, located off I-55, features 91 truck parking spaces; Godfather's Pizza, Arby's and Chester's Chicken restaurants; nine diesel bays; eight showers; Speedco; and more.
The North Dakota location, off of I-94, adds 85 truck parking spaces; a McDonald's restaurant; seven diesel bays; seven showers; a Speedco; and more.
The new locations are the company's 28th in Illinois and third in North Dakota.