Trucking news and briefs for Thursday, Jan. 21, 2021:
Biden administration freezes regulatory action pending further review
President Joe Biden and his administration issued a "regulatory freeze" until the administration has the opportunity to review and approve the rules. A memo issued on the administration's first day in office by White House Chief of Staff Ron Klain asks federal agencies to not propose or issue any rules before approval.
Additionally, rulemakings that have been sent to the Federal Register but are not yet published must be withdrawn immediately, the memo states.
The regulatory freeze also applies to rules that have been published in the Federal Register but have not yet taken effect. The memo calls for the effective dates to be delayed 60 days "for the purpose of reviewing any questions of fact, law and policy the rules may raise." The memo also asks agencies to consider reopening a comment period for 30 days.
A regulatory freeze is common practice for an incoming presidential administration. President Trump issued a similar freeze when he was sworn into office in 2017.
The Biden administration, at the end of 2020, also announced its plans to stop certain regulations from taking effect, specifically the Department of Labor's effort to codify the definition of "independent contractor." A final rule was published Jan. 7 and was set to go into effect on March 8. It's currently unclear which regulations will be halted completely and which will proceed following the new administration's review.
Owner-operators' business income expectations for 2021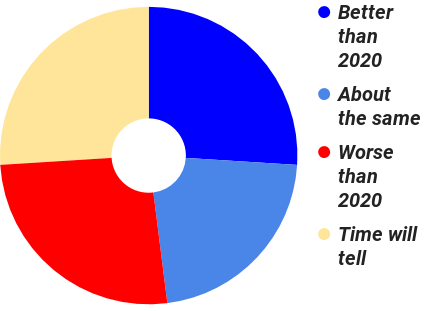 Owner-ops trend pessimistic year over year for business performance expectations as 2021 gets rolling | Last year around this time, before the COVID-19 pandemic's extent was fully known in the United States, 40% of owner-operators were voicing a kind of "it's got to get better than this" sentiment when asked about income expectations for the coming year. Rates were down and falling further on the spot market, and many were hopeful for boosted freight activity. No one could have predicted the ups and downs actually experienced -- and this year, as you can see in poll results above, far fewer (just 26%) reported a feeling that 2021 results would be better than the year just passed. In fact the same shares of poll respondents figured 2021 would be better or worse (26% all), perhaps an indication of how much depends on each individual's situation. Some made hay through the latter half of 2020 in surging spot markets -- others have been hit hard by slowdowns or have muddled through on unpredictable demand. The last time we saw results of this annual outlook poll anywhere close to this even in all four categories was headed into 2019, which followed a year of haves and have-nots of sorts in 2018 -- though many analysts regard it as a particularly good year given a marked rates rise that stalled in the fall. As 26% of readers also expressed their uncertainty on the score this year, time will tell.

Love's opens new Illinois, North Dakota locations
Two new Love's Travel Stops locations opened this week in Channahon, Illinois, and Valley City, North Dakota.
The Illinois store, located off I-55, features 91 truck parking spaces; Godfather's Pizza, Arby's and Chester's Chicken restaurants; nine diesel bays; eight showers; Speedco; and more.
The North Dakota location, off of I-94, adds 85 truck parking spaces; a McDonald's restaurant; seven diesel bays; seven showers; a Speedco; and more.
The new locations are the company's 28th in Illinois and third in North Dakota.