The Congressional Government Accountability Office (GAO) issued a report detailing various shortcomings of the Federal Motor Carrier Safety Administration's National Consumer Complaint Database (NCCDB), and urged it to take action to better serve motor carriers, drivers, owner-operators, other industry participants and consumers.
The NCCDB is where drivers report coercion and harassment complaints, as well as unsafe practices by trucking companies. It's where FMCSA in past has pointed owner-operators to report bad actors among registered brokers, brokers to report bad actors among carriers. Yet what the GAO found after analyzing five years' worth of complaints, FMCSA's recorded follow-on action, and more, is a system in need of significant updating.
Congress directed the review of the NCCDB within the 2021-passed Infrastructure Investment and Jobs Act legislation
To date, FMCSA has put the greatest emphasis on use of the complaint website by members of the public engaged with household-goods moving companies. GAO said outreach to truck owners and operators about the NCCDB's existence and their potential use of it was minimal, by comparison.
FMCSA officials admitted as much during GAO's review process, noting the agency hadn't "developed an outreach plan for the complaint website because FMCSA has decided to focus its outreach and education resources on its household goods program through the Protect Your Move campaign. This focus is in line with the priorities and direction of FMCSA leadership, according to FMCSA officials."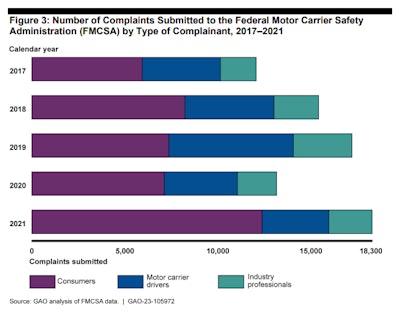 GAO felt the intense HHG focus for outreach comes at the expense of possibly useful complaints and information that could only be provided by industry participants -- key to the FMCSA's mission to improve safety as, GAO noted, truck-involved crashes have risen in recent years.
GAO consulted with five different trucking associations who all said "FMCSA should do more to promote [the NCCDB]. Representatives from two of these associations that specifically represent truck drivers told us that truck drivers are generally unaware of the complaint website. These representatives said they hear from truck drivers about incidents that could be reported to the complaint website, giving examples such as employers coercing drivers to exceed the hours-of-service limit and not addressing workplace safety concerns."
[Related: Cracks in the system: Blowing the whistle on coercion]
One key GAO recommendation (No. 2 in the list below) urges better internal organization of complaint types and characteristics.
In 2022, FMCSA flagged an effort to add a category specifically for property broker-related complaints after years of nonpayment issues experienced by owner-operators moving freight in the spot market. As reported in Overdrive, the planned improvement to the NCCDB responded to such nonpayment complaints as well as various associations' concerns about FMCSA's "lack of enforcement of unlawful brokerage activity," such as double brokering.
FMCSA then noted it would update the NCCDB to "include the option for the system user to select broker allegations specific to property carriers when filing their complaint."
Today, a Property Broker subsection of allegation types is available to complainants who use the site, yet all but a couple allegation types under that subsection that bear any relation to a broker appear to deal specifically with HHG companies, presumably including HHG brokers. Owner-operators' perhaps most likely broker complaint -- nonpayment -- is characterized under the "Other Commercial Complaints" portion of the list of allegation types shown below.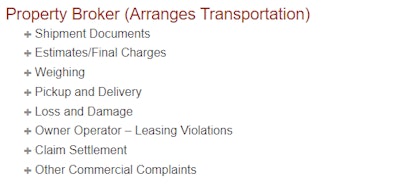 If that kind of organization sounds confusing to you, know that the GAO urged FMCSA to better organize complaints with updates to its internal complaint review guidance, likewise to improve user experience of the website. It's noteworthy that, with its report, GAO said FMCSA agreed with most all of the recommendations.
"While modernizing the complaint website is a good first step," GAO noted, testing with external users should also be conducted to provide "critical insight on how useful the website is for its target audiences before launching any changes to the complaint website."
FMCSA did not respond in time for this report to questions pertaining to both GAO's public-data-disclosure recommendations and NCCDB updates to the broker-related allegation types undertaken over the last two years.
[Related: How to file a coercion or harassment complaint]
All 14 of the GAO's recommendations for NCCDB improvement follow. Find a dedicated website for the GAO report via this link.
Make data on all categories of complaints available to the public, as appropriate, and in line with DOT's Data Management Policy.
(No. 2-7 all pertain to updates to FMCSA's internal Complaint Review Guidance for staff.): Ensure FMCSA updates its complaint review guidance to: Define each category of complaint (i.e., ADA, coercion, harassment, hazardous materials, household goods, safety, and other commercial complaints) and link allegations to these categories;
Define the characteristics a complaint must have, such as who submitted the complaint and the nature of the incident, to qualify as a motorist complaint;
Define the complaint status options and provide instructions on when to use the complaint status and activity type options;
Provide clear and comprehensive procedures on how to review all categories of complaints, such as step-by-step instructions or flow charts;
Require that key determinations are documented in complaint case files;
Require that FMCSA staff and managers enable auto-notifications for complaints for which they are responsible.
Require managers to review reports on the status of complaints as part of their oversight of complaint review.
Ensure the National Consumer Complaint Database website is consistently mobile-friendly, and:
That it appropriately targets key audiences, including by defining acronyms and technical terms, and providing more detailed or relevant examples of complaints that may be filed by truck and bus drivers.
The website should also contain information appropriately accessible for users with limited English proficiency.
The site should have performance standards, such as goals and measures, and that the website is assessed against the performance standards.
Testing the site regularly with external users was also recommended, the only recommendation FMCSA did not entirely agree with, the agency noted.
Develop an outreach plan for the website that aligns with leading practices for outreach.