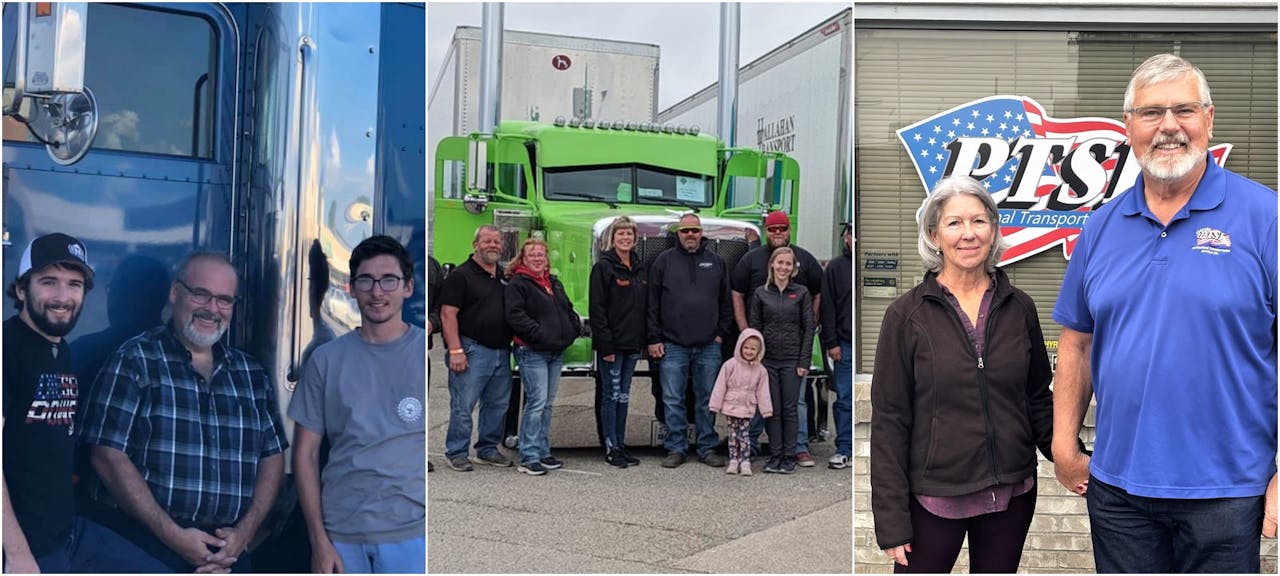 From left: Jason Cowan and sons of Silver Creek Transportation, the team at Robert Hallahan's Hallahan Transport, and Ruth and Nick Hewitt of Professional Transportation Services, Inc.

The three small fleets pictured above will be traveling to Nashville, Tennessee, next week for the unveiling of the winner of Overdrive's 2021 Small Fleet Championship. The winner will be announced the evening of Thursday, November 4, during the annual conference of the National Association of Small Trucking Companies. 
The three finalists were selected from a group of 10 semi-finalists whose stories were told in Overdrive over the course of the preceding three weeks. "All 10 semi-finalists are worthy of recognition for excellence, quite frankly," said Overdrive Editor Todd Dills.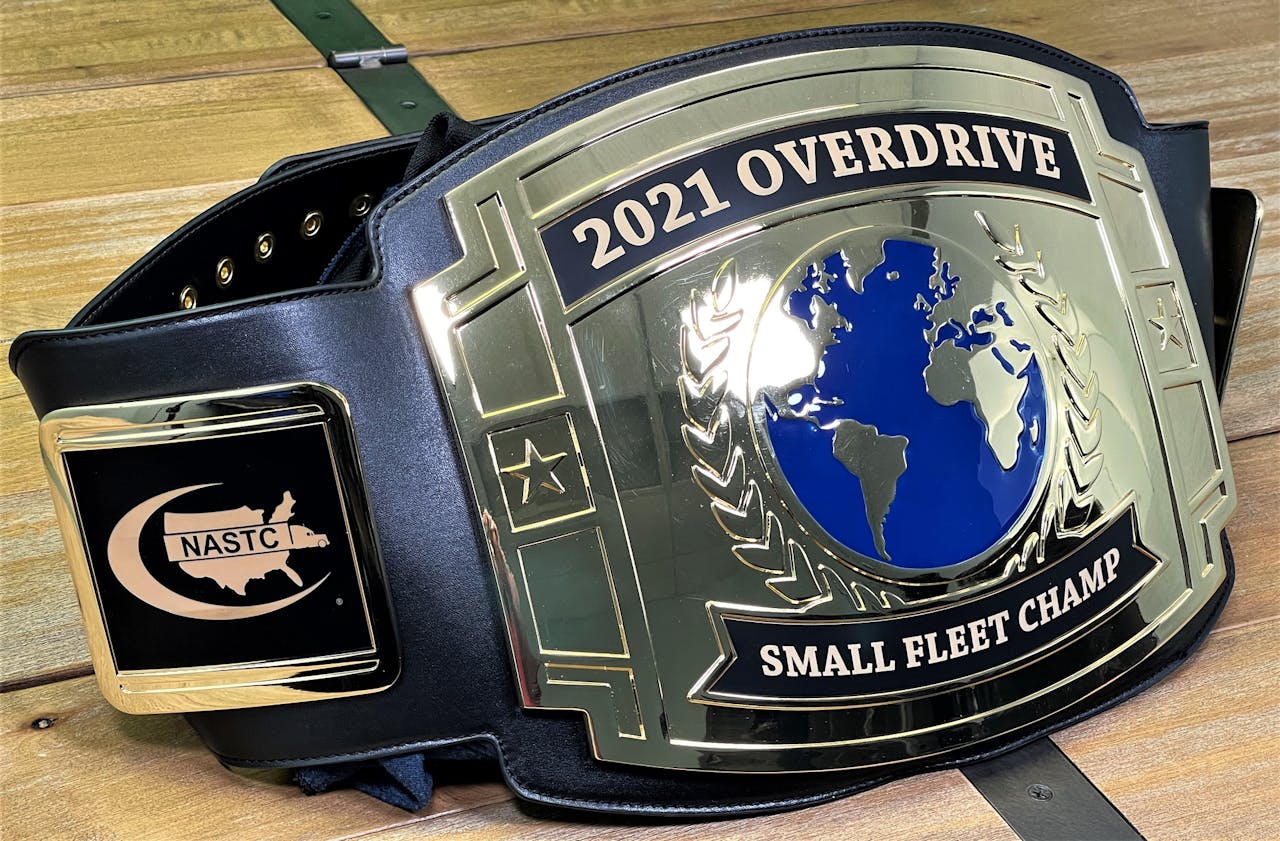 The vaunted Small Fleet Champ title belt will go to the winner of this year's competition next week in Nashville.

Ultimately, six judges scored all 10 fleets taking into account growth in recent history but also factors that undergird likely future stability, whether a diversified portfolio of customers, a clear acumen for all areas of trucking business, a commitment to employees and the communities they reside in, and more. 
"A competition like this shows the clear wealth of expertise and the diversity of experience all around the owner-operator trucking community," Dills added. "Narrowing the field down to just three – it's a hard call, no doubt." 
Nonetheless, these three finalists separated themselves narrowly from other contenders in the final scores' tally: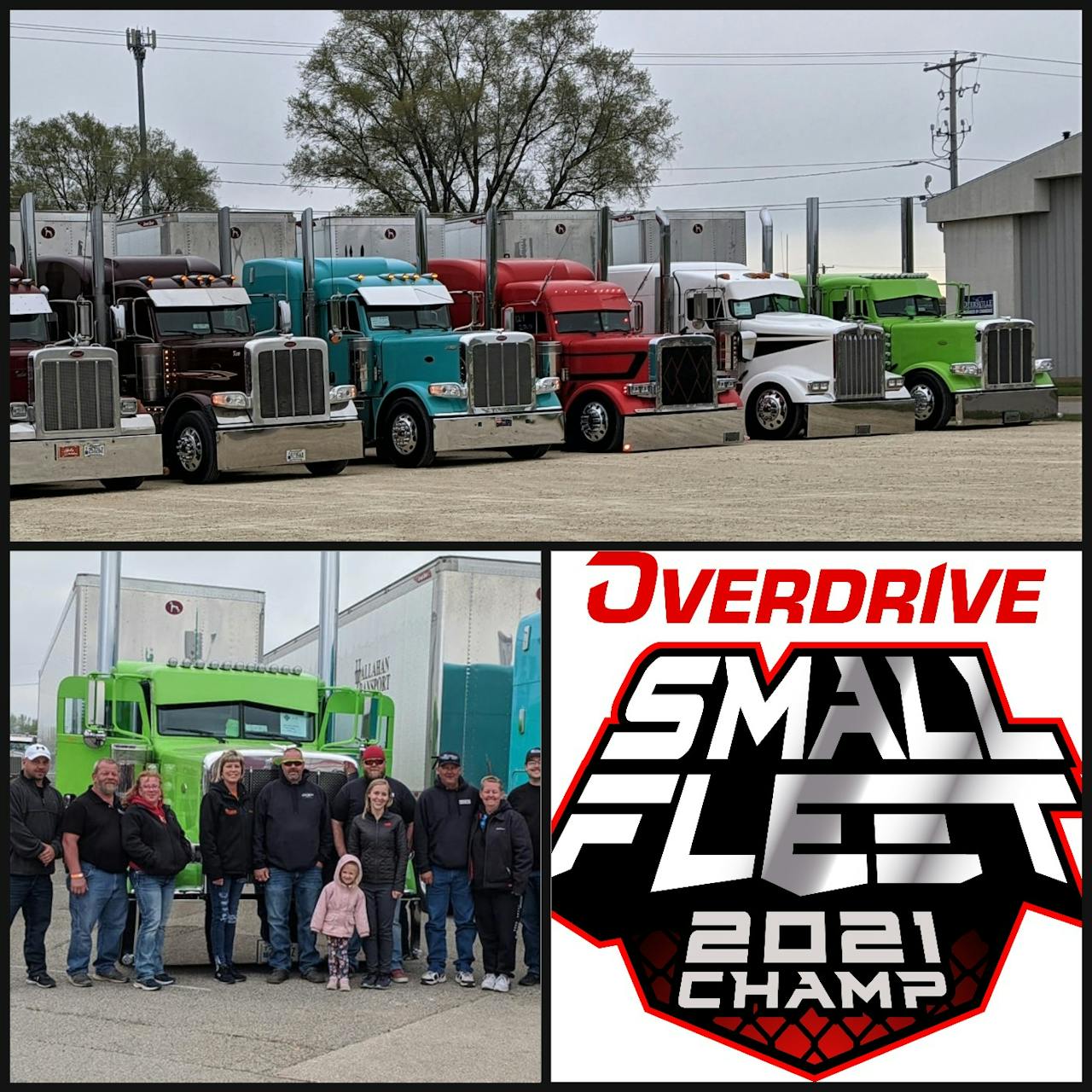 Hallahan Transport, La Crosse, Wisconsin | Owner of this 8-unit dry van fleet, Robert Hallahan has expanded his company eight-fold within just the past few years by building close freight relationships, maintaining a top-notch safety profile and more. With a mix of company equipment and owner-operators leased on, he's also shown a commitment to being a hand up for the next generation of those like him, with a desire to take ownership of their own truck and business. Read Hallahan's story via this link to Overdrive News Editor Matt Cole's profile of the business.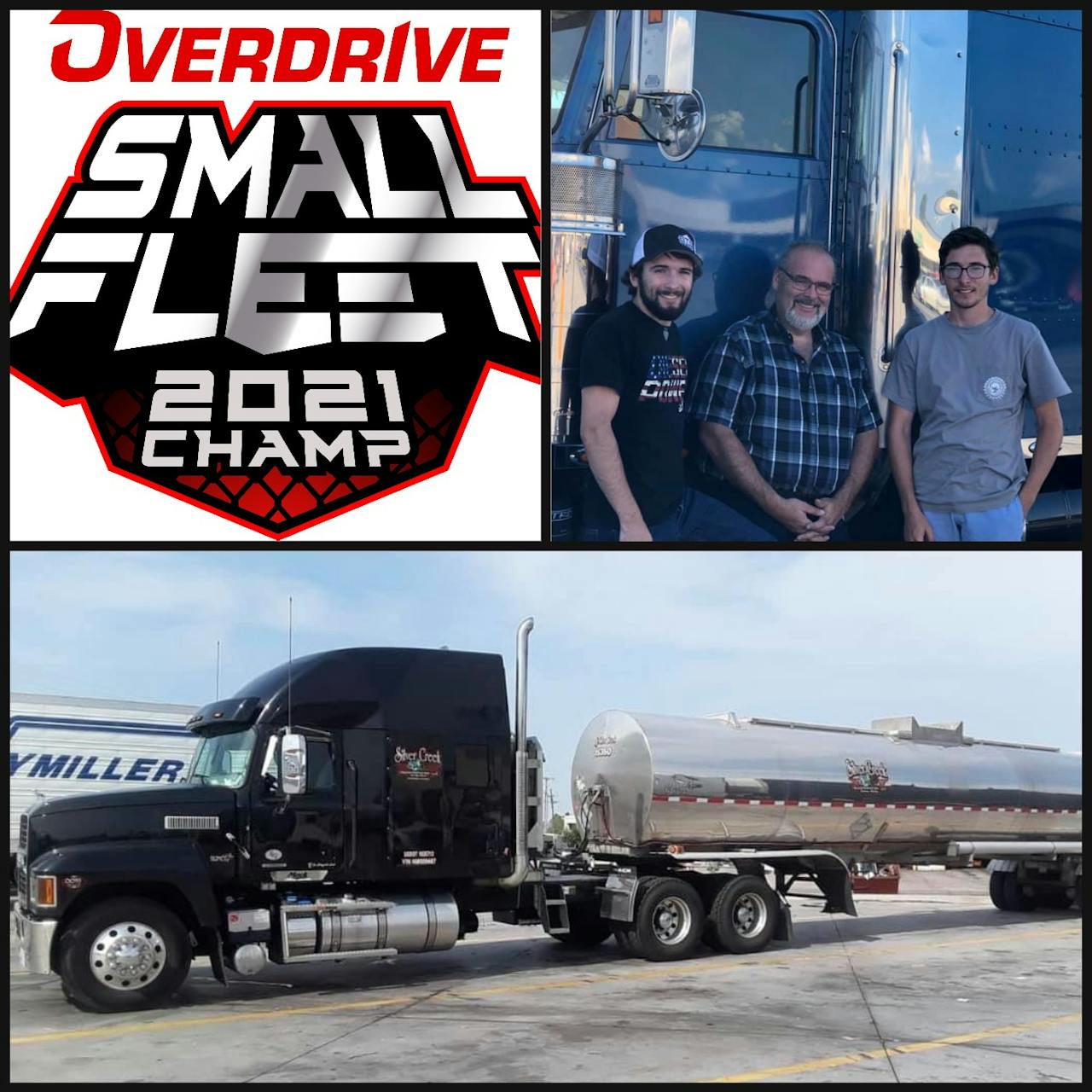 Silver Creek Transportation, Henderson, Kentucky | Silver Creek President Jason Cowan, pictured here with his two sons now intimately involved in the family business, set growth goals with a clear plan in recent years that allowed them to expand to 24 trucks. The company hauls food grade plastics, alloys and specialty machines and equipment with a fleet of pneumatic and liquid tankers, dry vans, flatbeds and low boy trailers. "Our business is built on 'specializing in the special,'" Cowan said in this profile of the business by Overdrive sister magazine CCJ's editor, Jason Cannon.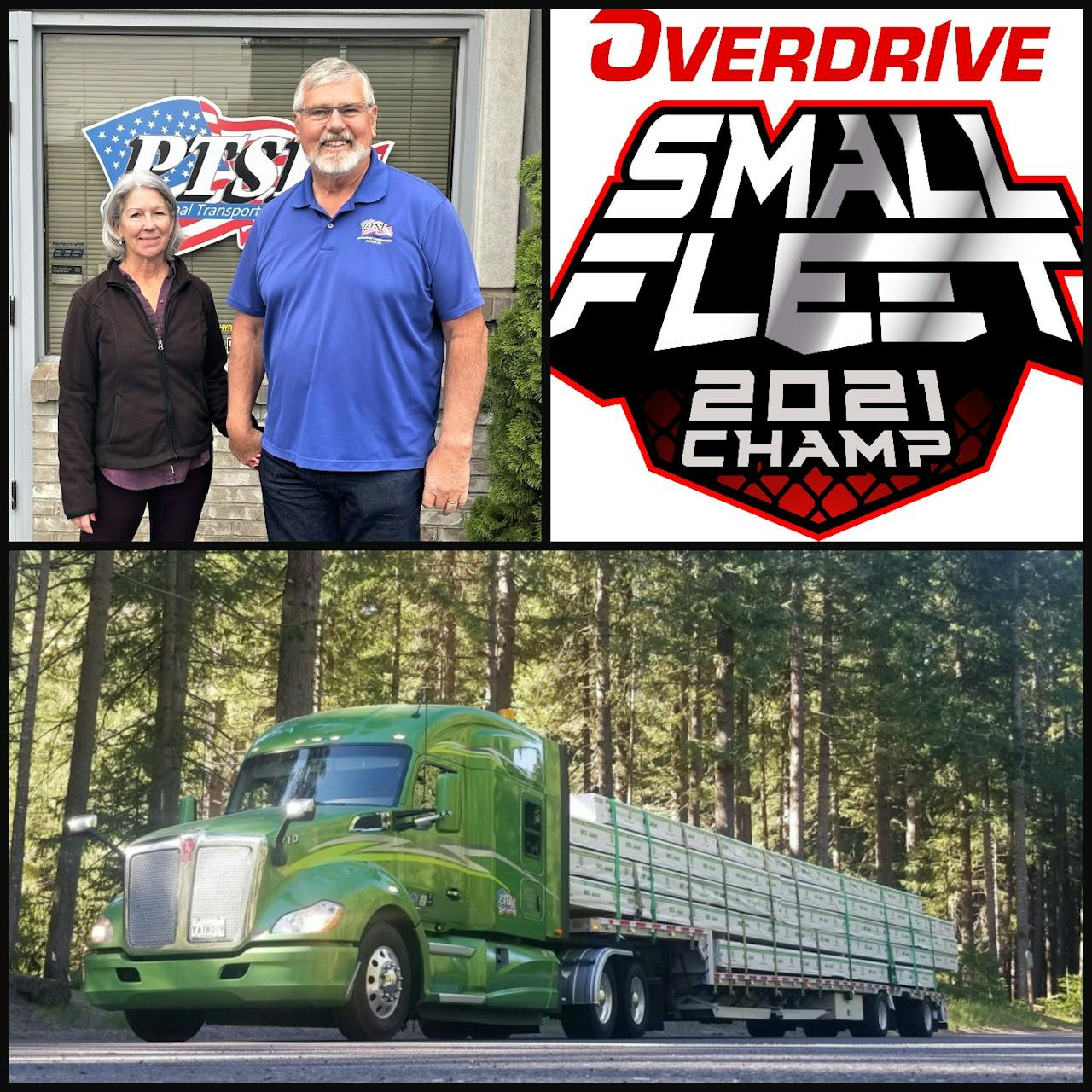 Professional Transportation Services, White City, Oregon | Nick Hewitt's long road to 14-truck (mostly) low-profile step deck hauler PTSI culminates a career building on his grandfather's legacy with early truck builder Hewitt Trucks. "Apparently, trucking was and is in my blood," Hewitt said in this PTSI profile by Overdrive Editor Todd Dills. Hewitt's been driver, owner-operator, leased-fleet owner, dispatcher, sales agent and more -- with PTSI, his trucking mastery manifests itself with good income for drivers and owner-operators, 100%-company-paid benefits and so much more.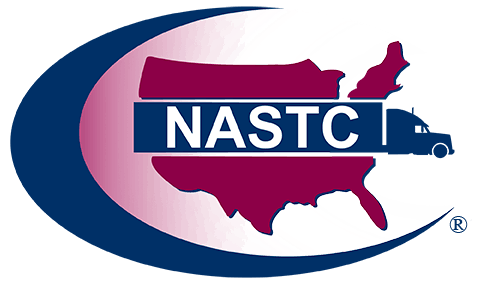 The National Association of Small Trucking Companies is sponsoring this year's Small Fleet Championship program. These three finalists receive a year's worth of membership in the association, with access to a myriad of benefits from NASTC's well-known fuel program to drug and alcohol testing services and more. All will be recognized next week at the association's annual conference. Find more about the association via their website.