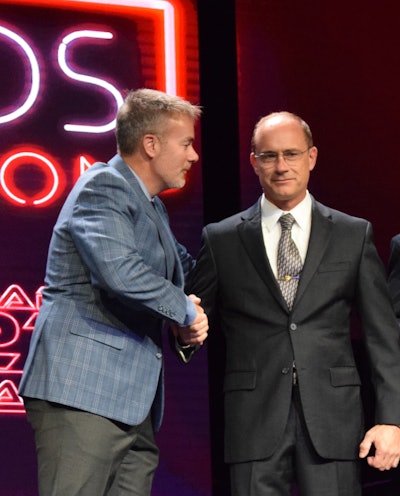 The Truckload Carriers Association and Overdrive announced owner-operator Bryan Smith of Iowa as the winner of the Owner-Operator of the Year competition. Smith, speaking from the stage at the Wynn Las Vegas resort, noted that though 2020 was certainly a shocker of a year, the experience clarified trucking for the owner-operator. It "helped me see things a lot more clearly," he said.
Smith's win was announced Tuesday, September 28, at a gala banquet concluding the Truckload Carriers Association's Truckload 2021 annual convention.
In a videotaped interview conducted on-site at the event prior to the unveiling of the winner, Smith elaborated on his experience of 2020, noting that "as an essential worker through COVID," he "didn't slow down at all – I actually made more money in 2020 than I've ever made" in both gross revenue and net income.

He focused on the positive outcome in a boost in preferred treatment, even, at some shippers, though plenty made scheduling picks and drops more difficult with "limited hours" for a variety of reasons, he said. Some "are having a hard time finding workers even still."
Reflecting on the possibility that he might not be named the winner – this year marks his fifth finalist placement in the competition – he said, "I don't mind not taking the top prize. They've got some excellent guys out here for this award. I wish them the best."
Smith was competing against fellow finalists Doug Schildgen and Glen Horack, both with millions of safe miles and plenty business success behind them.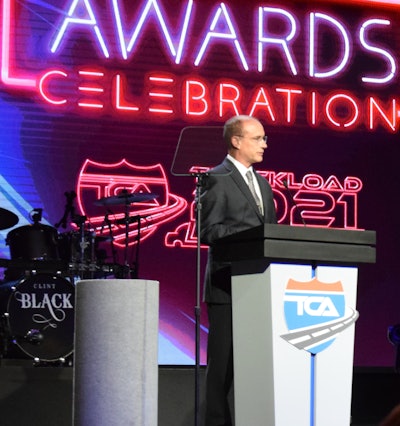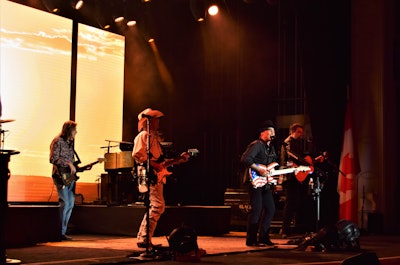 For the big win, Smith received a $25,000 cash prize. Both owner-operators Horack and Schildgen received $2,500.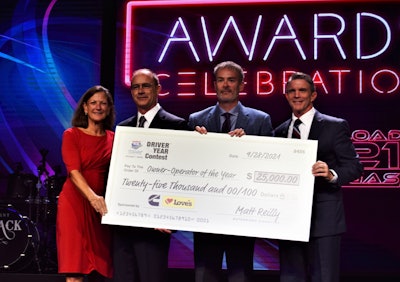 The Company Driver of the Year winner, Betty Aragon, and finalists in TCA's parallel driver program received the same amounts. Read about those winners on Truckers News via this link.
Independent and leased owner-operators – up to five trucks, where the owner still drives – can enter the next year's contest or nominate another owner through October 25.
Matt Cole penned the following brief profile about Bryan Smith's business as the Owner-Operator of the Year finalists were announced.
Bryan Smith, 51, of Asbury, Iowa, has been driving in some form or fashion for Tucker Freight Lines (formerly Art Pape Transfer) for nearly 28 of his 30 years in trucking. He got his first trucking job with Schneider when he left the United States Marine Corps in 1991, then joined Art Pape in 1993.
He became an owner-operator leased to the company in 1994, and he has now been named a finalist for the Owner-Operator of the Year award for the fifth time in his relatively young driving career. While not being named a winner the first four times (the most recent was for the 2017 award), Smith is honored to have his name in the mix so many times.
"That's always a feather in your cap," he said. "It feels good to be appreciated. Guys who have won in the past, [the judges] made the right choice. I'm younger, so I don't have a problem with that. I would say that even being considered among people that have been at it 50 years already feels good."
Throughout his nearly 30-year trucking career, Smith has amassed more than 3 million safe driving miles, a milestone that he surpassed in 2019. He's done so pulling a step-deck/RGN, hauling a variety of freight, including machinery, steel, stone, brick and lumber. A lot of the machinery he hauls, he said, is oversized, so he has to be mindful of the restrictions that come with that.
"I think I've stayed accident-free by the grace of God," Smith said. "Anyone can go out there and crash at any time. Following distance is my biggest thing. If someone has to slam the brakes or loses control up ahead, I still have time to get stopped. And you have to make sure what kind of surface you're on in the winter. Step on the gas occasionally to see if your rear wheels break free."
He's currently driving a 2016 Freightliner Coronado that he bought new. It now has more than 450,000 miles on the odometer, and Smith said he's hoping to upgrade after the winter hauling season. He usually takes his trucks to 700,000 to 800,000 miles, but he's looking at an early trade for this one, which is already paid off.
On the business side, Smith said much of his success stems from partnering with a good company and keeping up with his equipment.
"You can't afford too many breakdowns," he said. "I do a lot of the smaller work on my truck myself. I think if I was advising others, I'd say to learn the basics of electricity and mechanical, and do what you can yourself. It keeps expenses and downtime down."
Smith usually gets home every weekend, but he doesn't have any downtime in his time off between teaching martial arts, being involved in church, attending his children's sporting events and more. A normal work week for Smith starts on Sunday afternoon after church and ends on Friday afternoon.
"I try to make it to my kids' sporting events, and I have my own events I have to do," he said. "I've cut down on some church activity – I'm only doing music once every three weeks now, so that brings some of the burden down. And of course, COVID cut down on the martial arts some, but I'm doing more online videos and things for online training. On Saturdays, I go in and teach once in a while."
In the past couple of years, Smith also got involved in Wreaths Across America, hauling wreaths to veterans cemeteries.
"I like the idea of what they're doing, so I'm happy to help them out with that," he said. "I usually go to smaller cemeteries, and it's usually just the guys that work there putting them out. I like that – more of the forgotten soldiers. They should also have that honor."