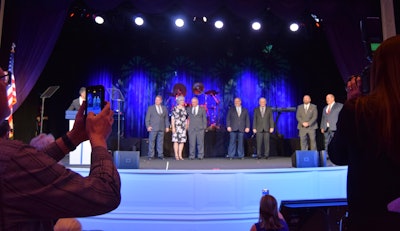 Owner-operator Glen Horack of Elkland, Missouri, leased to Prime, was named the Owner-Operator of the Year Tuesday, March 22, at the concluding gala banquet and ceremony of the Truckload Carriers Association's annual Truckload 2022 conference in Las Vegas. The owner will take home a prize package that includes $25,000. The other two finalists for the award net $2,500 in recognition of their success, safety history and more.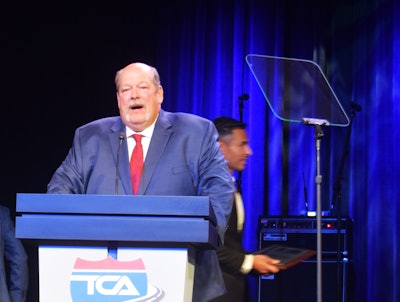 In addition to Horack, finalists for the award this year were:
Allen and Sandy Smith of Oak Hill, West Virginia, are leased to National Carriers, Inc., based in Irving, Texas.
Gene Houchin of Shenandoah, Iowa, is leased to Midwest Express, LLC, based in Grand Island, Nebraska.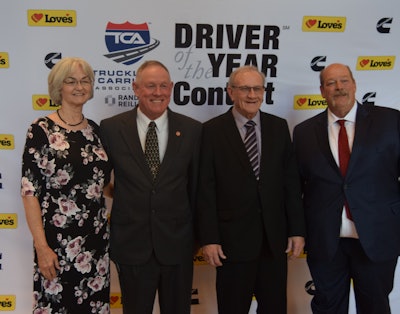 TCA and Overdrive sister brand Truckers News produce the Company Driver of the Year contest, which also has a $25,000 prize. The three finalists for that award this year were Robert Cole (Ryder System), Danny Cravener (Givens Transportation), and Robert Howell (Doug Andrus Distributing). Tuesday night, Howell took home the top prize.
[Related: A truckin' start: The OTR origin stories of owner-op award finalists]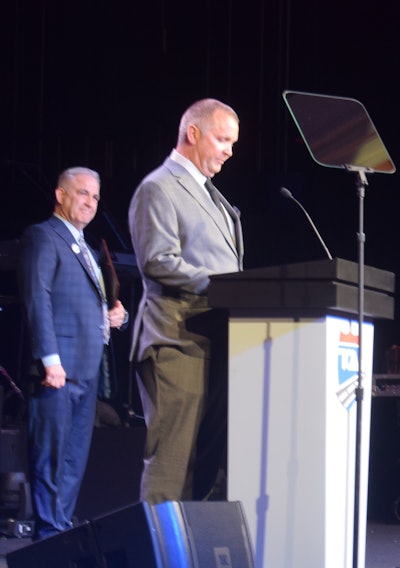 Owner-Operator of the Year Horack's story was told by Overdrive News Editor Matt Cole earlier this year at this link, also excerpted here:
Teamwork makes the dream work in more ways than one for four-time Owner-Operator of the Year finalist Glen Horack, who's been leased with Prime, Inc. consecutively since 1996. Horack and his wife, Karla, based in Elkland, Missouri, have been team driving for 13 years.
Karla joined Glen on the road after the economic downturn in 2008. His business was hit pretty hard that year, and around the same time, the couple's children were grown and moved out of the house. So, instead of staying home alone, she decided to join Glen on the road.
Horack started driving trucks in 1983 when a friend gave him an opportunity, and he's stuck with it ever since. He became an owner-operator when he first started at Prime in 1992. He briefly left the company in the mid-90s but returned in 1996 and has been with them ever since.
He views his relationship with Prime likewise as a team effort, and considers the company family. That was never more apparent than in 2021 when Horack suffered a heart attack and underwent a triple-bypass operation, which took him off the road for five months. He said if he had been leased with a company other than Prime, that time off "would have been devastating to my business."
To help him out, Prime bought his 2017 Peterbilt 579 from him, and that extra cash flow, coupled with an emergency fund the business-savvy Horack had been building, got him through the time off the road.
"[Prime is] like a family," Horack said. "They are the best partner I've ever had. They've got plenty of support programs. If you have issues, they've got something that will help you. The pay is good, I get all the miles I want most of the time."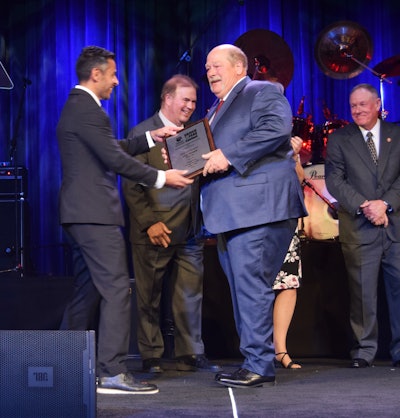 Horack ordered a new truck, a 2022 Peterbilt 579, when he returned to the road, which was supposed to be delivered in October. Ongoing supply chain challenges pushed delivery back, and he won't take possession of it until late March. He's been driving a loaner truck in the meantime.
[Related: Three owner-operators vie for $25,000 cash prize]
Throughout most of his career, during which he has amassed more than 5 million accident-free miles (4 million of those with Prime), Horack has pulled a reefer all across the country. Staying accident- and violation-free over the years, he said, have been key to his success, likewise keeping his equipment in tip-top shape and making sure to pay attention at all times and not lose focus on what's going on around him.
Up until recently, he and Karla hauled into Canada a good bit. After his heart attack, though, Horack has been hesitant to receive the COVID-19 vaccine, thus barring him from entering Canada since early this year. The team now runs reefer freight across the Lower 48, hauling a lot of pharmaceuticals. They typically stay out on the road 6-10 weeks at a time, depending on freight volume.
With Glen planning to semi-retire from driving in four years, the team's goal is to gross $10,000 a week. After he takes possession of the 2022 Pete, he plans to drive it for about two years before trading it in and paying cash for his final truck to start slowing down. Up to this point, he has trained 28 drivers during his career so far, and after he buys his last truck, Karla plans to go home.
"If [Karla] goes home before I quit altogether, I'll train while she's at home," he said. "A lot of the drivers coming out right now are horrible. They all got to go through training, but I'm not sure it's good training. You've got to want to do it for the right reasons. A lot of guys are training drivers just for the money, and you can't do that. You've got to care about what you're turning out. The more you teach them, the easier it's going to be on them and the safer driver they're going to be."
Away from the job, Horack has been involved in Wreaths Across America, a program he holds near and dear to his heart after serving in the Marine Corps himself. He also has helped organize a motorcycle show and poker run fundraiser, the Sam Biggs Memorial Bike Show and Poker Run, now in its 8th year. It has grown from 20 bikes in its first year to 70-80 bikes now. It's raised more than $50,000 for childhood cancer awareness over that time.
Sam Biggs was a family member of a friend of Horack's who passed away from cancer at 7 years old.
[Related: Last year's owner-op winner Bryan Smith's three-decade journey trough trucking, family, more]