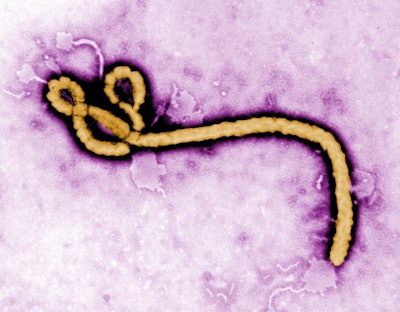 Following publication yesterday of an advisory that dealt with the packaging of Ebola-contaminated items for transport, the Pipeline and Hazardous Materials Safety Administration today his Safety Advisory today offered related guidance to waste preparers and transporters on the hazmat regulations HMR. "To ensure safe transportation," PHMSA said, "Ebola contaminated materials must be packaged in conformity with the applicable requirements in the HMR for Category A infectious substances."
The notice reiterates much of what was discussed in prior releases, as reported earlier this month. If materials have been appropriately "incinerated, autoclaved, or otherwise inactivated," PHMSA said, they "are not considered Category A infectious substances and are not subject to the requirements of the" hazardous material regulations.
Find more information on the HMR requirements at this link.
For guidance on how to handle infectious substances before transporting them, follow this link to the Centers for Disease Control and Prevention.
Large majorities of readers show favor for flight ban in final poll results
Above poll results follow Overdrive's prior report on the issue of government measures to contain the virus, currently centered on funneling flights from Ebola-stricken countries to a limited number of airports, where travelers then were required to undergo screening. Last weekend's news of another U.S.-diagnosed infection, this of a health worker who had volunteered in Africa brought a firestorm of controversy around the nation as some states moved to require 21-day quarantine of all health workers returning from Ebola-stricken West African countries.
The first such worker to return under new rules came through New Jersey, where negative public reaction far and wide to her forced quarantine caused backpedaling by the state as home quarantine and close monitoring, rather than quarantine at a health or other facility, was allowed. The health worker showed no symptoms of the virus and tests continued to show she was Ebola-free.