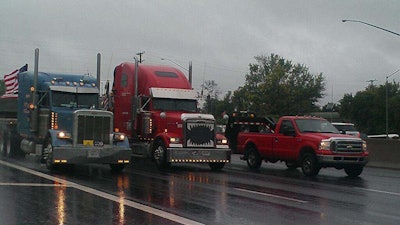 pic of the truck protest on the beltway courtesy @ABC7Bri pic.twitter.com/Dal0t0LTMK

— Jennifer Donelan (@ABC7Jennifer) October 11, 2013
The Ride for the Constitution protest convoy was a bust, having little effect on traffic or attention garnering from those on Capitol Hill, say national and local news reports.
As reported earlier by Overdrive, about 30 trucks showed up Friday, Oct. 11, to the Capital Beltway this morning as part of the planned convoy around Washington's I-495. A much larger number of trucks was intended to overtake all three lanes and cause a traffic jam to get the attention of lawmakers.
Organizers had also talked of shutdowns or other trucker-related activity in other cities, but there appears to be no such reports corroborating anything happened.
The convoy and concurrent shutdown — also billed as a buy-nothing protest — had received much in the way of national attention from the likes of cable networks like Fox News and national print and online media like USA Today, CNN, Gawker, Politico and The Washington Post.
In a conversation with Fox News this week, one of the coordinators told Fox News 10,000 trucks would be involved in the protest.
However, as reported Thursday by Overdrive, the protest, convoy and shutdown had been losing support due to a lack of organization and lack of credibility of its organizers.
Politico published its story about the small turnout with the headline "Trucker protest a bust". USA Today also takes a pointed approach — "Truckers 'rolling protest' hard to spot around capital". However, USA Today in a separate story also blamed the poor weather in the Washington, D.C., area for the possible low turnout.
The Washington Post said no "major incidents" from the protest occurred, but also said rain played a part in heavy traffic on the Beltway. It quotes police from Virginia and Maryland as saying that around mid-morning, drivers participating in the convoy were traveling the same speed as other commuters and had splintered into smaller groups.
Fox News, too, recanted its report that 10,000 would show up, saying in its headline "Dozens, not thousands, show up for DC trucker protest".
As pictures from Twitter show, the protesters did make some attempts at blocking all four lanes of the Beltway — Click here to see Overdrive's coverage from this morning to see them.
However, according to tweets from the scene (like the one below), enforcers were on hand and giving those blocking the highway warnings for doing so.
Virginia State police say only warnings were issued when they pulled over the truck drivers on the inner loop. No tickets handed out.

— John Domen (@JDonWNEW) October 11, 2013