Coming into Tennessee up from Georgia on I-75 last month, expediter Don Lanier, whom regular readers will remember from prior reporting here and here, was pulled in for his third inspection since signing on with Nashville, Tenn.-based DMW Expedite just a few months ago. Talking about it with the officer, he asked if they "have a poster with my big ugly face on it or something," he says. The officer "was a nice guy," ultimately, as have been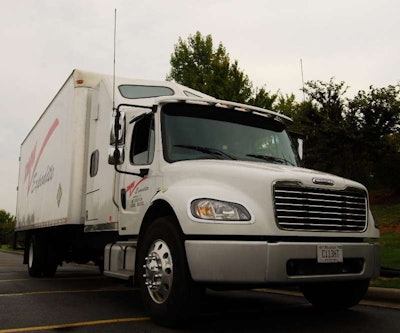 "all three DOT officers" he's encountered recently. He told Lanier on that particular day the officers were "just inspecting straight trucks. That's how we picked" the DMW Freightliner M2 expediting unit (pictured) he drives, but other reasons for the recent rash of inspections Lanier has received could have all to do with his carrier's CSA profile.
In his last gig, leased to a Michigan-based expediter for just more than a year, Lanier wasn't inspected the entire time, he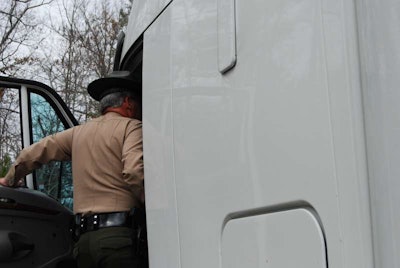 says. A quick comparison of the two carriers' CSA data in the Federal Motor Carrier Safety Administration's Safety Measurement System online shows that the former carrier has enough information in the system to populate every BASIC (Behavioral Analysis and Safety Improvement Category), whereas his current carrier still lacks enough "relevant inspections" to register a number in the Driver Fitness BASIC. As I've reported before, a carrier with such insufficient data will be prioritized for optional inspection, just as will variety of carriers with alert levels in the BASICs, in the FMCSA's Inspection Selection System, a number that weigh-station bypassing systems use in their determination of whether a truck gets the green light or not. It's also a number that's available to law enforcement to help in determining who to inspect (scores higher than 75, at least theoretically, deliver an "inspect" order to officers, 50-75 "optional," 0-50 "no inspection").
But as Lanier's example illustrates, the ISS is no pull-in panacea at the scale house; it's often more arbitrary and/or intuitive reasons — "We're inspecting only straight trucks today" — that bring an operator or his truck in for a close look.
All the same, given what else Lanier had to say about this most recent interaction with an officer (no violations, fyi), a lot of our states' enforcement personnel are happy to answer questions, if asked. This one, responding to CSA-related queries Lanier put to him, even printed out his carrier's CSA profile for him to peruse down the road.
Next time you're pulled in, ask the officer why he decided to do the inspection. The results could well tell you something. Tell us what you find here in the comments, or email me at tdills [at] rrpub.com. I imagine many of you already do this fairly regularly, too. Thoughts?