In 2015, longtime regular readers of Overdrive  may well remember, we were celebrating the 25th year of the Overdrive's Pride & Polish custom-rigs competition series, a big part of which had by then become our video spotlights on winning trucks and the owner-operators that enable them to exist. That year, we featured a 25-part series highlighting the top 25 most-watched custom-truck videos we'd produced up to that date. 
Since that time, through both Overdrive's Youtube channel and Custom Rigs section, though, we've accelerated that recent-history video tradition beyond basic custom truck/trailer spotlights, delving increasingly also into the business stories of the owners with more expansive profiles – ongoing even now for our 2021 virtual Pride & Polish winners. (Small fleet owner Rob Hallahan and owner-operator Ron Kelsey's rigs and operations, if you missed them, are on display via those links.)  
As part of our ongoing weekly series of look-backs for Overdrive's 60th anniversary, I took a look back through some of the most-watched videos at our YouTube channel, finding that a great many of them – compiled from all manner of truck shows around the nation, not just our own Pride & Polish events – fit the basic profile of the 25th-anniversary "25 for 25" series-featured vids. But: Most of them came from the six years that have passed since that time.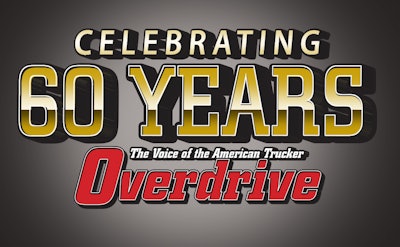 Today, in the playlist at bottom, we've compiled the most-watched equipment-forward videos we've done over that period. Call the collection the "31 minus 25 equals 6" collection, maybe, to mark the end of our sixth decade in existence.   
These videos span the truck-show world, from the Overdrive's Pride & Polish events at past Dallas Great American Trucking Shows to MATS in Louisville, 4 State Trucks' Guilty by Association Truck Show, the Pennsylvania Truckers 4 Hope event and 10-4 on D.C. on the National Mall in Washington the last few years. There's a hotshot rig we detailed after meeting the owner not at a truck show but along I-24 at a truck stop, and a modified cargo van cab & chassis from a small fleet expediter encountered at Expedite Expo.  
The list is led by a famous rig I had the absolute pleasure of seeing at the 2017 edition of Brad Wike's Southern Classic Truck Show in Lincolnton, North Carolina. You'll likely recall it from our re-feature of it recently as part of this series, too: the classic Rubber Duck Mack restored by and currently under the care of small fleet owner Anthony Fox in Rome, Georgia. 
Enjoy the playlist here: