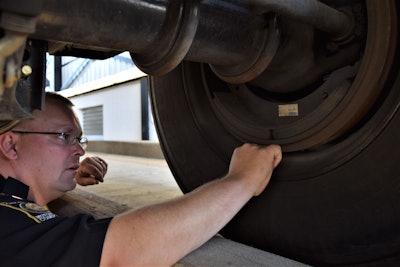 Kansas Highway Patrol trooper and Public Information Officer Nick Wright wrote in after hearing my podcast discussion with Andy Blair, a compliance safety consultant and former inspector himself, that first aired last Friday. Blair and I spoke chiefly about the out of service criteria as they relate to the truck and trailer's air brake system, with Brake Safety Week then upcoming and now ongoing.
Wright wanted to clarify a few of the points discussed in the podcast, including how the out of service criteria work when it comes to combination vehicles. Blair described the interplay there accurately in general terms, though our discussion was incomplete in that it failed to make clear the reality of how roadside/weigh station inspectors are required to treat a combination unit when it comes to the 20% rule for out-of-adjustment brakes. (To simplify, for those who missed the original post: If 20% or more of a vehicle's brakes are out of adjustment by a quarter-inch or more, the vehicle is out of service -- and you can also get there with a series of "half brakes," where a brake is just 1/8-inch out of adjustment.)
[Related: Inside the 20% rule -- Out of service brake adjustment, other violations, and how to prevent]
As Wright emphasized (and I updated the original post with a brief note here to reflect this), "the 20% rule is calculated on all brakes on the combination as it comes to us, meaning at the time of inspection," he said. On a typical five-axle tractor-trailer combination, "it takes two brakes, however you get there," to put a combination out of service. "All vehicles that contribute to the 20% must be declared out of service."
Wright gave the example of a set of triples with "a lot of brakes and six different units" undergoing a Level 1 inspection:
In such a case here's what the inspector would be looking at:
Truck-tractor – 6 brakes
Semi-trailer #1 – 2 brakes
Dolly convertor #1 – 2 brakes
Semi-trailer #2 – 2 brakes
Dolly convertor #2 – 2 brakes
Semi-trailer #3 – 2 brakes
Total: 16 brakes.
The 20% out-of-service criteria for adjustment alone would "kick in at four defective brakes," Wright said, whether "four full brakes, eight half brakes or two full and six half, etc."
Each unit that contributed to the 20%, meaning any unit with any single 20% brake defect, must be declared OOS, Wright said. "In this scenario, let's say we had one brake on the tractor in violation (full brake), and one on each trailer (full brake). That would put the truck and all three trailers OOS, but not the dolly convertors."
If you change the scenario and say all four are on the tractor, "then just the tractor is out of service," he added. "Ultimately, what I'm trying to point out is we calculate the 20% on the entire combination. We don't do 20% on each unit."
In my podcast conversation with Blair, it was suggested a typical two-axle trailer would be out of service by itself with just one full brake out of adjustment, given 1 full brake equals 20% of the four total brakes on the trailer. In terms of roadside reality, though, that would never be the case, given the trailer has to get to the inspection somehow. At least one brake on the tractor would need to be out of service and then the entire combination would be out, given both units contributed a defect to meet the 20% threshold.
Two full brakes on the trailer and none on the tractor, however, Blair said, could put the trailer out and give the tractor and its driver the ability to leave, get the required equipment for the fix needed, and return (if necessary, of course). ...
At once, there is a time when one full brake defect could put a two-axle, four-brake trailer out of service, Wright said. A Level 5 (vehicle-only) inspection of an uncoupled trailer at a terminal, Wright said, might encounter such a scenario under the 20% rule. You'd need a good air compressor to check the push-road travel, of course.
Here's hoping your Brake Safety Week is going well.
[Related: A refresher on out of service violations for lights, hours of service]
Back on the horse with owner-operator Howard Salmon
It was great to hear a familiar voice on the phone this morning, calling out of Northern Illinois and just about to hit the road for points South. Owner-operator Howard Salmon has been a regular contact of mine going back more than a decade now, and I feel as if I've been through a lot with him through the years.
The relationship has spanned Salmon's moves East from California to Wisconsin and back, a time when he was spending a good part of each year actually living in Hawaii, the release of a record of original songs -- "These trucks are made of gold" -- and so much more.
That includes a long-away-from-the-road period that's ended within the last several weeks. Beginning early in 2020, Salmon endured the last year of his very young son's life after Liam was diagnosed with terminal DIPG, a devastating childhood cancer. The last seven months have been a process of maintaining for he and his wife, and processing fully what had happened.
When he finally came back out onto the road in that great piece of constancy for all the years I've known him -- the 1999 Kenworth W900 that powers his long-independent business -- "the first two days were hell," he said. "But the third day I woke up and realized, 'Man, it's beautiful out here.'"
Ever since, he's feeling the reality of a perspective shift on what otherwise you might call the tried-and-true trials and tribulations of trucking. "There's not one thing out here," he said, "no shipper, broker, anything, no stupid guy who cuts you off, nothing" that's really getting him upset. "I've been out here for a month and not a thing has bothered me," including a shipper who kept him waiting for the better part of a day, he gave as an example. "It's probably the best mood that I've ever been in," though the weight of grief from his son's death still sits on him in moments.
"I've got great memories of my little boy," Salmon said. "I really miss him."
Rates of late on the freight coming from his principal partner at C.H. Robinson on reefer freight certainly help improve the mood -- the last month has been a record one for Salmon when it comes to revenue.
Salmon wanted to send a message to you, too. "Tell the drivers thank you for all the prayers for our family and all the support" offered throughout their year-long ordeal. "And much love to them and their families."
[Related: Liam Salmon's Spring 2020 visit from the San Francisco Giants]