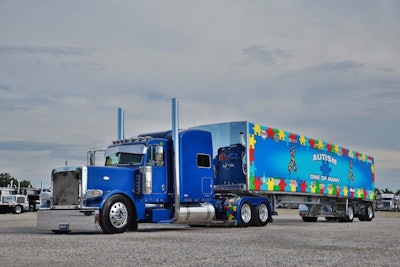 This profile is part of a multi-week series in which Overdrive is publishing stories on the six Pride & Polish National Championship winners — crowned in August at The Great American Trucking Show — and the five best of show winners from the event. Click here to see more profiles.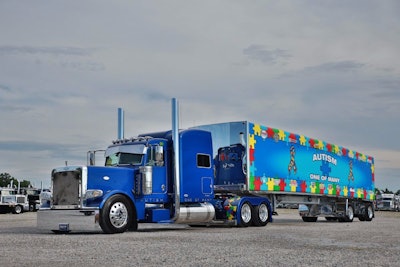 Nearly 2,000 metal puzzle pieces adorn the inside and outside of Michael Manuel's "One of Many." Manuel built the rig for his 23-year-old daughter, Kara, who has autism. But the 2015 Peterbilt 389 and MAC curtainside also serve another purpose, Manuel says, in bringing awareness to and destigmatizing autism.
The puzzle piece and the blue, red, green and yellow used by Manuel are symbols of autism, he says. Puzzle pieces dot the entirety of Manuel's award-winning rig, including floating puzzle pieces inside the truck's fuel tanks that tumble around for spectators when the truck's on the road. All of the metal puzzle pieces were fabricated by either Manuel or the crew at 4 States Trucks in Joplin, Mo. Manuel also had help from a local jeweler in crafting puzzle ornamentations within other metal trim around the rig.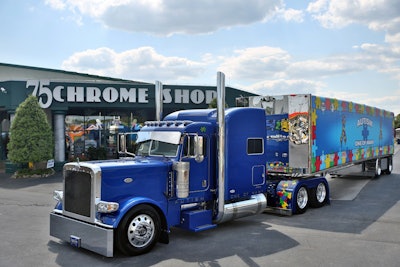 The Virginia-based small fleet owner says he's been writing down ideas for an autism-dedicated truck build for years. When Manuel picked up a brand new '15 389 glider from Fitzgerald last year, he set to work right away, tearing the truck down and prepping it to actualize his list of ideas.
The rig picked up two Best of Show victories in the 2015-2016 Pride & Polish season, sending Manuel to compete in the Builders Combo category in the national competition in Dallas. Manuel's been a Pride & Polish mainstay for the last half-decade, picking up Best of Show trophies with various rigs from his Front Royal, Va.-based fleet at shows across the country. (Manuel likewise got the participants' choice Best of Show nod at 4 State Trucks' Guilty By Association Truck Show September 24.)
Manuel's 30-truck fleet runs flatbed nationwide.
Click here to see the full list of winners from the 2016 GATS Pride & Polish show.