Transcript
Richmond, Kentucky-based Carson Mullins, who owns CMG Trucking with his father, Glen, showed off their 2007 Peterbilt 379 at the 2023 Mid-America Trucking Show in Louisville, Kentucky. They lease the truck to U.S. Bulk Transport hauling coal and other materials within about a 500-mile radius of their home base.
The truck is nicknamed "Second Chance" -- the duo's previous rig, a 2000 379, just about put them out of business due to various mechanical problems. The 2007 model represents the pair's next run at success in business.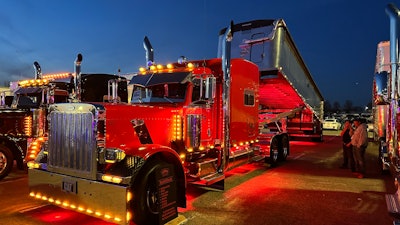 The extent of the Mullins' exterior additions is the step boxes and the deck plate. "It's all stock pretty much," Mullins said. "Very dependable. Just a workhorse."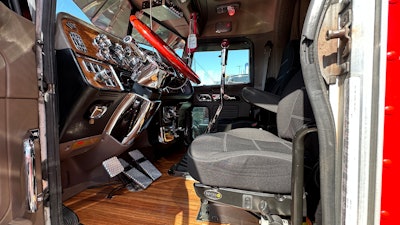 Under the hood, the truck features a 550-hp Cat with a 13-speed and 3.36 rears. The rig boasts 1.7 million miles on the odometer.
Mullins said he believes he and his dad are the third owners of the truck. The owner they bought it from did similar work with it, he said, and the original owner Mullins believes pulled a flatbed.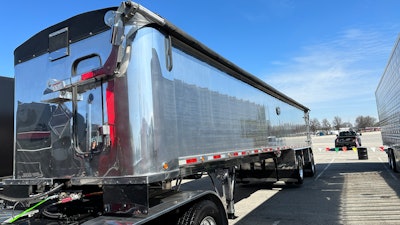 [Related: Kentucky small fleet owner's unique Western Star pairing]
---
Catch plenty more views of the trucks in the video up top. For more videos and custom-equipment features delivered to your email inbox, subscribe to Overdrive's weekly Custom Rigs newsletter via this link.
Transcript
Carson Mullins: Carson Mullins based out of Richmond, Kentucky. It's CMG Trucking, LLC. It's just a company me and dad started, Glenn Mullins and Carson Mullins. Just one truck. This is 2007 379. It's got 1.7 million miles on it. We bought this truck off a close friend back in January. It's got a 550 Cat® MXS twin turbo, 13-speed, 336 rears. So it's all stock pretty much. Very dependable. Just a workhorse.
We put the step boxes on it and the deck plate and stuff like that on it. It was pretty much the way it was. We just cleaned it up a whole lot, painted the frame on it, and that's about all. I redid the inside. It's got a hardwood floor in it and stuff like that. It is the original paint on it. The top of the sleeper was repainted, I believe two years ago, but the hood and stuff is factory paint from '07 on it.
The trailer is a 2019 MAC trailer. It was actually inside this Louisville truck show in 2019. It's 102 wide, 40 foot long, 66 inches tall. Just a owner-operator show spec trailer. Spread axle. It'll haul load. It gets on down the road with it.