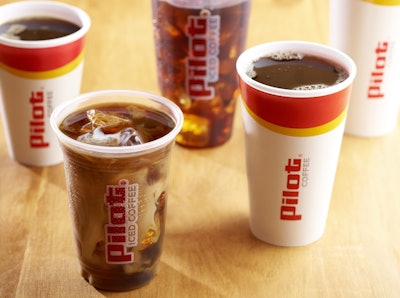 Truck drivers will be able to score free coffee at some truck stops later this week in conjunction with National Coffee Day, which is Saturday, Sept. 29.
Pilot Flying J and TA-Petro are each offering drivers free cups of coffee to celebrate the occasion. Love's Travel Stops is offering discounted coffee with all sales benefiting Children's Miracle Network Hospitals.
PFJ will offer any size cup on Friday and Saturday, Sept. 28-29, through the myPilot mobile app. Coffee variations including cold brew, bean-to-cup and pumpkin caramel macchiato will be available at select stores. The coupon will appear in the "myOffers" tab of the app to be redeemed during the promotion.
TA-Petro will offer drivers a free 24-ounce coffee, cappuccino or hot tea on Saturday, Sept. 29, while supplies last. The company offers a variety of flavored creamers, including pumpkin spice, Cold Stone Creamery Sweet Cream, Cinnabon and more.
Finally, Love's will offer 24-ounce cups of coffee for $1 on Sept. 28-29, which will benefit CMN Hospitals. Drivers who are My Love Rewards members can also use a free drink refill credit on coffee, and Love's will still donate $1 to CMN Hospitals on their behalf.