She's my Wonder Woman
'Cause she makes me wonder why
She loves me like she loves me
Always right there by my side
Standin' beside me
And all my crazy dreams
Always there to hold me
When they come apart at the seams
She's the one thing I can't live without
She makes me the man I am
She's my Wonder Woman —from "Wonder woman,' by Tony Justice, due in 2015
Don't let her small stature and ocean-blue eyes fool you – Misty Justice is a force to be reckoned with.
Like most truckers' wives, Misty spends a lot of time taking care of things at home without the aid of her beloved trucker. During a recent move from one house to another, she not only did a lot of heavy lifting, she taught herself some basic plumbing skills and fixed the shower head in their new bathroom. She's humble enough to credit Tony's mother, Sharon Justice, for support and help she says she couldn't do without, but tenacious enough to tackle just about anything standing in her way.
Being the wife of an up-and-coming country-music star isn't nearly as glamorous as it sounds. While Tony is well on his way to playing music full-time, he's still driving over the road to pay the bills. He makes a decent living, but like pretty much every middle-class family in America, a dual income is still necessary to make ends meet. Misty has made a career of the service industry, and while Tony is serving America by delivering consumer goods on the road, Misty is serving hot food and cold drinks to her restaurant customers.
Growing up in East Tennessee, Misty didn't have any trucking connections until she joined the Army, where she became a truck driver herself. Stationed at Fort Bliss, she trucked Patriot Missiles in and out of El Paso, Texas, but chose a different career option when she got out of the Army, getting her BS in Construction Management. After some time in the construction field, Misty realized the job would require long hours away from home with little flexibility in her schedule, so she went back to what she loves and thinks she does best – waiting tables.
"I made a career out of the service industry," she says. "I'm good at it, I love it, and it gives me the ability to schedule work around my life, instead of the other way around."
Misty met Tony in 2011, and it was love at first sight. She didn't realize the extent of his music career right away, but quickly got on board and introduced his music to the big wide world of Facebook – with the intent to use it as a promotional tool. She also created the original Tony Justice website for fans to visit, and with a lot of hard work and determination, by 2012 Tony's CD's were being distributed to Pilot/Flying J, TA/Petro and Loves/Wilco Hess truck stops.
"We were together for almost a year before we got married," she says. "It was a really short engagement – like three days – between the time he actually asked me to marry him and the wedding." She goes on to explain: "Tony got invited to play a pre-Grammy show at the Roxy in Hollywood, and asked me to go with him. He said he wanted to introduce me as his 'wife' instead of his 'girlfriend,' so we got married real quick-like and took off for L.A."
They spent their honeymoon in Hollywood, cruising the strip and through the canyons in a rented convertible Camaro, she says. "We were the weirdos in Hollywood. It was definitely a culture shock."
2013 marked the release of Tony's second CD, "Apple Pie Moonshine," and recently, the first professional video was shot for the single, "18 Wheels and Jesus," by Chris Fiffie. The song recounts a very personal experience from Tony's childhood, in which his father was involved in an accident and miraculously able to walk away from it unharmed. Misty and Tony played the part of mother and father in the video, and it was released around Thanksgiving in conjunction with a new box set available via the Justices' distribuion network in most major truck stops.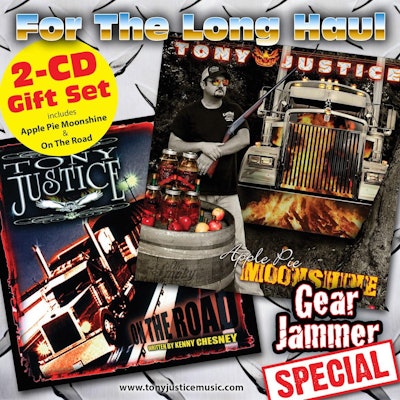 Tony is still away from home driving six days a week but always tries to make it home for church on Sunday with his family.
In addition to being his manager and biggest supporter, Misty holds down the fort, and looks forward to the day when Tony can quit driving altogether and focus on his music. She again credits his mother, Sharon, for the support and help they need with home and kids to be able to devote time necessary to the effort. She also credits their deep and abiding faith for the success they've enjoyed so far.
"We are truly blessed and thankful."
My prediction? Watch out Country Music Awards 2015 – Team Justice is on the way!
Read more from Wendy Parker on her George & Wendy Show blog.