This profile is part of a multi-week series in which Overdrive is publishing stories on the six Pride & Polish National Championship winners — crowned in August at The Great American Trucking Show — and the five best of show winners from the event. Click here to see more profiles.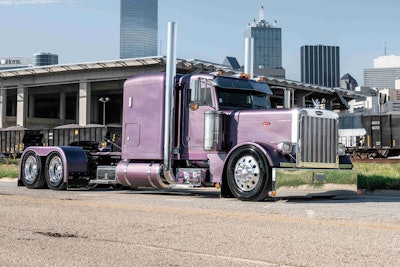 All of the custom work done to Shane Boullion's 2001 Peterbilt 379 EXHD were done under Boullion's own shed in the backyard of his Cankton, La.-based home. "We do everything in house," he says, which on his '01 Pete included stretching the frame to 300 inches and lowering the front end by about 5 inches.
The shed's also where Boullion gave his truck its award-winning wash before August's GATS, where he and the rig won Best of Show in the Working Bobtail category.
Boullion's showed the Pete for four straight years at GATS, never thinking he'd pick up the coveted Best of Show nod. "It was a shock," he says. "I still pinch myself. It's something I'd never thought I'd even get."
In addition to his personal rose-grey Pete, Boullion owns one other rig. His two-truck operation runs oil field equipment mostly in Louisiana, Texas and Oklahoma, but as far as California and Wyoming, he says.
The 47-year-old owner-operator says he hopes to return to GATS next year to compete for a National Championship. "I just get excited when it comes to trucks," he said. "I'm just proud to have made it this far."
Click here to see the full list of winners from the 2016 GATS Pride & Polish show.