This profile is part of a multi-week series in which Overdrive is publishing stories on the six Pride & Polish National Championship winners — crowned in August at The Great American Trucking Show — and the five best of show winners from the event. Click here to see more profiles.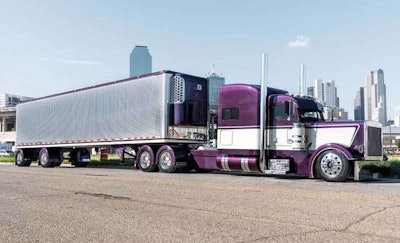 Freddy Velasco's 2003 Peterbilt 379 was given an overhaul before the 2015 Great American Trucking Show, perhaps highlighted by Velasco's unique paint scheme of purple and "crème brule."
The rig took home second place in its category last year. But upon returning this year, Velasco scored one of GATS' coveted Best of Show slots.
Velasco and others at the Como, Texas-based Velasco Transport team did the bulk of the custom work on the rig. He usually hauls produce with the rig, equipped with a reefer trailer.
The rig's "California Dreamin'" moniker was suggested to Velasco by, what else, the model year. It won't be picking up produce out in the Golden State anytime soon, he says.
Click here to see the full list of winners from the 2016 GATS Pride & Polish show.