Access Part 1 and Part 2 of this year in review, stitching together the most-read stories on the Channel 19 blog in 2014, via those links.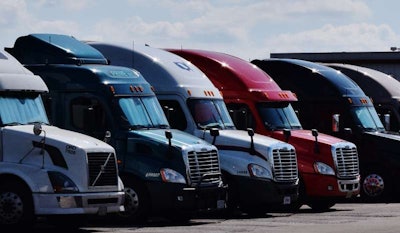 No. 3: The story of young trucker Mike Boeglin, aside from being a tragedy in its own right, threw the issues of parking safety and availability back to the fore in the trucking conversation. Boeglin was gunned down and his tractor torched while he was parked in less-than-ideal circumstances staged to deliver to a ThyssenKrupp steel facility. Eerily similar to the murder of Jason Rivenburg in South Carolina that sparked the "Jason's Law" provision in the MAP-21 highway bill making federal money available to states for truck-parking projects, conversation around spurring states on in efforts to ease parking congestion grew throughout the year. Owner-operators and fleets of size, for once, were generally in agreement on the importance of the issue.
Also, with no reported progress made on apprehending Boeglin's killer, and his daughter being born later in the year, advocates with the budding Small Business in Transportation Coalition drafted language for a "Mike's Law" named for Boeglin that would enable federal pre-emption of state concealed-carry firearm laws for interstate transporters.
No. 6: Haul for free? Not hardly, operators noted in this story, which followed a shipper survey that stressed the need for shippers to look for efficiency improvements rather than pass along the added transportation costs resulting from the 2013 hours changes to consumers. Looking for efficiencies = looking for a trucking company that would haul the product for less, ultimately, many readers took it to mean, sparking no shortage of discussion about rates that continued throughout the year as the spot market really began to take off in the spring.
Around the same time, SBTC head James Lamb, also principal behind the Association for Independent Property Brokers and Agents business league, turned some heads with a seminar at the Mid-America Trucking Show on the notion that more broker rate transparency would go a long way toward improving business conditions for independent truckers. Coverage of the seminar ranked No. 12 on the most-read list on the blog. There, Lamb revealed intentions to establish a 12PL (or "12 Percent Logistics") brokerage, advertising the percentage rate the broker would take, hoping to lead the way in a move toward greater transparency. Readers' reaction both positively and negatively to the idea was edged out of the top 20 at No. 21 by late-year coverage of the restart change, but many wondered whether transparency would make any difference whatsoever, with greater forces at work in freight markets.
As Del Ray Johnson put it, "I really doubt that big trucking companies need this so-called 'transparency' from brokers," noting their leverage over most in dictating what "we are going to charge to transport their freight. The unknowing owner-operator allows other people tell them what is the number," with plenty being willing, he added, to run on very, very thin margins. "That, my friends, is the problem, and the solution is an educated owner-operator who runs his/her big rig like a big business."
Coming in at No. 19, too, was this post summarizing National Survey of Driver Wages publisher Gordon Klemp's contention that performance-based pay for company drivers and leased owner-operators, to one degree or another, was beginning to transform pay dynamics.
No. 9: Speaking of business, the fuel-mileage barrier of 9 mpg was being broken by operators left and right, though not in numbers large enough to show significant percentages in that 9+ category by and large. This story, about a new community launched on Facebook for fuel-mileage tips sharing and discussion, showed the always strong focus strong owner-operator businesses put on minimizing their No. 1 variable cost.
[youtube HARjiJEA8eo nolink]
No. 8: Class 8 racer and stuntman Mike Ryan was in the news all year long, not least for his "Size Matters 2" gymkhana-style vid released in the run-up to the 2014 Mid-America Trucking Show, where he unveiled further plans for the ChampTruck race series getting under way in the new year. (First race is scheduled for April.)
In June, then, after a failure of his famous stunt/racing Freightliner, Ryan launched the rig into the trees off the edge of the mountain during the Pike's Peak Hill Climb event, walking away more or less unscathed.
No. 13: Finally, driver Don Christner's dispatch from the snowmageddon early in the year with video of a haul over Loveland Pass in Colorado caught many an operator's eye. Something else to watch out for in the new year: Christner's followed that up already this season.
Watch for it in the coming days, and stay safe out there, drivers.
[youtube zjMLAO7zaTc nolink]