2016 closed similarly to how it began: A healthy dose of activity from federal regulators, lingering uncertainty about freight, sluggish rates and activity around ELDs.
Here's a look at the year's top stories:
10. Autonomous retrofit start-up Otto takes the lead on automated trucking
Engineers from major tech companies Google, Apple and Tesla announced in May they'd formed a new company, Otto, with the goal of developing an autonomous retrofit system for Class 8 trucks. Several months later, Uber announced it had acquired Otto, marking the ride-sharing company's official entrance into the trucking market.
Just two months later, an Otto-equipped Volvo made autonomous history, hauling the first autonomous load in the U.S. and making the first autonomous delivery. The autonomous tractor-trailer made an early morning run from Fort Collins, Colo., to Colorado Springs, Colo., carrying a load of 51 cases of Budweiser. The 120-mile trek included a run through downtown Denver.
Otto made a second autonomous run in November, on a 35-mile stretch on U.S. Route 33 from Dublin, Ohio, to East Liberty, Ohio.
[gthr type="dotted" size="2″][/gthr]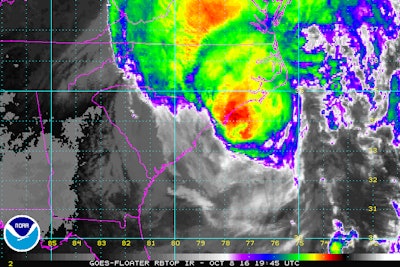 9. I-95 closed for hundreds of miles after hurricane-caused flooding, costing truckers millions
Torrential rain fall brought on by October's Hurricane Matthew closed Interstate 95 for hundreds of miles in North Carolina, South Carolina and parts of Georgia and Florida. Flooding and debris left one of the country's main freight arteries closed for nearly two weeks, which analysts said cost the trucking industry millions in lost revenue and wages.
[gthr type="dotted" size="2″][/gthr]
8. Electric- and hydrogen-powered Class 8 truck unveiled
After touting plans and drawings earlier this year, tech start-up Nikola delivered in November, unveiling a futuristic-styled Class 8 truck powered completely by electric power and hydrogen cell. The Nikola One has a 1,200-mile range and about 1,000 hp, the company says. Nikola also says the truck produces no emissions. Several fleets have announced commitments to purchase a small number of Ones once they become available. Nikola has not said when it will begin manufacturing the truck.
[gthr type="dotted" size="2″][/gthr]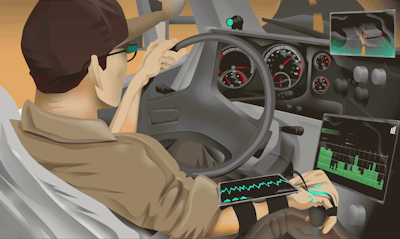 7. Owner-operator of the future examined in-depth
In March and April, Overdrive examined the future of the owner-operator business model, relative to rapid changes being seen in trucking equipment, freight-matching software, in-cab systems and driver health monitoring. See the series' eight main parts at this link.
[gthr type="dotted" size="2″][/gthr]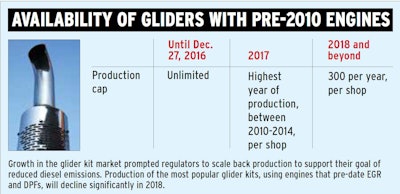 6. Emissions regs crack down on glider kits
New emissions regulations finalized this year could dramatically alter the glider kit market, which had seen booming sales in the last half-decade in response to 2007 and 2010 emissions standards. The new regs allow much smaller sales of glider vehicles equipped with post-2010 engines, causing glider makers to either bring older engines into compliance or opt for newer engines in their glider builds.
[gthr type="dotted" size="2″][/gthr]
5. Trucking under Trump: Hope for hours of service, other regulatory reforms
After President-elect Donald Trump's surprise November win in the presidential election, truckers and trucking trade groups expressed optimism for an improved regulatory environment in the industry, including greater accountability by the DOT for its regs. November's Trump and Trucking article examines trucking groups' wishes for the new administration and the impact Trump's policies could have on the trucking industry.
[gthr type="dotted" size="2″][/gthr]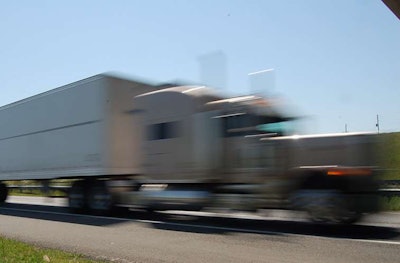 4. DOT proposes industry-wide speed governor mandate
After years of toying with the idea, the U.S. DOT and two of its sub-agencies officially proposed a mandate to require nearly all trucks to implement and use speed-limiting devices. The rule's lack of specifics drew ire from the trucking industry, including groups like ATA that previously had supported a speed limiter mandate. See details on the rule at this link, and industry reaction at this link.
[gthr type="dotted" size="2″][/gthr]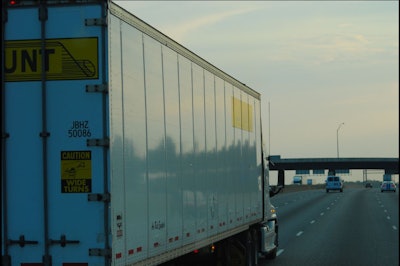 3. 34-hour restart's future uncertain till the end
Though 2016 was expected to be a quiet year on the hours-of-service front, the year started with a notice from the Truckload Carriers Association warning the industry that Congress inadvertently put the 34-hour restart at risk of being killed. The tool has been in place for truckers to manage their weekly on-duty time since 2004.
After several proposals from Congress to fix the issue, lawmakers finally cleared the air in December, spelling out two paths forward for the 34-hour restart.
ATA says the issue has effectively been put to bed, but FMCSA says it will follow Congress' orders and wait on the results of a pending study to determine how restrictive the 34-hour restart's use will be.
[gthr type="dotted" size="2″][/gthr]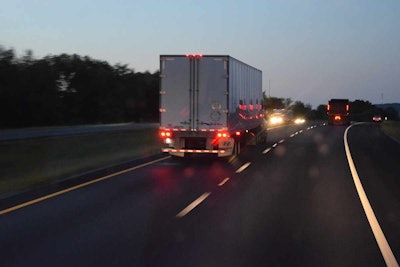 2. Owner-operators took a beating from slow freight, bad rates
Rates remained poor in 2016, as slow freight demand kept trucking capacity loose and held rate leverage in favor of shippers and brokers. A July-issued report from investment firm Stifel said small carriers like owner-operators were falling out of the industry due to sinking rates and higher costs of regulatory compliance.
Overdrive reported on the subject throughout the year, including an updated look at the rates hall of shame — the states with the cheapest outbound freight.
[gthr type="dotted" size="2″][/gthr]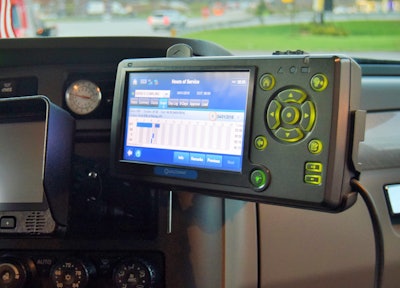 1. ELD mandate survives in court
The Owner-Operator Independent Drivers Association in March filed a lawsuit against the DOT and FMCSA, seeking to overturn the December 2015-issued rule to mandate electronic logging devices. Judges for the U.S. 7th Circuit Court of Appeals ruled to uphold the mandate and its December 2017 compliance date in an October-issued decision. OOIDA plans to continue the legal fight, even it it means appealing to the Supreme Court.
Owner-operators looking for information on available ELDs can check Overdrive's ELD buyer's chart at this link.