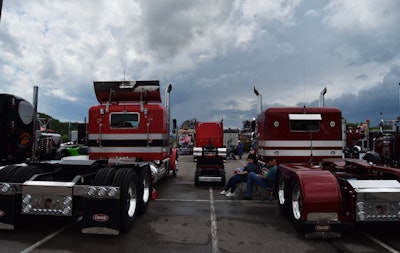 It's year two for trucker-songwriter leading light Tony Justice's Large Cars & Guitars truck show, kicking off next week in Kodak, Tennessee, east of Knoxville along I-40, exit 407. Set-up day is Thursday, May 4, with the show officially opening for attendees the following day, with plenty in the way of custom-truck eye candy and musical performances both nights of May 5-6, featuring Overdrive's own Long Haul Paul and past Trucker Talent Search winner Taylor Barker, as well as William Michael Morgan, Aaron Tippin, and Justice himself, among others.
Catch the full schedule of events via this link to the show website.
Tippin and Justice famously collaborated with vocal turns in 2016 on "Brothers of the Highway," the title track (originally penned by George Strait) of Justice's record that year. Can we expect a live turn with the two at Large Cars next weekend?
"It's happening," Justice said, "the first time in history that we performed this live" since the recording of the track in Nashville, Tennessee, for which Overdrive was on hand in 2016.
Other Large Cars highlights include the truck show, of course, which last year saw more than 100 rigs all vying not for the undivided attention of judges as in so many shows, but rather the kids. At this show, the sole award is a kids-vote Best of Show. The nod last year went to Landstar-leased touring show hauler and owner-operator John Highley.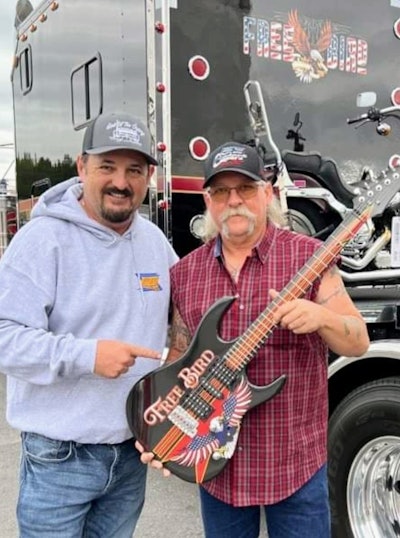 Justice noted Large Cars is far outpacing pre-registrations for the truck show this year, compared to last, and he's hopeful to be able to boost the tally of dollars the show raised for the Susan G. Komen Foundation's efforts around breast cancer awareness and the research for a cure. Given a big list of sponsors this year, from trucking suppliers like the Howes company to motor carriers like the Bennett Family of Companies, and Wreaths Across America, Bullsnot and many, many more, most all proceeds from registrations and onsite activities like the Saturday Convoy for a Cure will be earmarked for donation.
Last year, Large Cars & Guitars raised more than $33,000 in its first year.
"The show seems to be growing and kicking off well," Justice said. He sees "a lot more growth coming." The Smokies of East Tennessee are a prime vacation destination in the Spring, and the show's location draws more and more attendees and participants who "come in a week early or stay a week after. We're right there at the exit for one of the largest tourist attractions in America" in the Pigeon Forge and Sevierville areas.
Owner-operators can pre-register to show the truck at this link.
And: In case any fans of Justice's music were wondering, Justice the artist is prepping for a June release of a new record, featuring six new tracks and 15 of Justice's most-downloaded and/or streamed tracks from his now decade-plus of recording music geared specifically toward trucking and its operators. Title? "Tony Justice's Greatest Shifts."
Keep tuned.
A few of the owner-operators who showed out last year at Large Cars:
**Scenes from inaugural Large Cars & Guitars truck show
**Darrell Estes' pair of custom Peterbilt 359s -- a 1984 and '87, both with rich histories
**Custom 2021 Peterbilt 'home away from home' with a 168-inch ARI big bunk
**In memory of John Visconti III: The custom 2020 Pete 389 glider of Casey Wendling
'**Ribbon Runner' cancer-awareness and tribute 1998 Peterbilt 379 dump making waves
**Meet the Lewis Transfer custom 2007 Peterbilt 379, with operator Andrew Reed
**Wedding getaway vehicle and more: Jacob Phillips' 2016 389 steel hauler
**'Change order,' the 2000 Kenworth W900L daycab project rig of White Pine Paving