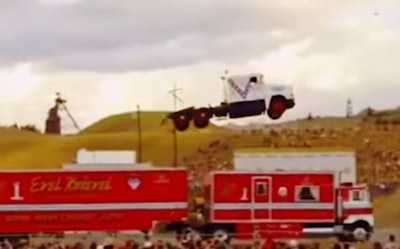 For the first installment in this year in review, counting down the hours in the duty day, and more, leading into the new year, run through the following link.
14, 13, 12, 11, 10, 9 …
Eight …
"'Discretion' is a big word" in trucking when it comes to inspections, marked violations and, if any, attendant citations, noted speakers at the annual meeting of the TCA's Safety and Security Division meeting in Charlotte, N.C., which continued a conversation ongoing here on Channel 19 for years, particularly since the advent of the CSA program and its Safety Measurement System.
Following a growing movement among truckers pushing back against the program well-documented through 2014 and into this year and the SMS' issues related to score reliability and equitable treatment of carriers large and small within the safety ranking, 2015 Congressional efforts to pull back SMS scores from the public to prevent their use for safety-related judgments by the general public, including in business decisions by brokers and shippers, got started early in the year, seeing fruition with passage of a five-year highway bill in November.
The Washington State DOT was relying on a tried and true method for clearing roadside weeds — a herd of goats — highway congestion was thrown into stark relief on a run between Charlotte, N.C., and Nashville, Tenn., and the Lil' Trucker multitool (a variant on Innovation Factory's "Trucker's Friend" hand ax) was shown to be quite useful against zombies.
The hours of service wish list, meanwhile, got a little closer to perfection.
Seven …
Camaraderie was back in the headlines as readers urged insistence on what is good. "Pick up the mic and add some good," said a reader. "Insist on it. … Because this is how it works. Either you shun the crap or you bury it with some goodness."
Warm and fuzzy headlines referenced tales of something called 'Abused driver syndrome,' the noble pursuits of ambulance-chasing lawyers, and more reasons for produce haulers not to go to California. Owner-operator John Raffone launched a long-shot campaign for the Presidency of the United States.
Landstar-leased owner-operator Keith Sampson, the 2014 Overdrive-Red Eye Radio Trucker Talent Search winner, debuted a moving new song from the cab of his Volvo.
[youtube A6IzOjiXubk nolink]
And while I took some time off in a locale known less for its beaches these days than the brutality of its police, former trucker Ed Miller of Baltimore, Md., took over the blog for several days with excerpts from his "A trucker's tale" memoir of growing up in the business in North Carolina. Well worth a read if you missed it:
Six …
All-in spot market rates continued to dive with fuel costs, fueling speculation about the future for the economy, but analysis of rates minus fuel showed that, at bottom, there wasn't much difference between June of 2015 and June of 2014. Noted reader Kurt Keilhofer, "If rates are flat, or slightly down, or even up a bit when compensating for lower fuel costs, any way you look at them they are not dramatically different. Now compare that thought with the trucking industry's hysteria over a driver shortage. The two are not compatible. If there was a shortage of trucks, rates would increase, dramatically."
That wasn't happening, of course, and new costs were well evident for owners of trucks with post 2006 emissions-spec engines and one truck dealer believed all parties — from manufacturers to service locations to owners — were culpable in making the burden of such costs more dramatic than it should be.
An owner-operator saluted his shipper customer in South Carolina. In Tennessee, plans for two trucking singer-songwriters of subsequent generations were planning a musical collaboration for the ages. The famous Mack cabover utilized by legendary daredevil Evel Knievel in the latter part of his motorcycle-jumping career was close to the finish line after a long restoration chronicled here on Channel 19 over several years.
As competition got hot on the Overdrive's Pride & Polish National Championship trail with a stop close to home in Tennessee, a Mistress made her appearance with the wife and kids in tow at the truck show.
Indiana enforcement was up to their usual stuff.
[youtube 9E_aGQ6lqZA nolink]
[youtube E3Zgb2b7zV8 nolink]
Five …
An owner-operator won the Democratic Party primary in Mississippi's gubernatorial race; a familiar face in Alabama-based owner-operator Hayden Eady and his recently retooled custom 1980s 359 illustrated trucking advocacy North, South, East and West; and that famous cabover mentioned above got its trucking-world unveiling at the Great American Trucking Show in Dallas …
[youtube bVzTfJ_RbdY nolink]
… where a familiar Kenworth Icon 900 emerged with a new skin.
[youtube GjFRE-OA70Q nolink]
The month of August ended on the blog with a wide-ranging discussion of the raft of high-profile exemptions to the 30-minute-break requirement of the hours of service rule, with reader Bob Hearns, among others, noting it was well time for further change:
"Keep asking for those legitimate exemptions, and maybe the rule makers, who do not know the industry … might wake up and do not only the right thing, but the necessary thing. As a long-distance driver, although I live with the daily frustration caused by the HOS rules, I don't want to have to live with it."
If the rules become too complicated for the U.S. Department of Transportation and other enforcers, "that's their problem," Hearns added. "The departments can educate themselves."
Perhaps the most promising development in recent years aside from the restart reprieve was FMCSA's study of split sleep and its potential to put more flexible approaches to the 10-hour rest period (and the 14-hour rule) back into the conversation at the federal level. Not that it ever left talk among drivers. Readers were referred to their own hours of service wish list and its No. 2 ranking wish: "Loosen rigidity of 14-hour on-duty maximum by allowing extensions with mid-period rest (or revert to pre-14-hour-rule regs entirely)."
An under-reported trial exemption then made the rounds that did something close to that for one private carrier, suggesting operators similarly situated "may have grounds to request an hours of service exemption allowing more flexible split sleeper periods." In the wake of that reporting, CRST's expedited division requested similar flexibility, a request still pending as of today.
As congestion/route mayhem resulted from the closure of an I-65 NB bridge in Indiana, quick work was made of an I-93 sinkhole in New Hampshire.
MAJOR TRAFFIC ALERT! I-93 northbound closed in Concord near Exit 14. Large sinkhole. Emergency repairs underway. pic.twitter.com/qgnTBUkMAe

— NHDOT (@NewHampshireDOT) August 19, 2015
For the final third installment in this 2015 year in review, follow this link: