Find a link to Part 2 at the bottom of this post. Want to look back through recent trucking history both on the mainline and deep in the biways? Find 2011 and 2010 years in review via those links.
January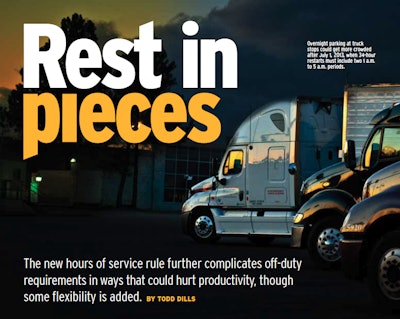 This new year started off with a big conversational bang as owner-operators and industry watchers debated the implications of the new hours rule, handed down by the FMCSA in December during the week between Christmas and New Years, about as under the proverbial radar of a time as the agency could possibly have picked. The intent of the rule, some said, wasn't exactly living up to the ways it might well be interpreted.
A bill to require electronic onboard recorders for virtually all interstate carriers, meanwhile, was waylaid in the Senate, including language that would give the Department of Transportation the power to disqualify a driver directly, bypassing states' dominion over issuance — and retraction, as it were — of the Commercial Driver's License.
Various things — other new regs, bricks, police binoculars looking for drivers talking on handheld cellphones — were falling from the sky, bridge overpasses and other lofty structures, while the state of driver training nationwide was being decried and the FMCSA's MCSAC committee was set to meet again with the agency's Medical Review Board to make formal recommendations to adopt clear screening guidance in the medical rules for sleep apnea.
Identical trucking twins were featured as odd birds in National Geographic, the governor of Guam was saved by divine intervention from a collision with a rolling dump truck, and readers met owner-operators Jimmy Ardis, Glenn Keller, and Jeff Zehrer, the last the maker of the Cubby Buddy toolbox system.
February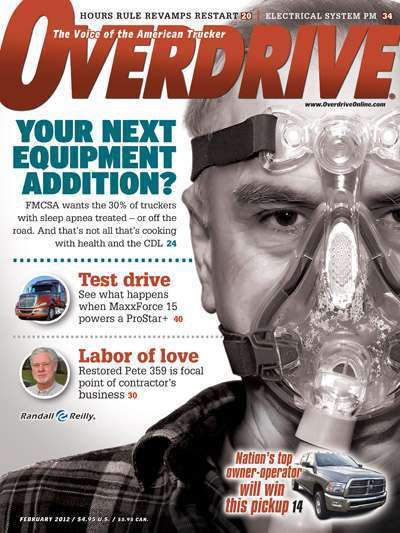 My favorite trucking musicmaker, Tony Justice, traveled to Hollywood to perform at a pre-Grammy party just as I was making my way to D.C. for the February meeting of the FMCSA's MCSAC advisory committee. Two reports from D.C. probed the discussions and revealed FMCSA intentions to in some way regulate screening for sleep apnea and move toward a mandate for the use of electronic logs, both of which would continue to make news through the year.
Loren Lowry, driver of a SuperCross transporter, detailed his over-the-road pursuits, as in a theme common to the last several years trucking reality TV shows continued to proliferate.
Log truck drivers assisted law enforcement with a dramatic on-road rescue in the Oregon hills, a company team shifted toward truck ownership in part to avoid pet-boarding problems, and the safe in Evel Knievel's old Mack haul rig was cracked.
An owner-operator and his wife formed an alert network to assist in the search for missing drivers.
[youtube K6PclPyyL7E nolink]
March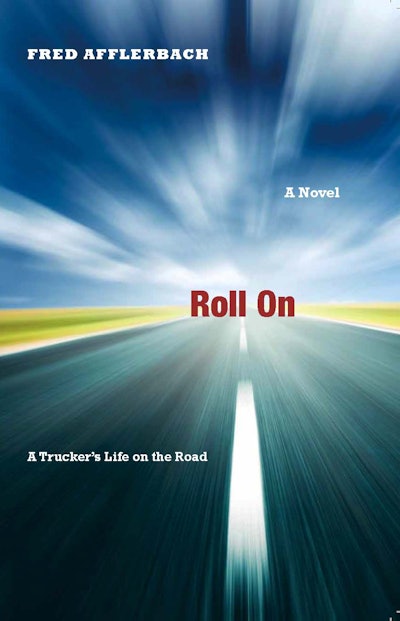 With some crucial assistance, we managed to hunt down one of Evel Knievel's 1970s drivers, Kansas-based medical equipment salesman Mike Draper, and a 1973 Overdrive interview he was featured in, perhaps our personal favorite outgrowth of the ongoing Evel Knievel truck restoration project and news surrounding it. And March, too, yielded what would be the best trucking book of the year in former "bedbugging" owner-operator Fred Afflerbach's "Roll On" novel.
I "trucked" to an NYC awards ceremony (we won), and the subject of the reporting for which we won, CSA, reared its head again as an owner-operator reader shared a simple how-to for his own closed greasing system, a boon to his performance with on-highway inspectors.
Readers met a "Truck Driving Girl" in songwriter Lisa Godino, and curiously warm travel in Wisconsin and Minnesota for this time of year to meet both the TCA owner-operator and driver of the year yielded unexpected fruit along the way with this brilliant old 1971 Pete 358 and its four-decade driver, Butch Mueller.
Owner-operators sounded off in the Mid-America Trucking Show's EOBR listening sessions on the issue of harassment, a salute to women truckers was delivered, and an owner-operator walked away from the big show one Victory Vegas Jackpot Harley heavier.
April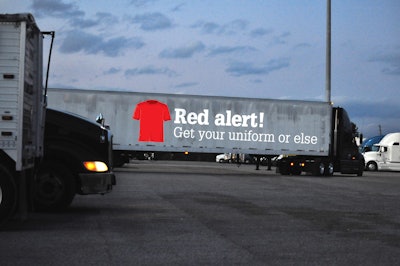 In a special April Fool's Day "Red Alert," the FMCSA ordered that all drivers would be heretofore required to wear red shirts — "Get Your Uniform or Else." Many drivers scratched their heads — I bet some others laughed heartily.
A carrier facility or two was tragically hit by a Texas tornado and then picked up the pieces, owner-operator Jeff Zehrer introduced a new storage system for load bars, some L.A. port truckers voted for union representation, 'truck driver' gained in nationwide job favorability rankings by one estimate to No. 128, and a famous rig showed up at the American Truck Historical Society-chapters-led Southeast Regional Truck Show.
The debate over raising the broker bond minimum limit really got going, with a brokers' group ultimately erroneously contending movement on the bond in any multiyear highway bill would be unlikely prior to the November presidential election, and drivers once again pitched in to foil a suicide attempt, this one on and under a Minnesota highway overpass.
FMCSA gave drivers an "accidental preview" of sleep apnea regs, and reader Robert McConnell shared his funniest weigh-station memory, when an officer at a Colorado scale wrote up a fellow moving van hauler for lack of a livestock permit when the hauler told the officer he was hauling bedbugs.
Readers got a taste of the best trucking book of the year, written by a proud former "bedbugger" himself, sans livestock permit.
[imagebrowser id=30]